Building a custom structure from the ground up is an exciting process for any property owner, but one that involves many moving parts. From acquiring building permits to soliciting skilled tradesmen, you want to be sure your project is managed by an experienced general contractor who knows the ins and outs of the building process and has a track record of completing projects similar to yours.
At DC Builders, we offer over fifteen years of experience in general contracting for residential and commercial projects in the Pacific Northwest. Our general contracting team is comprised of experts in the field, each boasting years of experience in overseeing our clients' projects. We work with our own skilled framing crews and trusted subcontractors to complete our clients' builds, thus ensuring all components of your project are designed and built to precision. With DC Builders as your general contractor, you can trust your project is in the very best hands.
Our general contracting services are only available in:




California, Oregon, and Washington

.

WHAT DC BUILDERS
CAN DO FOR YOU
When partnering with DC Builders for a complete building solution, our general contracting team will oversee the entirety of your build from start to finish. This means that as your general contractor, DC Builders will coordinate jobsite scheduling, cost estimation, material procurement, subcontractor selection, permit acquisition, and everything else needed to successfully complete your project. During the construction process, our project managers will be on site to manage day-to-day operations, ensuring every detail of your project is built to perfection and your structure is running on schedule. We'll also provide important updates as they happen to keep you in the loop on your building's progress. With our cloud-based project management platform, you can access your project details at any time, including design plans, jobsite photos, construction schedules, daily logs, and much more. This technology, unrivaled in our industry, makes it easy for clients to supervise their build from anywhere and all without missing a beat.
COMPLETE DESIGN, BUILD,
AND PREFABRICATION SOLUTIONS
For clients located in California, Oregon, and Washington, DC Builders offers complete design, build, and prefabrication services that make the building process as efficient and streamlined as possible. When partnering with DC Builders for an all-in-one design and build solution, our team will start by creating custom design plans for you based on your proposed ideas. After your plans are reviewed by our engineering partners, we'll send your design to our Purchasing and Logistics team who will help you select the best building materials and accessories for your project. Once you've made your selections, our craftsmen will then prefabricate your project in our off-site manufacturing facility. Using our specialized woodworking machine, our craftsmen can translate your design plans into expertly pre-cut, labeled, and drilled heavy timbers that come ready for assembly. With your prefabricated building package shipped and delivered to your jobsite, our project management team will mobilize to complete construction for your project with the help of our experienced framing crews and trusted subcontractors. By utilizing our complete design, build, and prefabrication services, you can expedite your building process and watch your structure come to life in no time.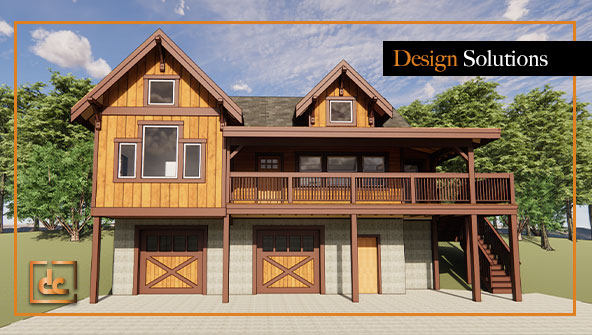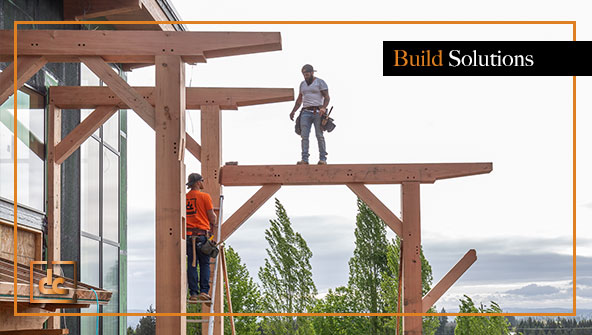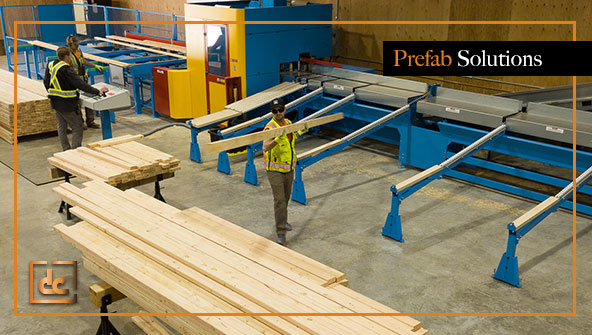 OUR IN-HOUSE
CUSTOMER SUPPORT TEAM
Managing your custom build can be a stressful experience if you don't have the right support for your project. At DC Builders, you can rest easy knowing you have an entire team of project managers, production coordinators, and customer support specialists assisting you every step of the way. From initial design meetings to move-in day, our team will work closely with you to ensure your project is exactly as you envisioned and moving at a pace that's comfortable for you. During the construction process, our project managers will be on site to oversee the entirety of your build, acting as your primary contact throughout the building process. Meanwhile, our customer support team will work behind the scenes at our Portland office to coordinate shipping, selections, invoicing, and so much more. If you have any questions regarding your project, our team is just a quick call or email away. With customer support as comprehensive as ours, you're never alone in the building process.

One of the most exciting parts of designing a building from scratch is getting to hand-pick the features you wish to see in your dream structure. From major decisions like exterior finishes and flooring to simple accents including interior paint and stain, the details you decide to incorporate in your space undoubtedly define the personality of your structure. With our selections process, you'll have the opportunity to choose from hundreds of premium customization options to determine the best accessories from your project. Our team will start by helping you tackle big ticket items first, including siding, windows, and doors, before moving on to smaller details that complement your overall design. Depending on your location and preference, our selections coordinator can also shop in-person with you to ensure your satisfaction with the end result of your design. At DC Builders, we want you to love your custom structure and our selections process is the perfect opportunity to make your building uniquely yours.
Exterior finishes

Interior finishes

Flooring

Accent pieces

Lighting fixtures

Plumbing fixtures
& Much more!

Known for their structural integrity, beauty, and impeccable craftsmanship, our heavy timber structures are built to stand out from the rest. While our team uses a number of time-tested construction practices to complete our unique heavy timber structures, our innovative approach to the building process is what makes our structures truly one-of-a-kind. Interested in learning more about our industry-leading design and construction methods? View our Best Practices videos below to get a behind the scenes glimpse into our building process and why our team is considered one of the most trustworthy builders in the industry.
Seeking a general contractor outside of California, Oregon, and Washington? Our builder network is comprised of a group of vetted general contractors across the country with the expertise to complete our custom builds. If you need help finding the perfect contractor for your project, our team can connect you with the right team for the job!
CALL US TODAY! 888.975.2057