If you're unfamiliar with a few of the terms we use to describe our buildings, you've come to the right place. View our glossary below to gain a better understanding of the terms we regularly use and their importance.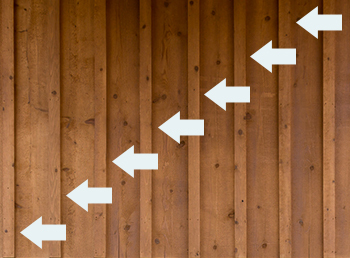 A batten is a narrow strip of lumber used to cover the gaps between wider pieces of wood. We often use this term when referring to board and batten siding, which combines wider pieces of wood (boards) with narrow wood strips (battens) to create a layered effect on your exterior.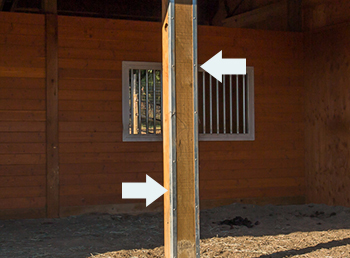 In our equestrian facilities, our wooden posts are designed with metal flashing to protect the edges from wear and tear caused by horse teeth. This use of metal flashing on wooden posts is commonly referred to as chew protection and is highly effective in preventing any damage or accidents from chewing.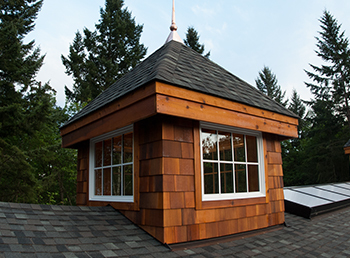 A cupola is a small, tower-like structure that sits on top of a building. Often designed with decorative or functional windows on each side, cupolas provide added ventilation and natural light to the interior of a structure and make beautiful adornments to the outside.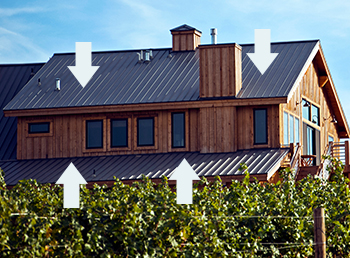 A dormer is a roofed structure, often designed with a window, that protrudes from a sloping roof. Dormers are used to create additional square footage and add visual interest to the exterior.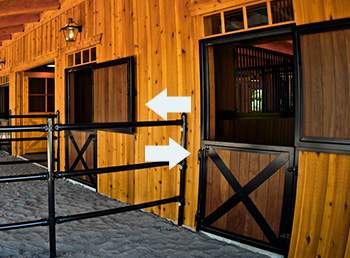 A Dutch door is a door that's divided in the middle, allowing the top portion to open while keeping the bottom closed. These types of doors are most commonly added to the exterior-facing walls behind horse stalls so owners can easily lead their horses into covered turnouts or open the top portion for added ventilation and natural light.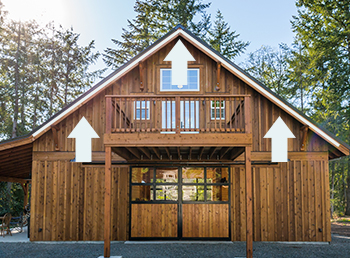 A gable is a triangular portion of a wall enclosed by two intersecting sides of a pitched roof. Our heavy timber buildings with pitched roofs are designed with a number of front-facing and side-facing gables, which are used to help support the frame.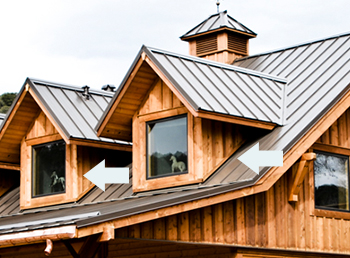 A gable dormer is a roofed structure, often designed with windows, that sits on a sloped roof and forms a triangular shape at the top. These types of dormers are typically added to classic gable-style structures for added headroom and visual appeal.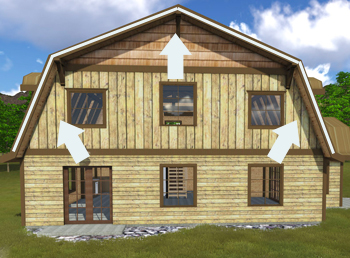 A gambrel is a portion of a wall positioned between two intersecting rooflines that forms a triangular point at the top and slopes outward at the bottom. The upper slope is less steep than the lower, creating a hipped roof that provides extra attic space and achieves a classic barn appearance.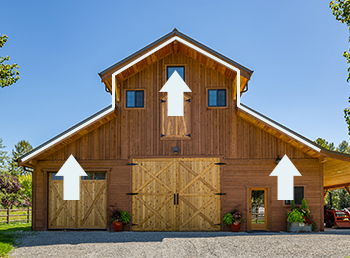 Also known as raised center aisle or RCA barns, monitor barns are designed with a raised ceiling above the center aisle loft. This provides added ventilation and natural light, in addition to creating a spacious loft area that can be converted into a living space, office, or storage space.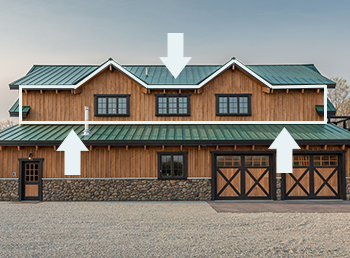 Nantucket dormers are created when two gable dormers are joined by a recessed shed dormer that protrude from a sloped roof. This creates a considerable amount of headroom and adds visual appeal to the exterior.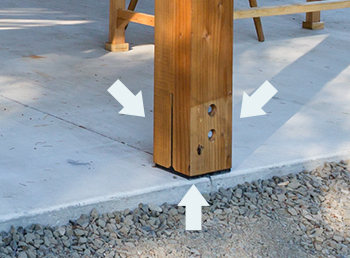 Post and beam construction is a centuries-old building method that utilizes large heavy timbers joined by metal fasteners and connectors to create the frame of a structure. The walls of the building are positioned on the outside of the frame, creating gorgeous interiors defined by their exposed structural beams and high ceilings.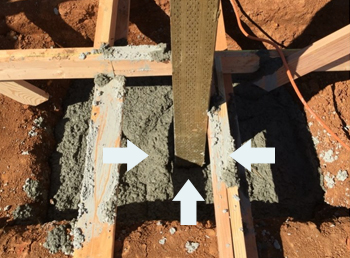 A pole barn is a simple building design that relies on posts or poles directly placed into the ground and secured at the top to support the roof of the structure. Considered to be a cheap and easy building method, pole barns function best as short-term solutions for farm work or storage.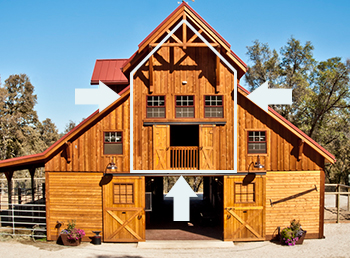 A raised center aisle is created when the center section of a structure features a raised ceiling, providing additional square footage and allowing better ventilation and natural light to pour through the structure.
A slab-on-grade foundation is a type of foundation that is formed when concrete is poured into a mold that sits on the ground. There are two types of slab foundations – monolithic and stem wall foundations. We typically use a monolithic foundation, which consists of concrete being poured all at once as opposed to being formed in sections.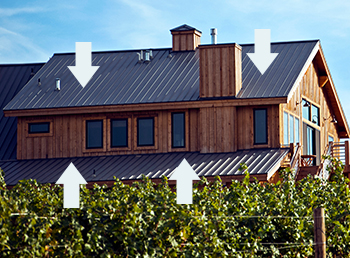 A shed dormer is a roofed structure that protrudes from the sloped roof of a building. Designed with an eave line parallel to that of the roof, a shed dormer is an aesthetically appealing addition used to create extra headroom in one's space.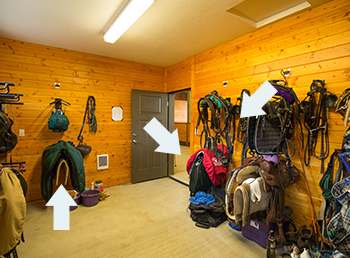 Tack is the term used to describe the equipment or accessories needed to ride a horse. This includes saddles, bridles, stirrups, harnesses, and more to efficiently prepare a horse for riding.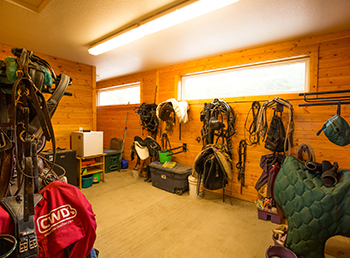 A stable's tack room is a storage space designed specifically for storing equestrian equipment and accessories. It's considered to be one of the most important spaces in one's equestrian facility and requires a great deal of planning to determine how the space will function.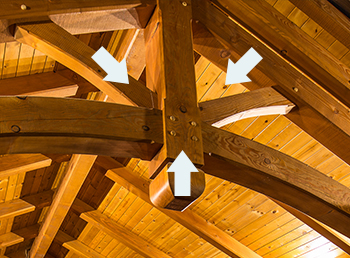 Timber framing is an ancient building method that utilizes large heavy timbers joined by wooden pegs to fasten the frame of a structure. The result is a gorgeous timber frame building characterized by its timber connections and wide-open interiors.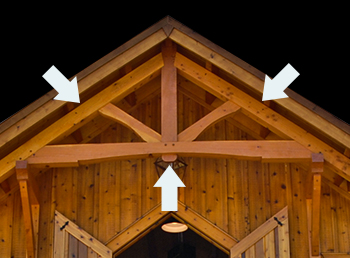 A truss is a framework of heavy timber beams, rafters, and braces used to support the roof of a structure. Our trusses are designed to be both structurally sound and decorative, providing the perfect addition to a building's interior and exterior.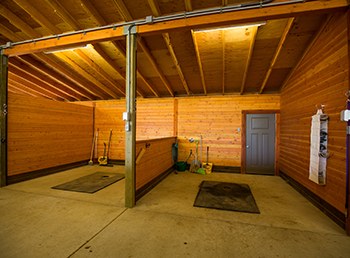 A wash bay is the area used for washing and grooming horses in an equestrian facility. When designed for efficiency, wash bays make it easy for clients to maintain their horses' hygiene on a daily basis.