OREGON
LUXURY HOME BUILDERS
With nearly two decades' experience in building custom structures in Oregon, we can definitively say no one knows our home state better than us. DC Builders has operated out of the Portland, Oregon area since 2002, establishing key relationships with the region's best heavy timber suppliers, materials partners, and tradesmen to provide clients across the country with extraordinary structures defined by our Pacific Northwest roots. Now, we're leveraging our in-house design team, mill-direct relationships, off-site manufacturing capabilities, and skilled building crews to deliver luxury, high-performance homes here in the Pacific Northwest. If you're planning to build a one-of-a-kind luxury home in Oregon, there's no better custom home builder than DC Builders.
Our in-house design team boasts more than fifteen years' experience designing custom luxury homes across the nation and here in the Pacific Northwest. From beachside homes off the Oregon Coast to high-desert barn-style residences in Bend, Oregon, we've crafted dozens of high-performance custom homes for clients across the state. Using industry-leading design software, our team will transform your design ideas into an interactive 3D model that you can review and modify in real-time. Our virtual reality software also allows you to take exciting 3D walkthroughs of your home and explore how different windows, doors, walls, and more can alter your design. Whether you're looking for a rustic retreat or an ultra-modern residence, our in-house design team offers the expertise needed to bring your vision to life.
Founded in 2002, DC Builders has grown into a full-service design and construction firm with hundreds of custom wood structures built throughout the country. Our roots as builders have laid the foundation for our unparalleled design and construction process, providing us with valuable insight into the most efficient and accurate building practices for 21st-century custom homes. Our relationships with top building materials suppliers, subcontractors, and artisans in the Pacific Northwest allow us to source the best and most comprehensive resources for your build. When you partner with DC Builders, we guarantee your home will reflect our highest standards of quality and exceed your expectations.
OUR UNRIVALED
HEAVY TIMBER SUPPLY
DC Builders offers exclusive access to some of the best heavy timbers in the world for our custom home projects. We source the highest grades of lumber from our mill-direct connections to provide our clients with premium lumber at competitive prices, including builder-favorite Douglas fir, Western red cedar, and redwood. All of our heavy timbers are free of heart center, meaning each piece of framing lumber is expertly cut to exclude the soft heart center of the tree. This results in exceptionally stable and strong heavy timbers that won't crack or twist over time, allowing your structure to maintain its structural integrity and beauty for generations.
OFF-SITE
MANUFACTURING FACILITY
Through our prefabrication process, all of the framing lumber used to build your home is prepared ahead of time by our skilled craftsmen in our weather-resistant facility in Portland, Oregon. Using state-of-the-art design software, our team will translate your design into precise, detailed instructions that are then fed into our specialized woodworking machine. Our CNC woodworking machine will pre-cut, drill, and label each individual piece of framing lumber, ensuring all building components are ready for assembly the moment they arrive on your job site. Our prefabrication process means our clients can enjoy a much faster framing process, tighter joints, more accurate construction, and better overall quality, as our controlled factory environment provides the ideal setting for preparing your materials.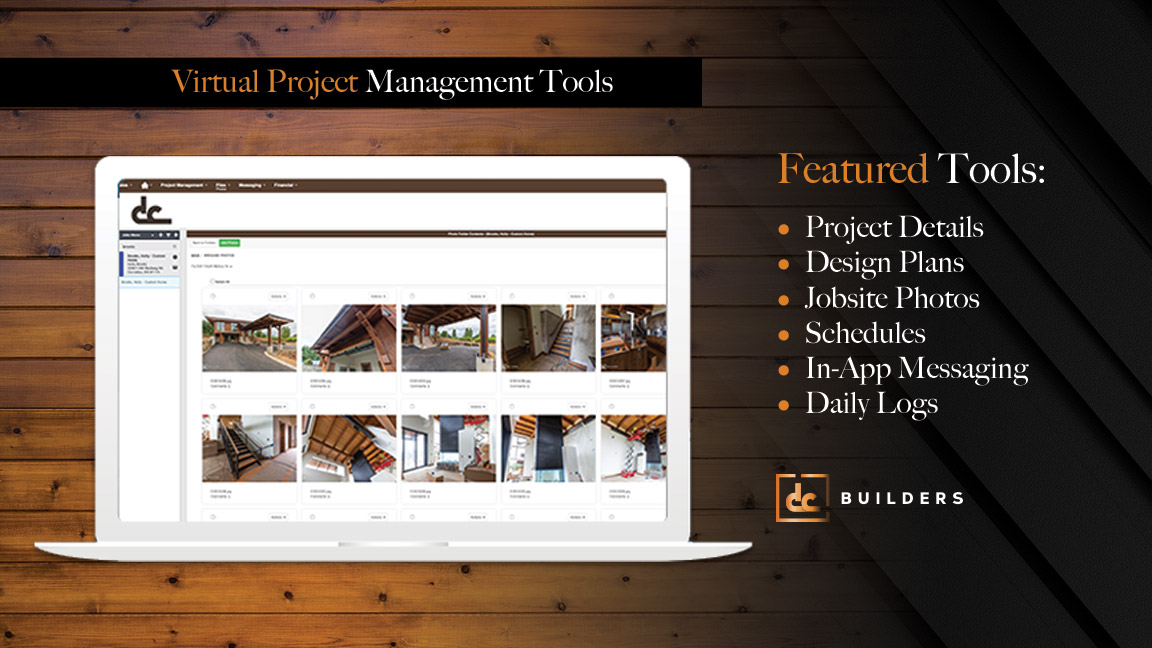 VIRTUAL PROJECT MANAGEMENT
TOOLS
Managing your custom home project has never been easier with our cloud-based virtual project management platform. With our simple software, our clients can easily access their project details at any time and on any device, including design plans, construction schedules, job site photos, and much more. Stay in the loop on the progress of your custom build with daily logs and updates from our design and project management teams, along with in-app messaging tools that allow you to communicate instantly with our team. No matter where you are in the world, our virtual project management tools make it easy for you to supervise your job site and watch your project come to life.
For these custom home projects in Oregon, having an experienced builder right around the corner had its own unique set of perks. Learn more about our clients' custom home projects.
AN ULTRA-MODERN TIMBER FRAME
HOME IN CORNELIUS
This contemporary timber frame residence in Cornelius, Oregon is the second project we completed for our client–the first being a horse barn with living quarters. Since we had already built on the property years prior, our team knew immediately what to expect with the site and created a design centered around its unique characteristics. From our in-house design team to our project management and operations teams, our entire company was heavily involved in getting this project off the ground. Because of our local mill-direct connections, we were able to source oversized heavy timbers for this custom build. This resulted in a structure defined by its seamless timber frame connections and unparalleled heavy timber design.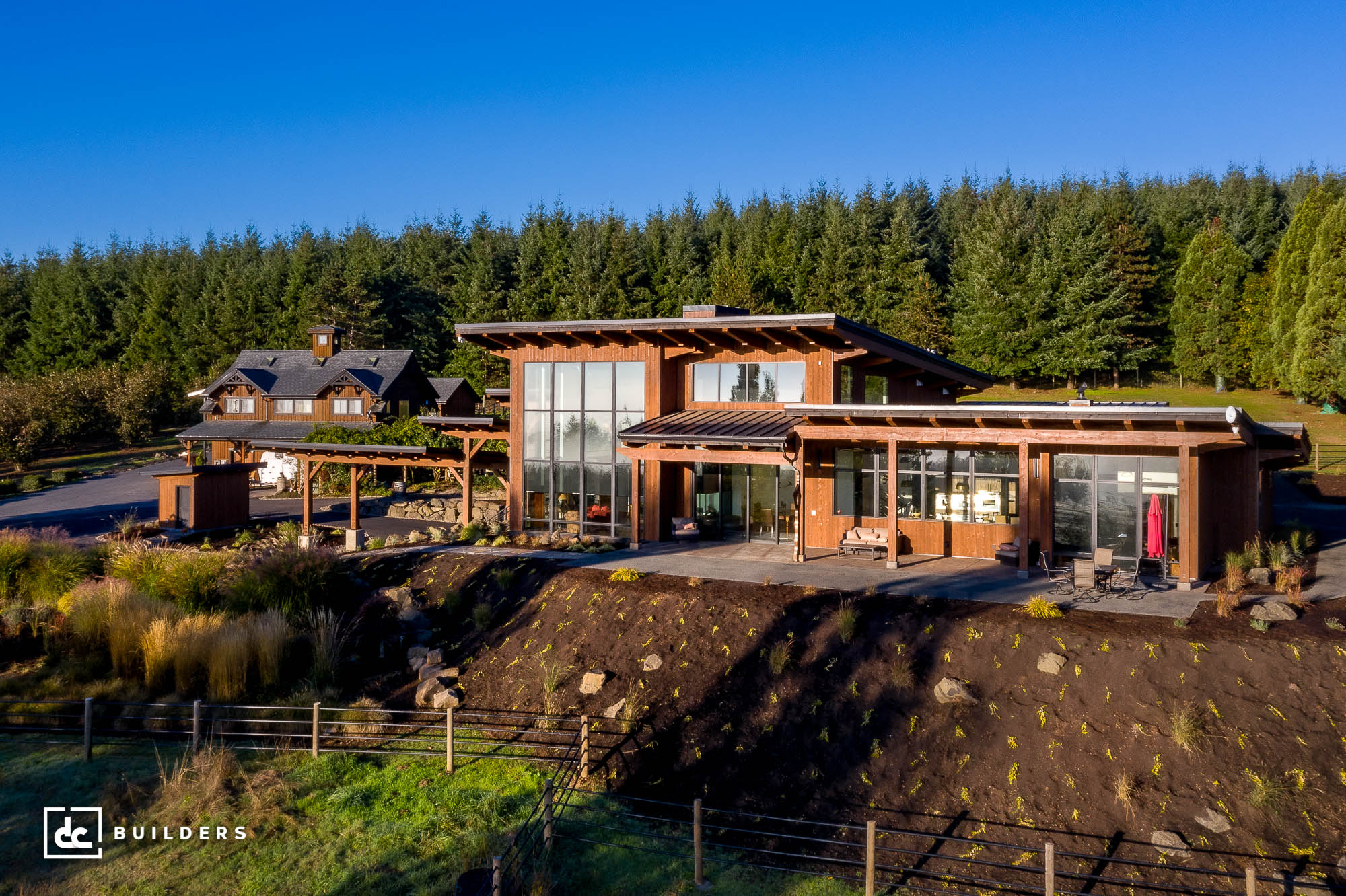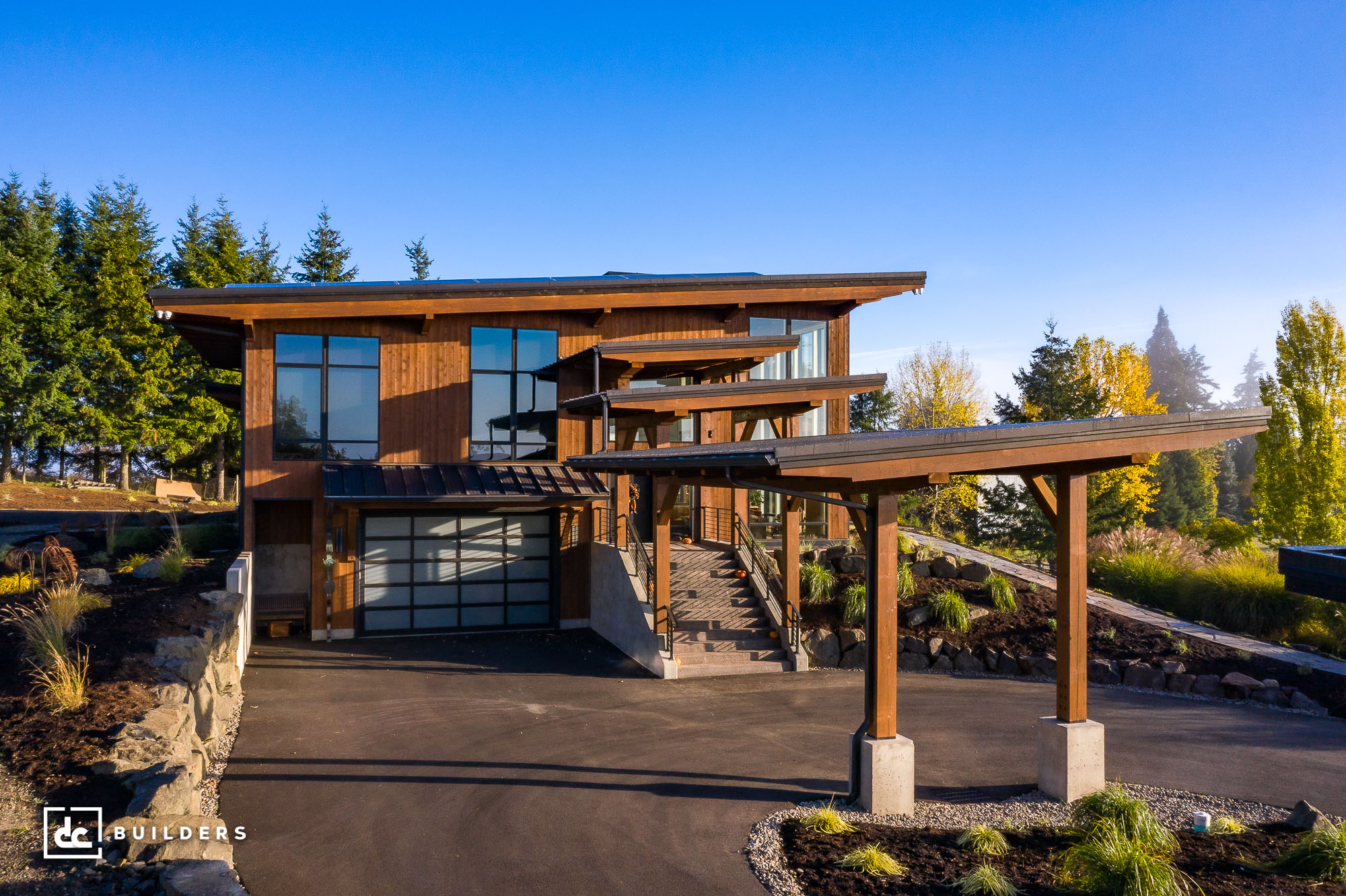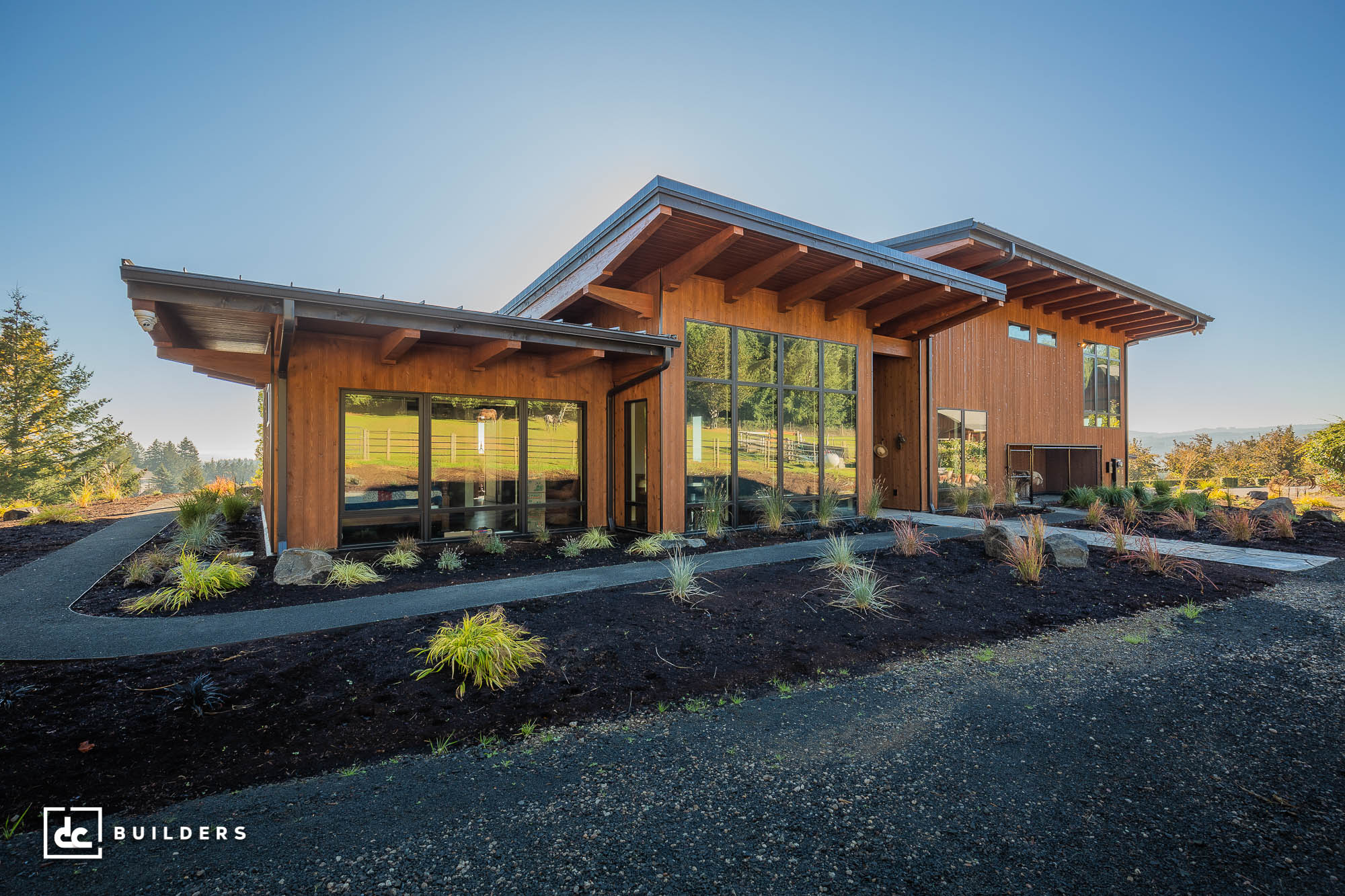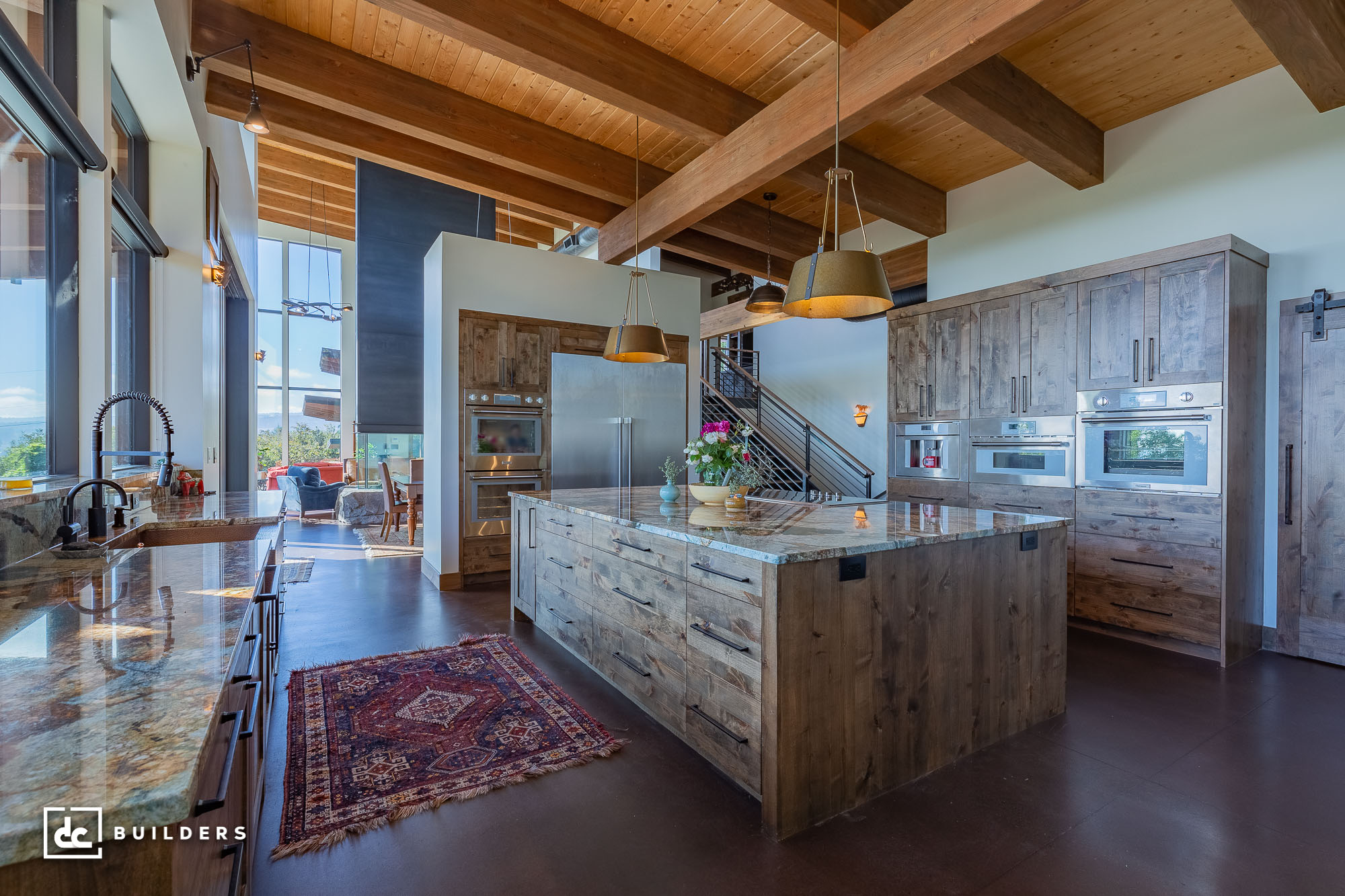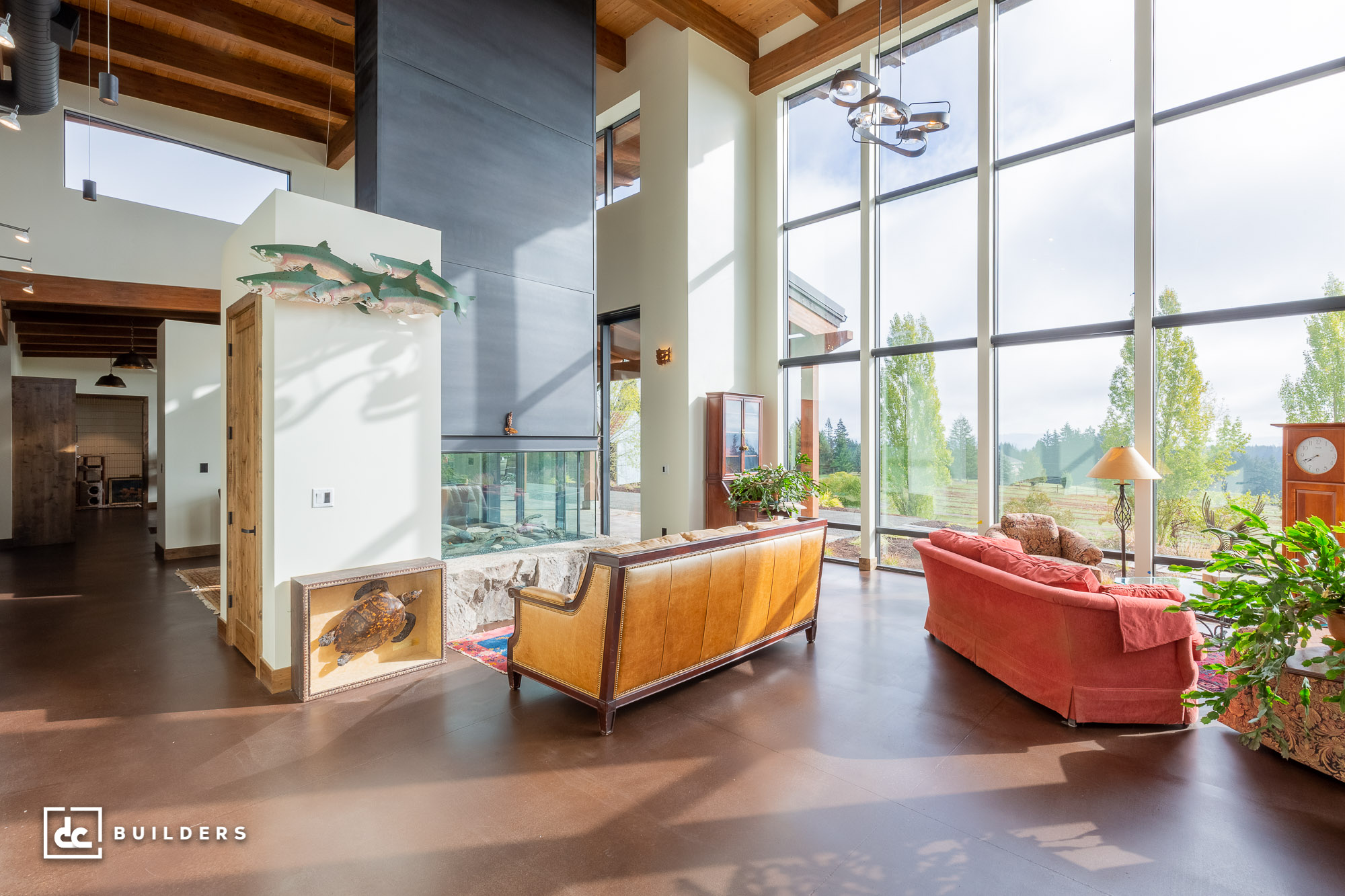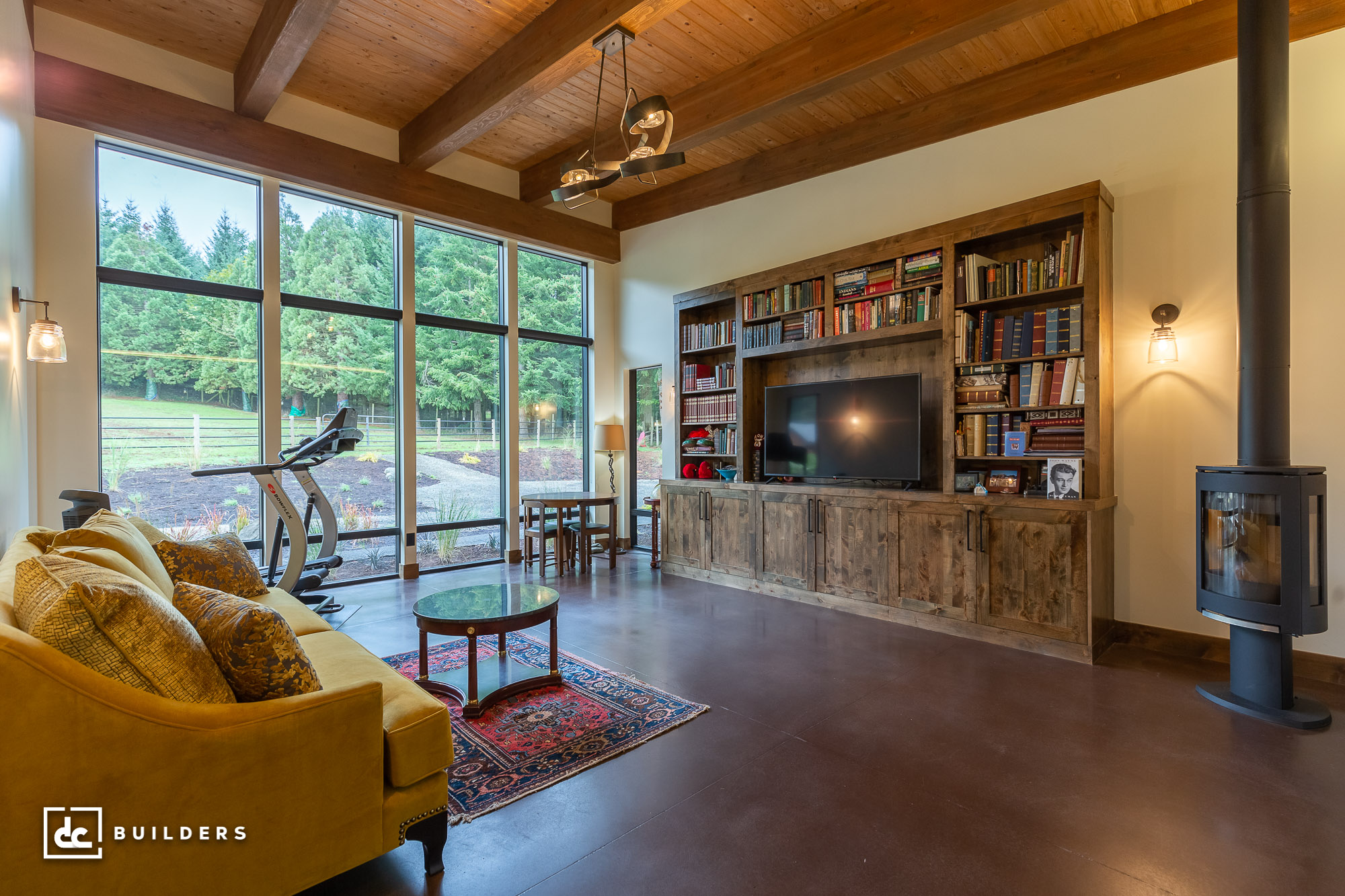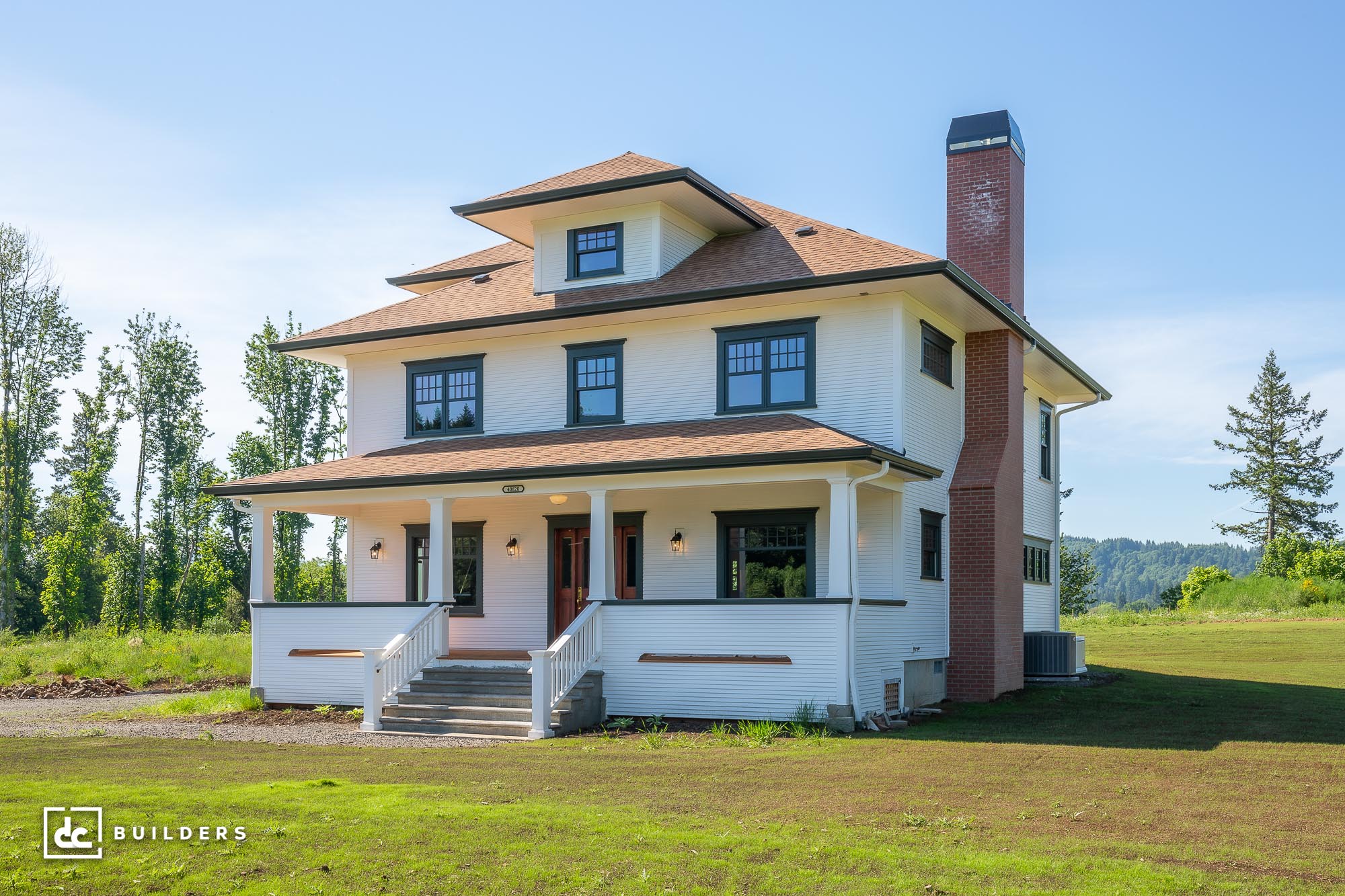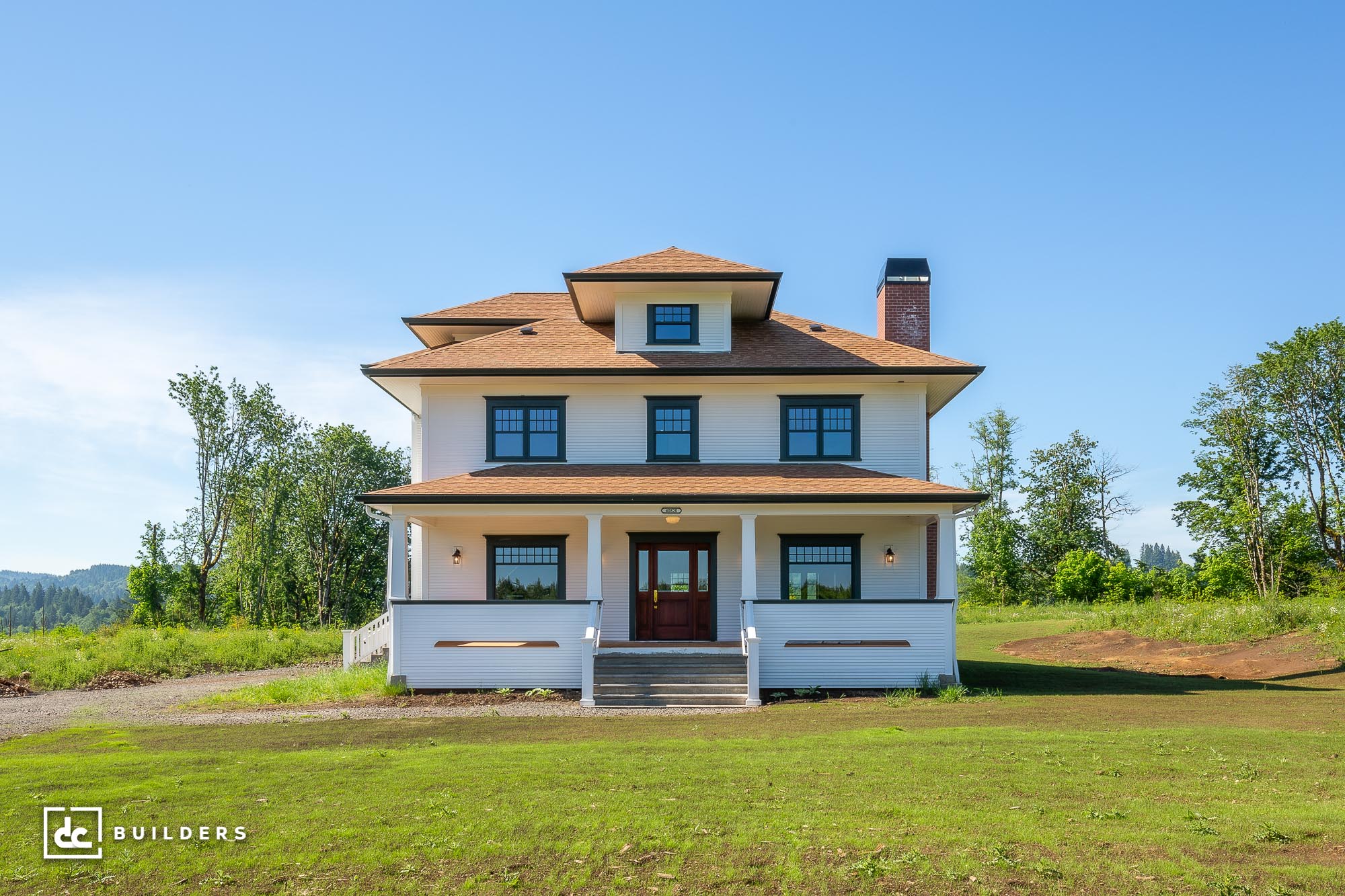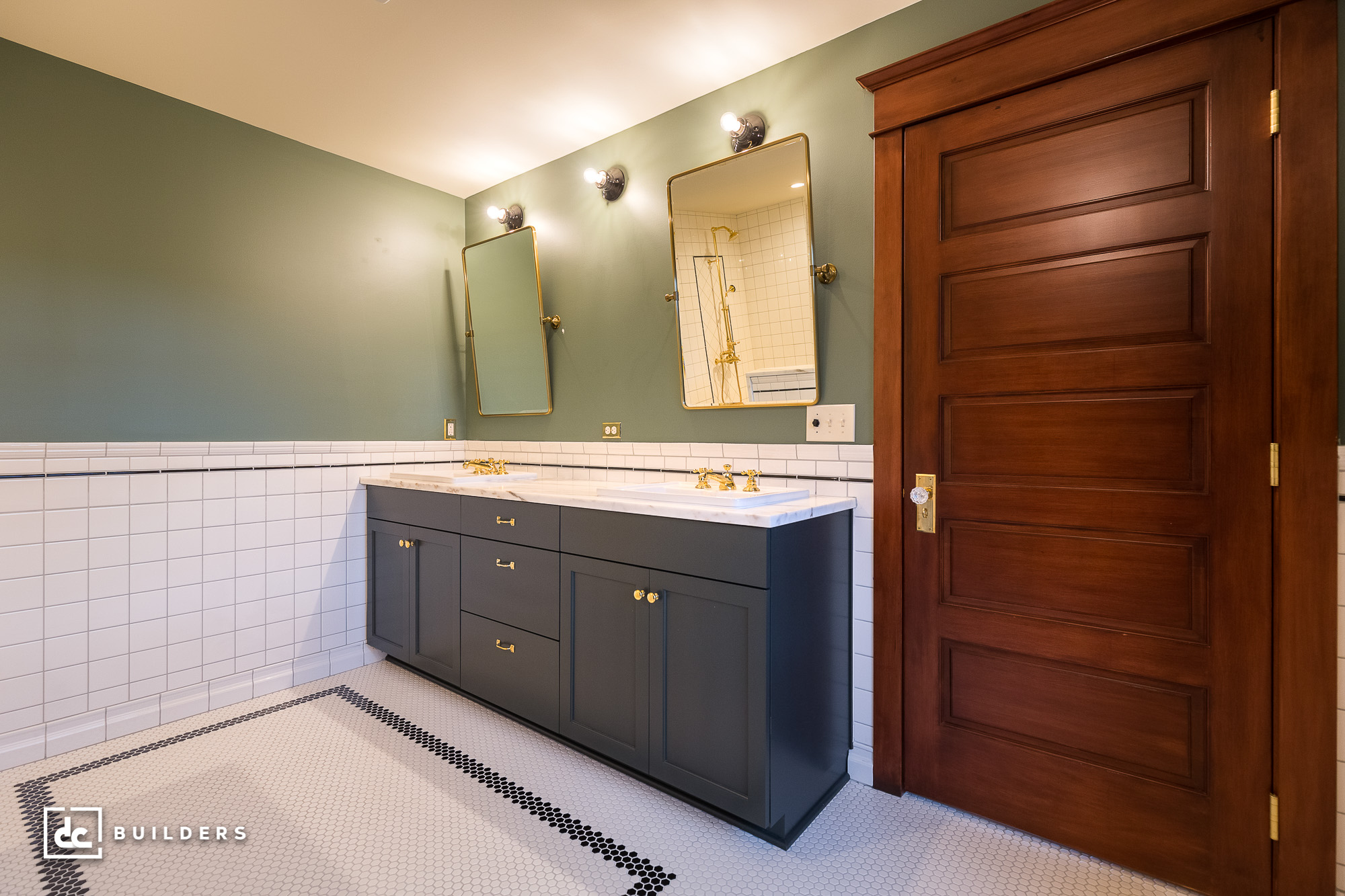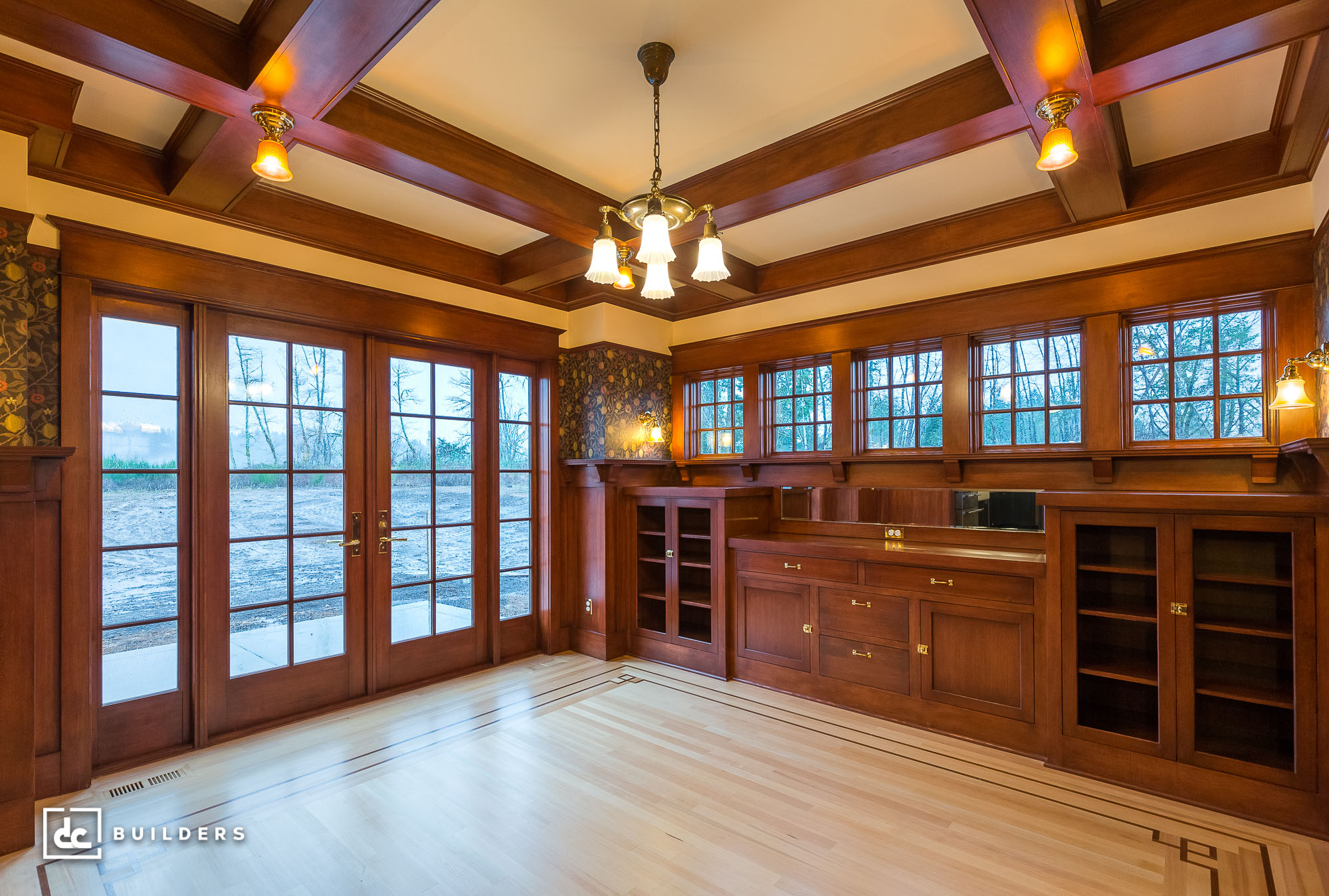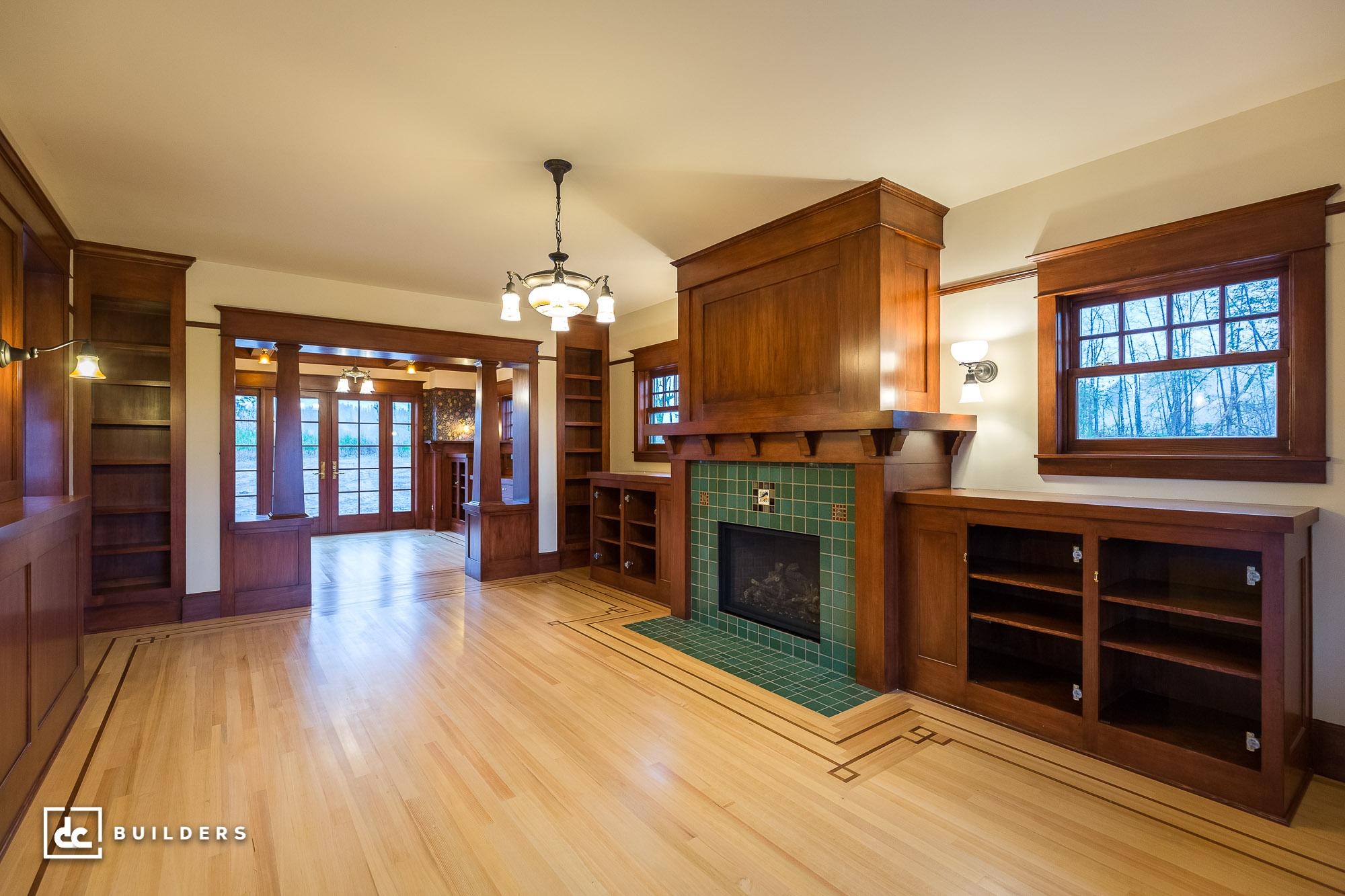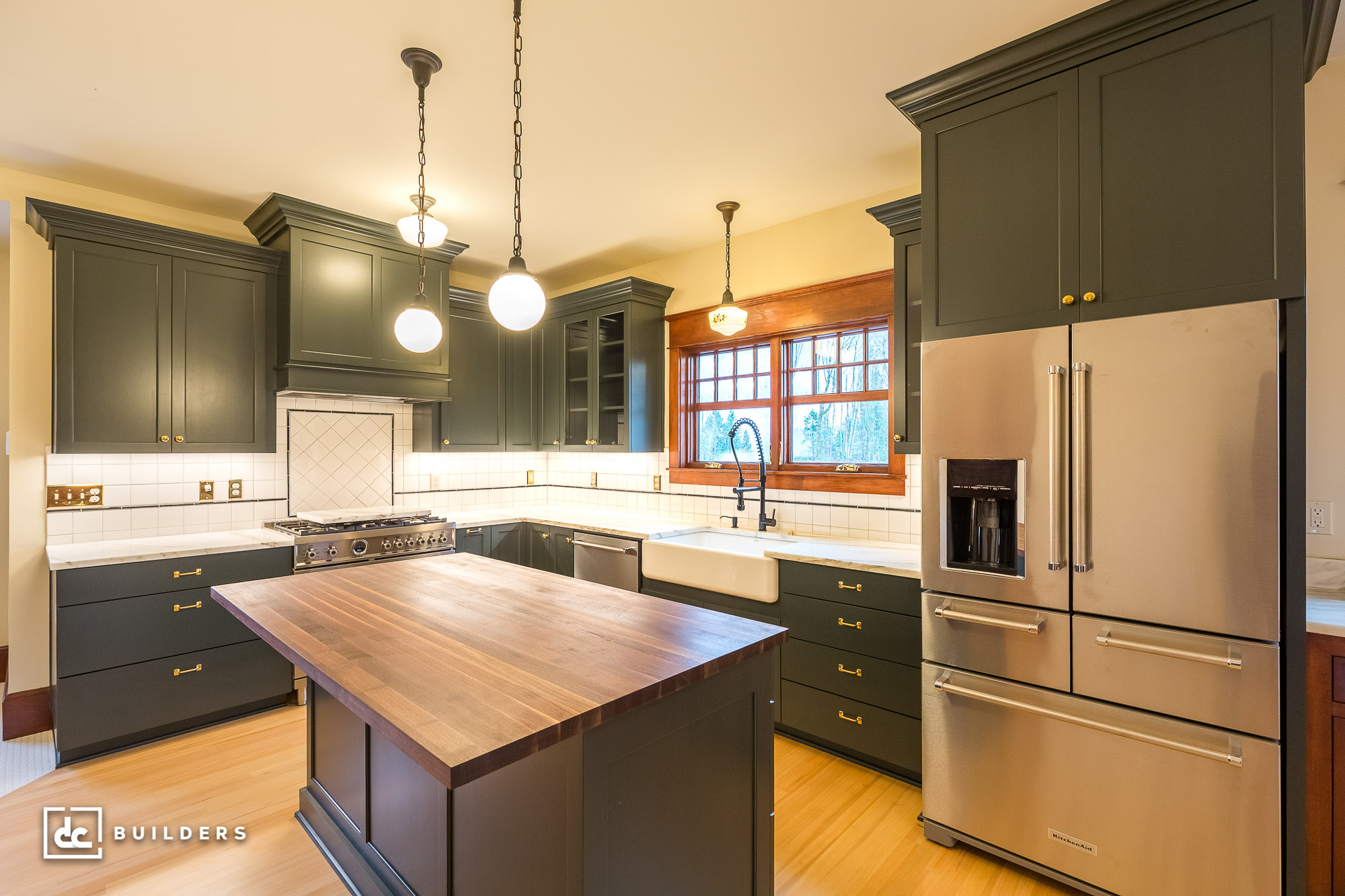 AN AMERICAN FOURSQUARE
HOME IN SANDY
This beautiful reproduction of a classic American Foursquare home in Sandy, Oregon is one of the most unique projects we've worked on over the years. One of the most valuable aspects of this project was being able to help our clients hand-pick the custom selections in their home to reflect the ornate characteristics of traditional post-Victorian homes. Our selections coordinator worked closely with our clients to choose the right fixtures for their design and all of the custom built-ins were designed by local craftsmen. By doing so, our clients were able to benefit from a personalized approach to their project and enjoy a distinctive home made primarily from materials sourced here in the Pacific Northwest.
A BEACHSIDE RESIDENCE
IN GOLD BEACH
Before we were hired as the general contractor for this Gold Beach-based project, our clients found themselves in a less-than-ideal situation. Their original general contractor had been removed from the project and left them with a partially built home, leaving the structure to weather coastal conditions for three years before our team arrived. Once our crew was on the job site, we got to work ripping out the compromised sheathing, roofing, and stair material and proceeded to rebuild and finish the structure according to their vision. The outcome is a stunning custom home designed with four bedrooms, five and a half bathrooms, and a three-car attached garage located just a quarter-mile from the beach. Custom design details including weather-resistant fiber cement siding made to resemble classic cedar board and batten, a custom timber-framed entrance, and a fully customized kitchen make this heavy timber residence the perfect beach home for our clients.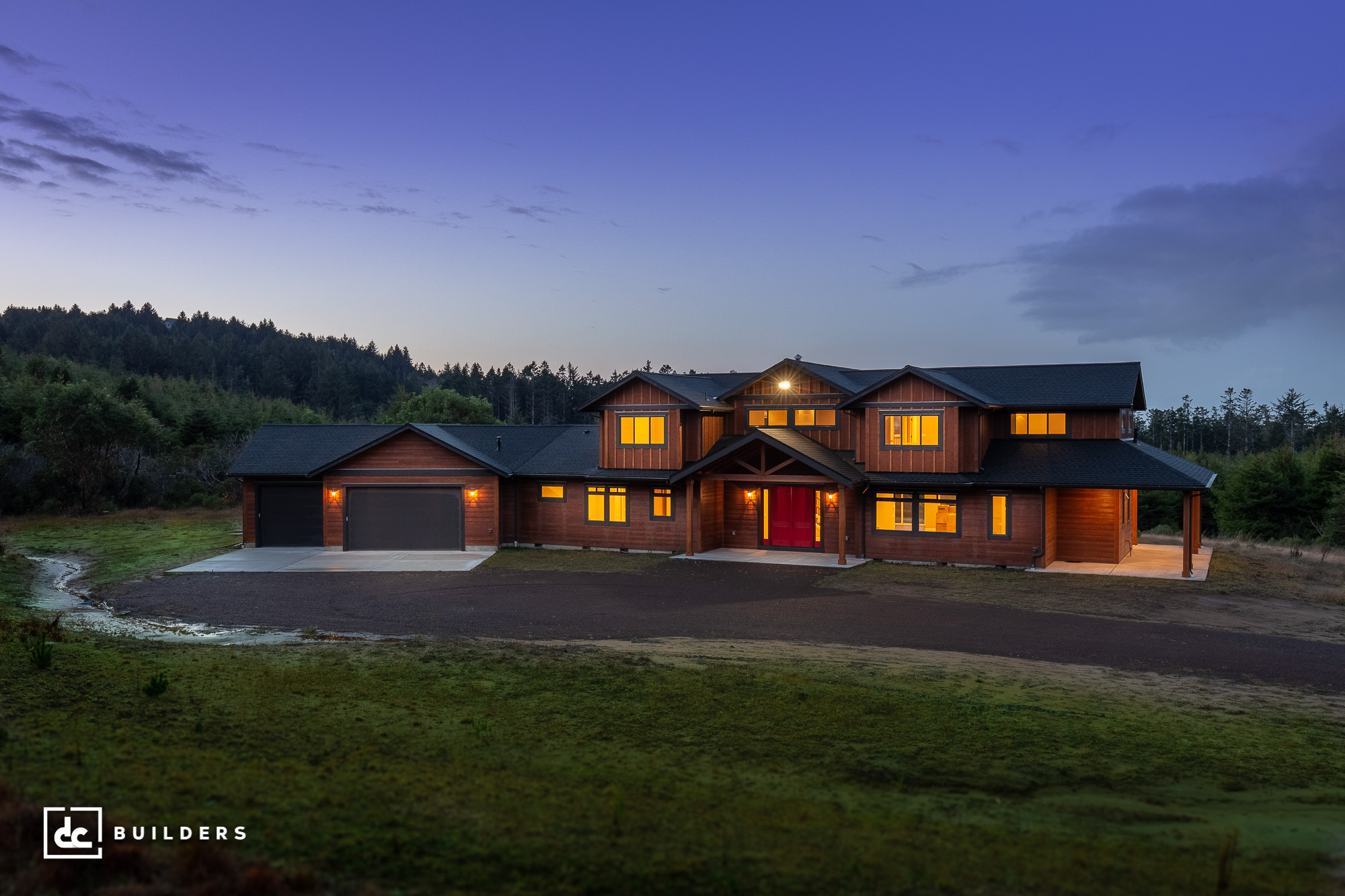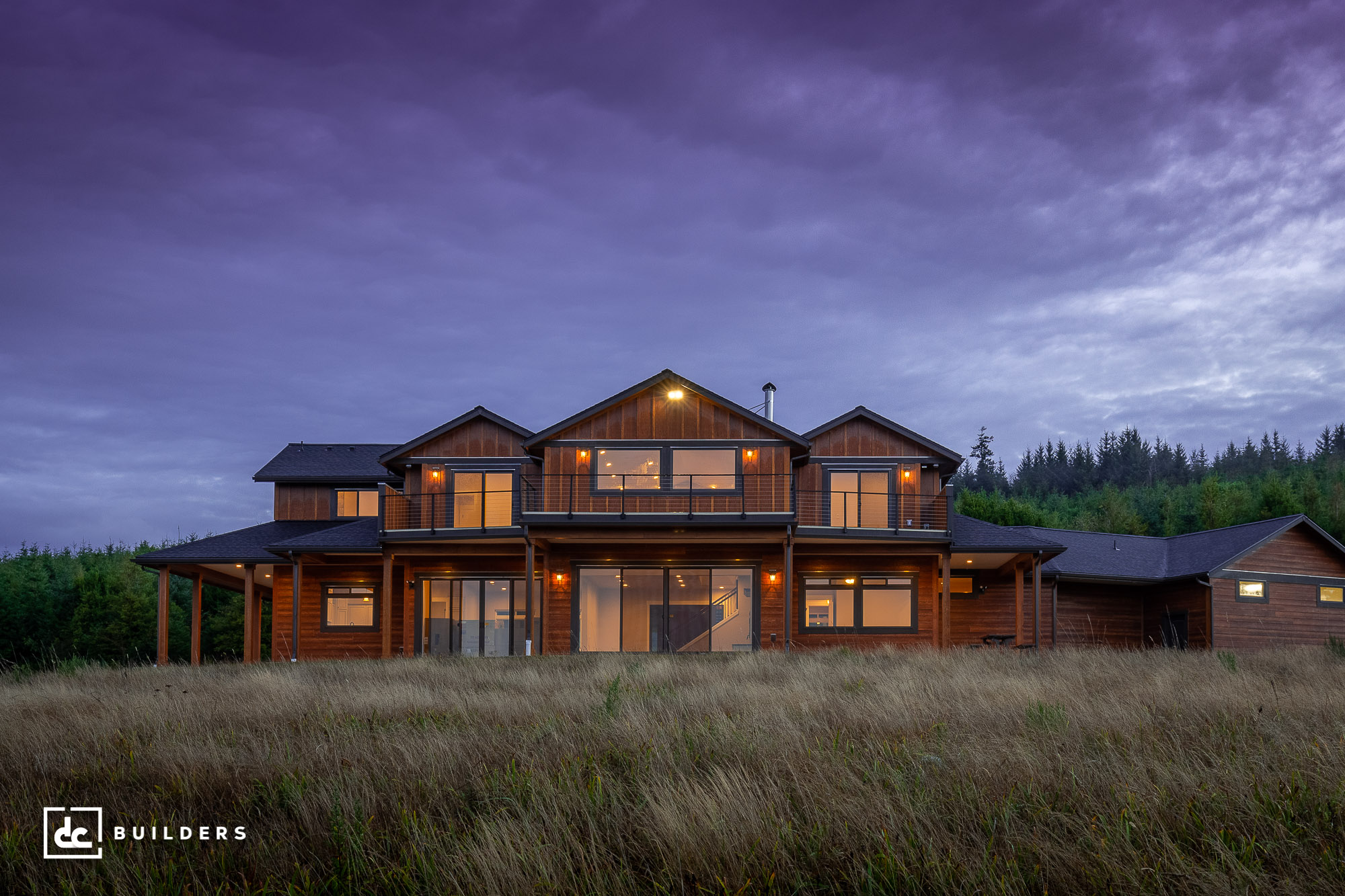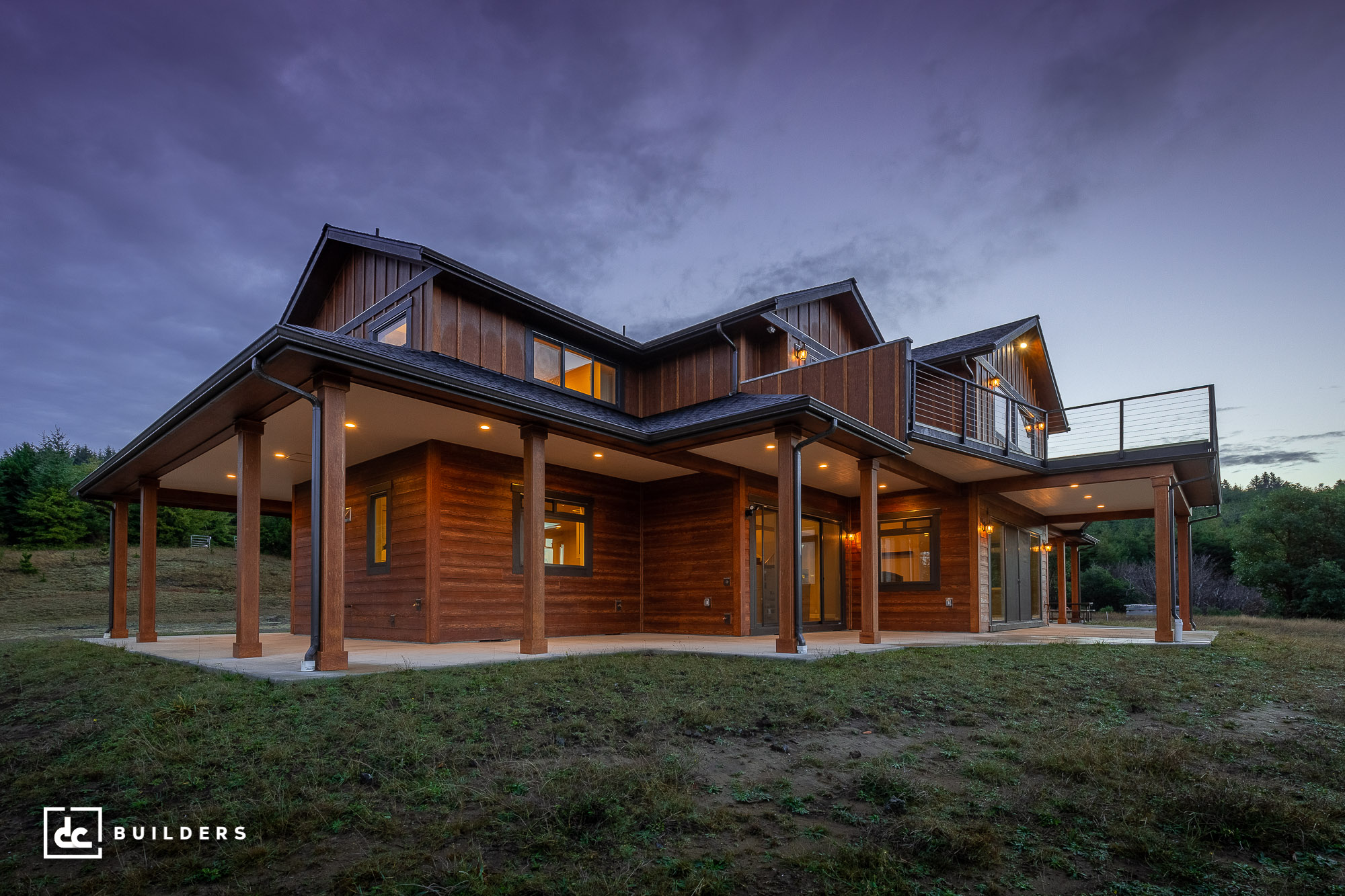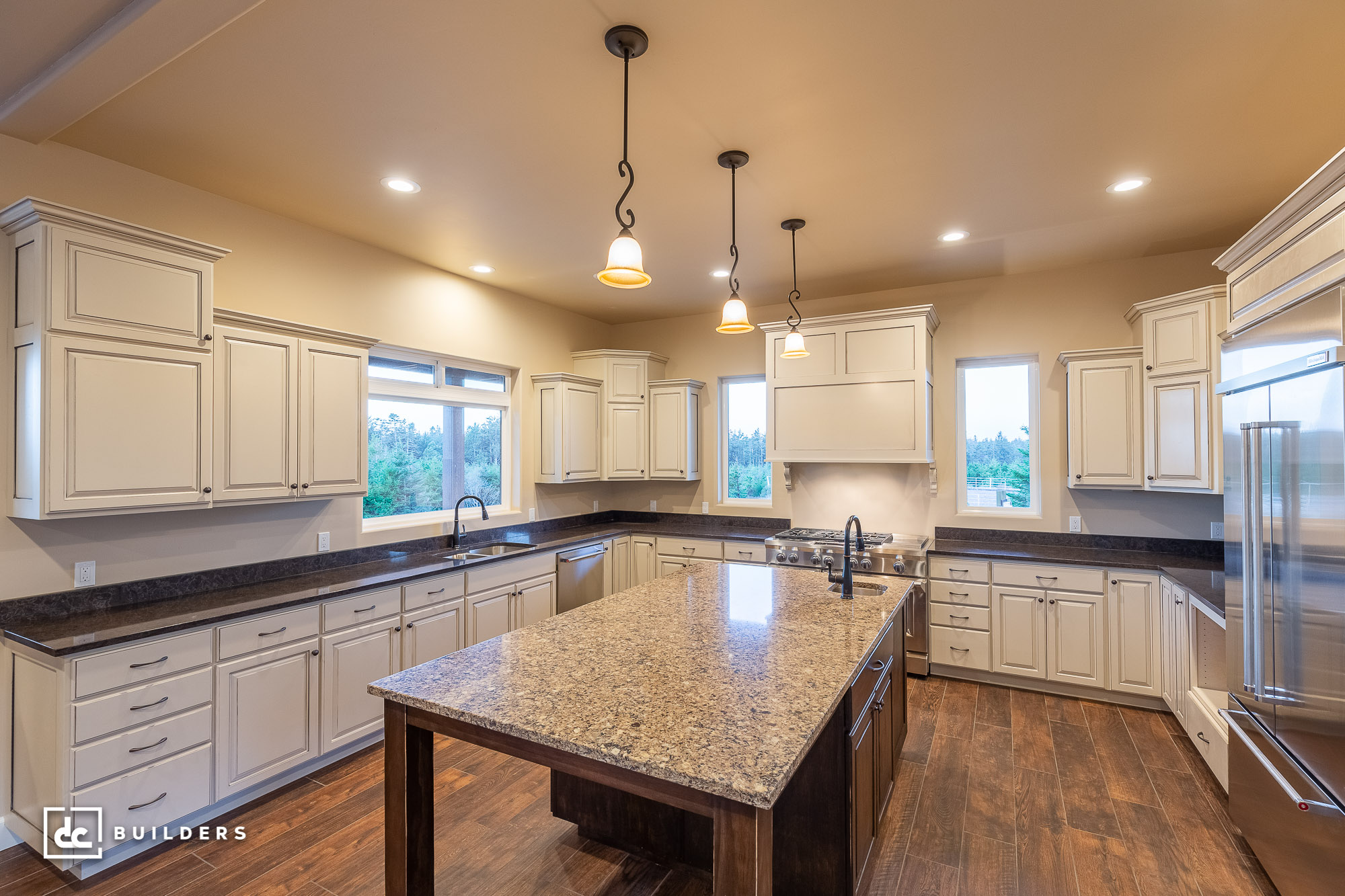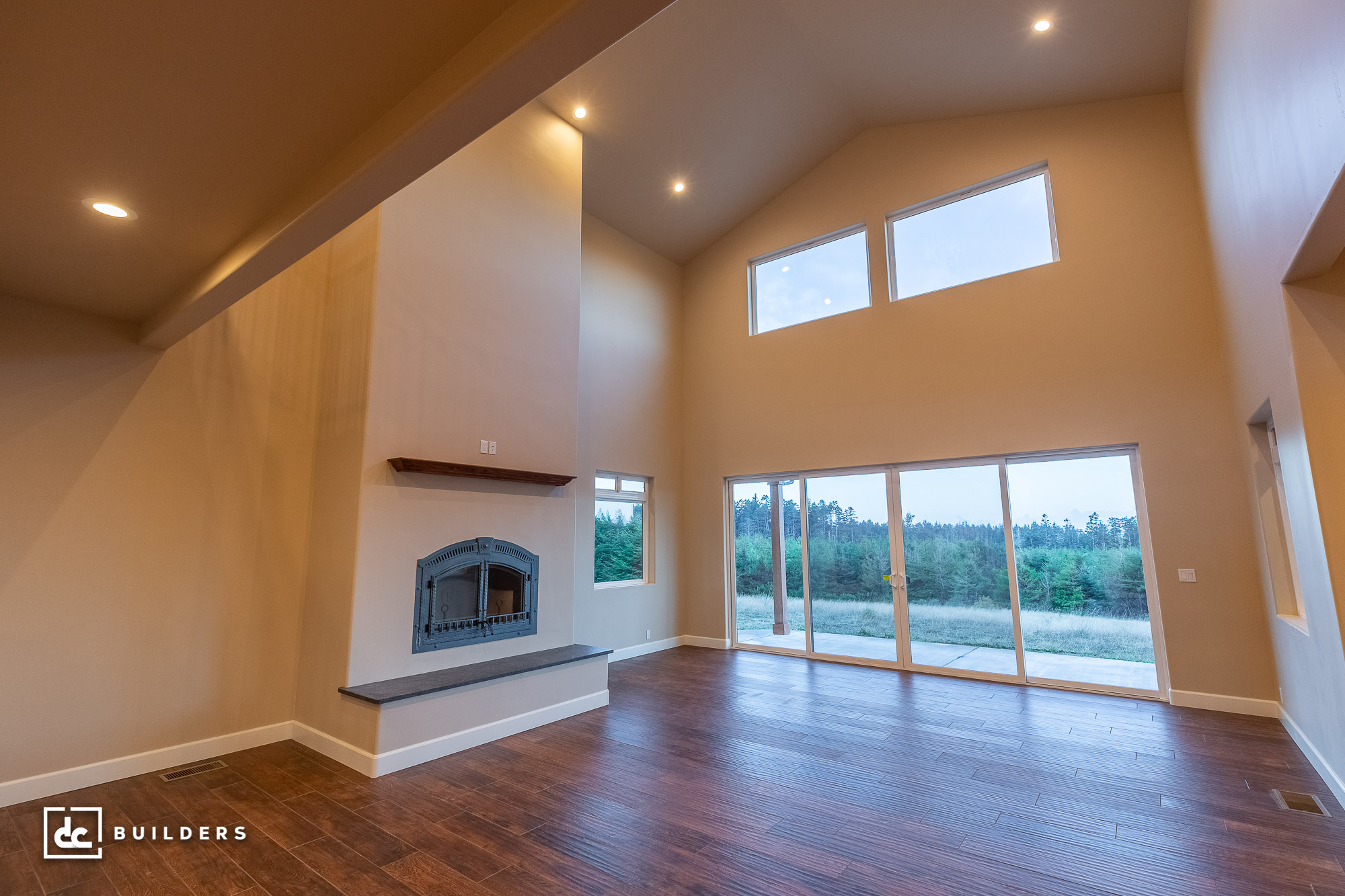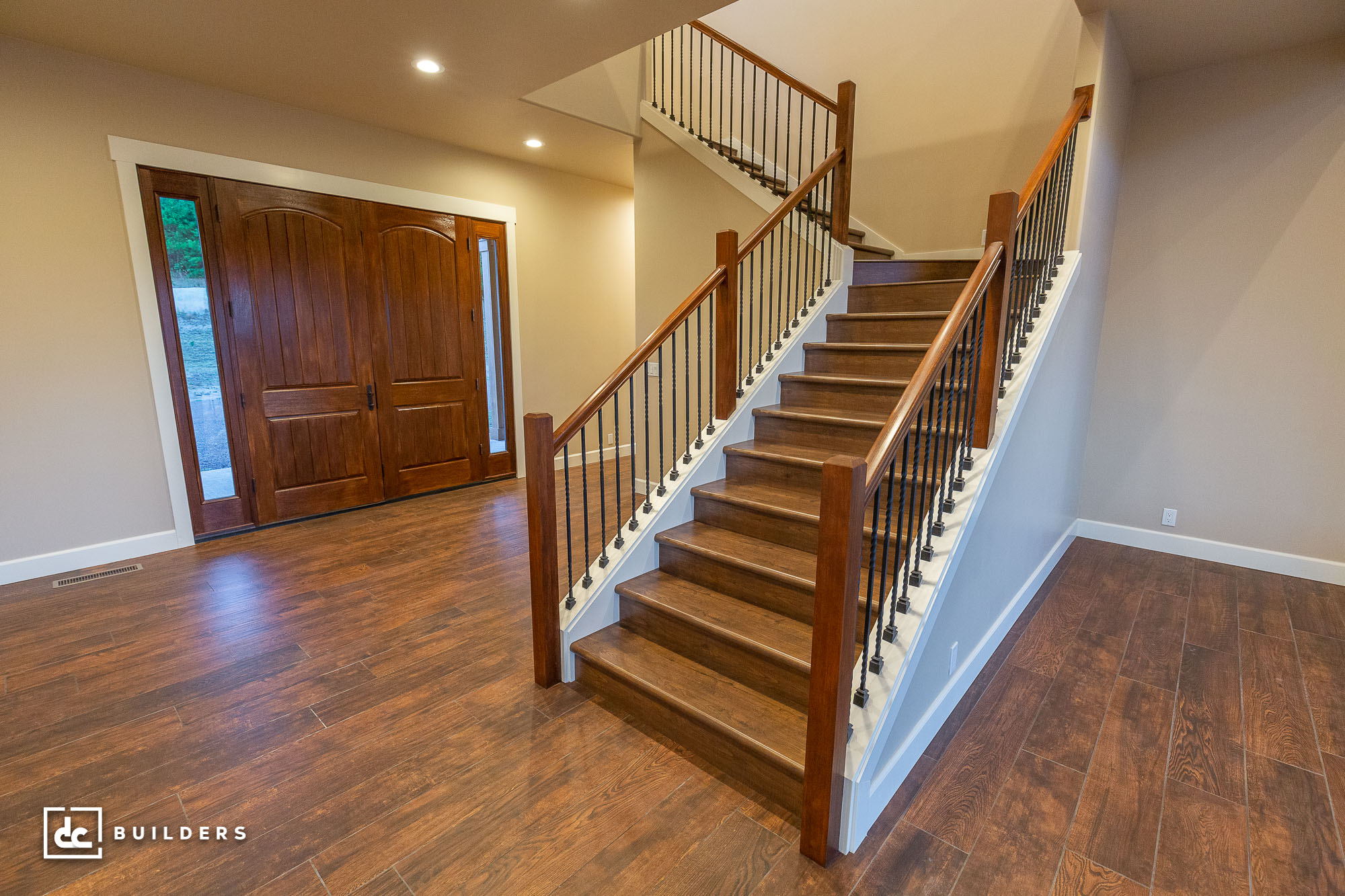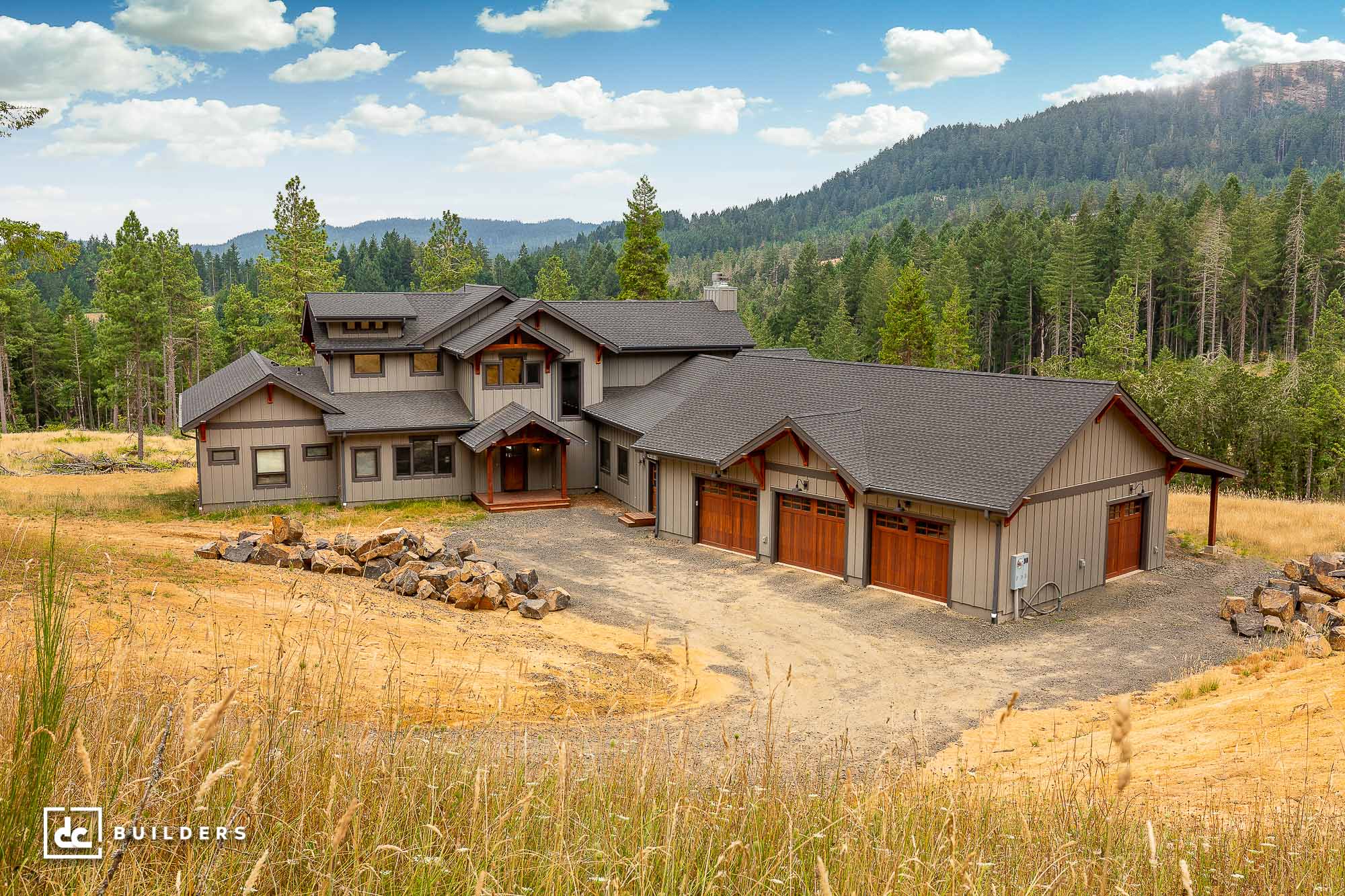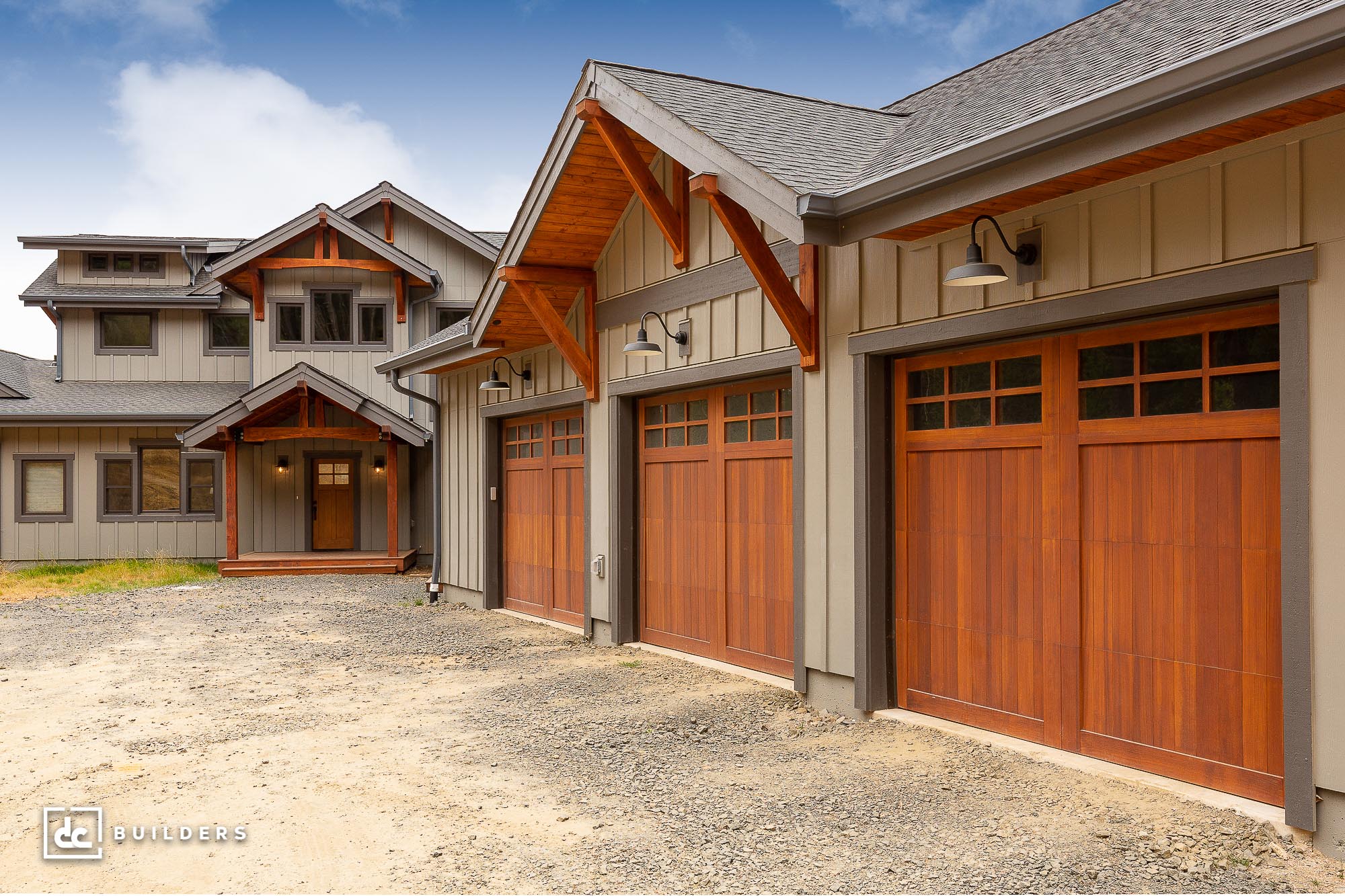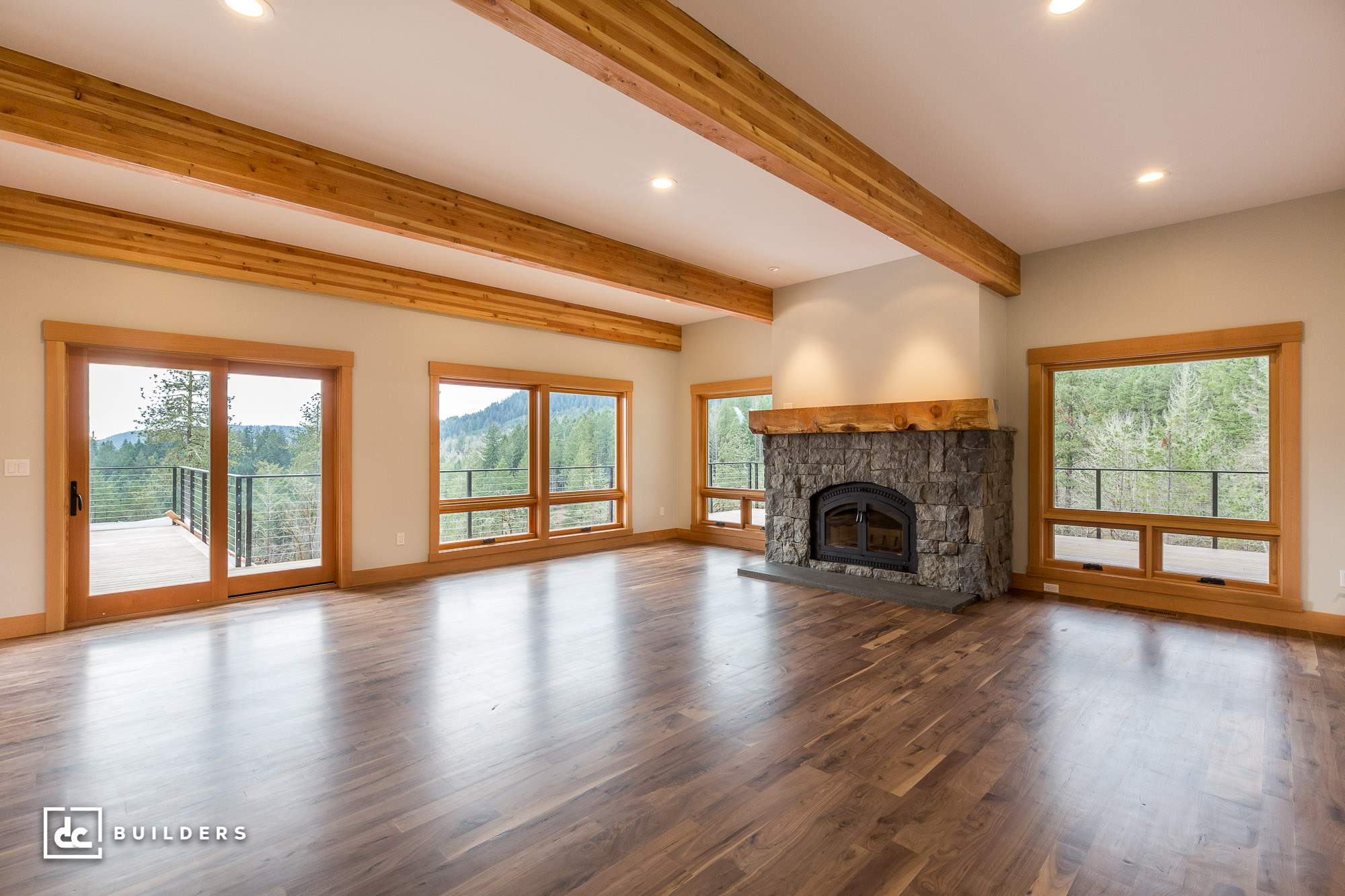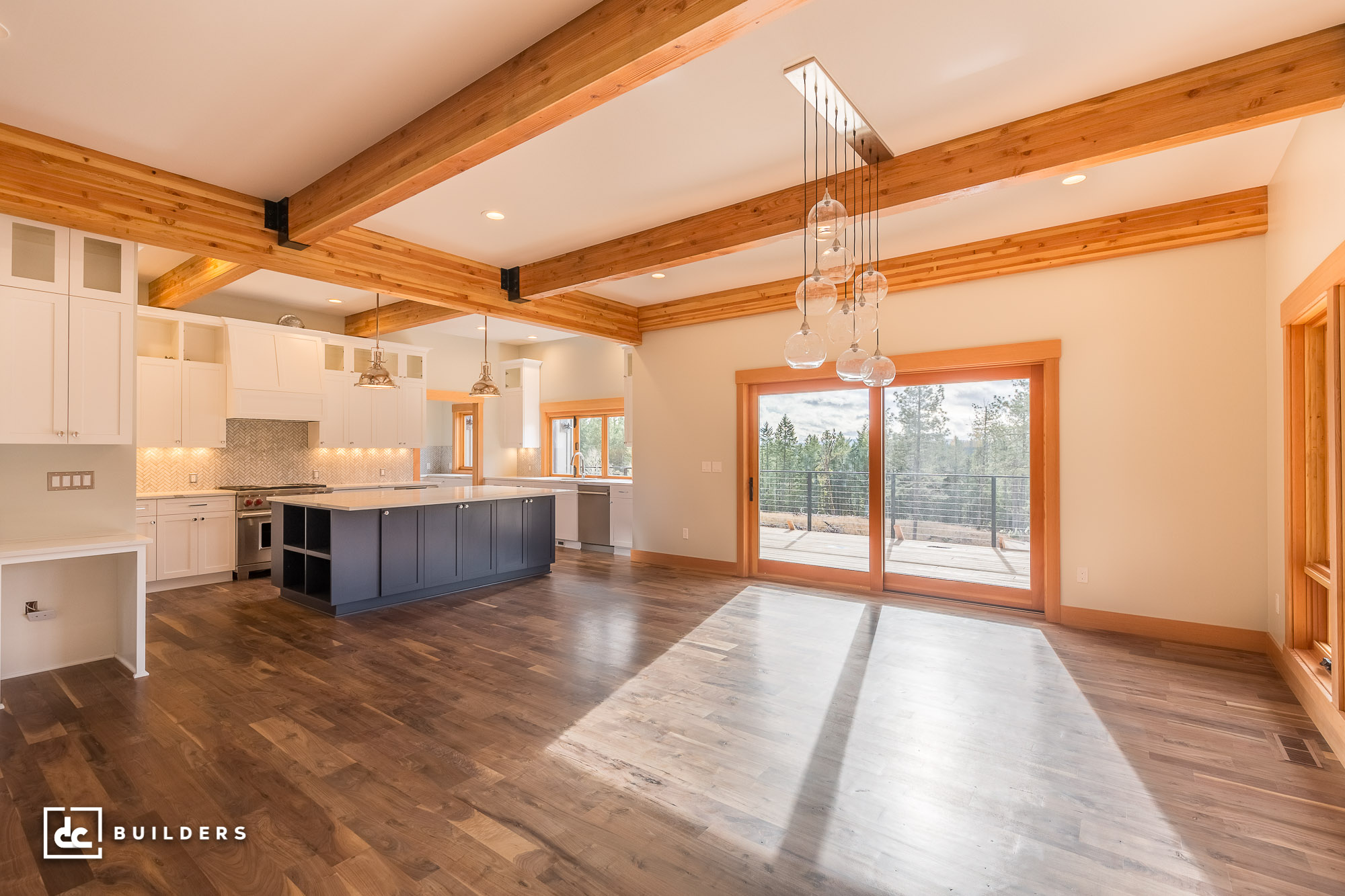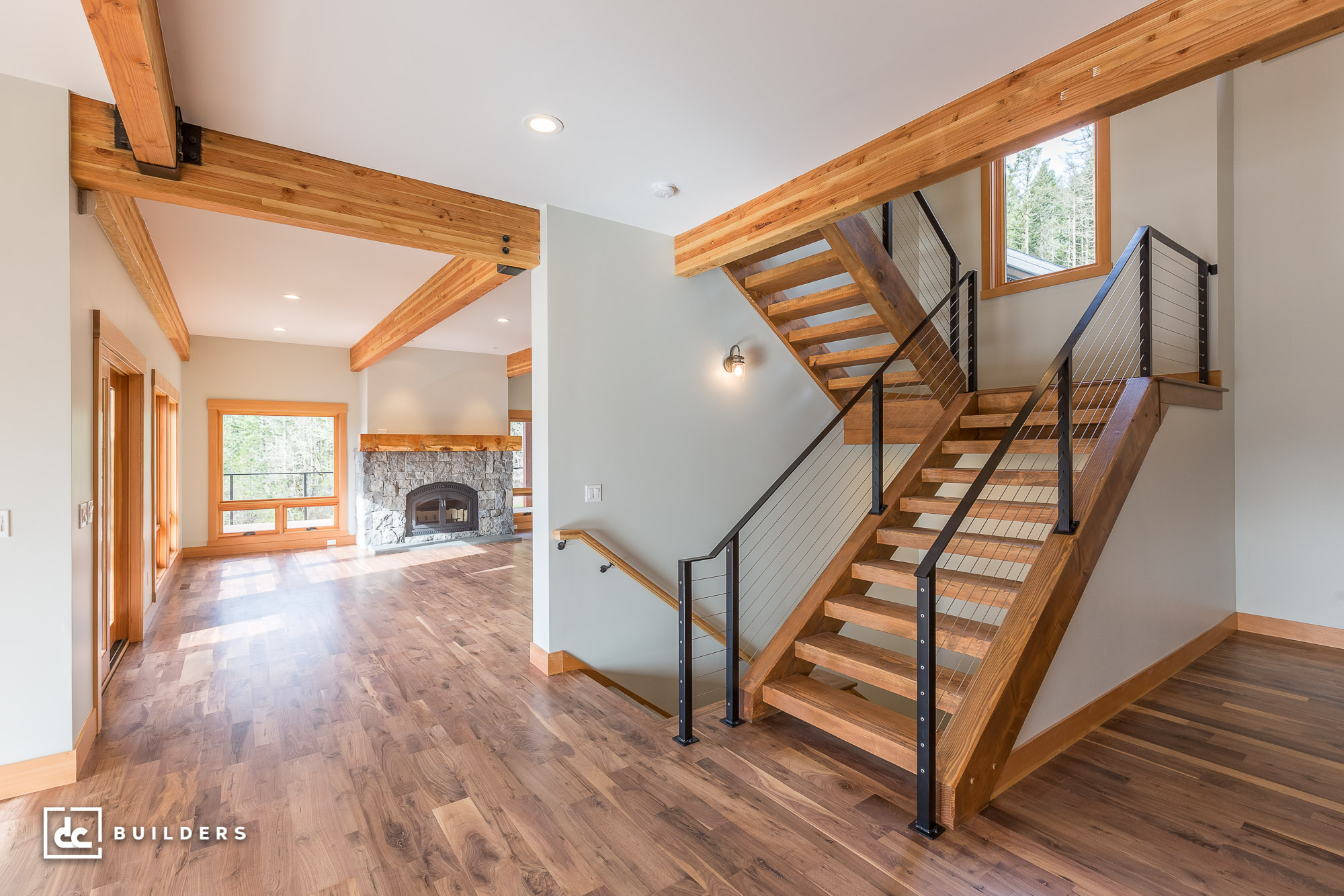 A MODERN CUSTOM
HOME IN EUGENE
This contemporary custom residence near Eugene, Oregon is considered a hybrid timber frame structure, meaning we used a combination of timber framing and conventional framing to complete this build. This custom home offers a number of stunning heavy timber accents throughout, including Douglas fir corbels, timber trusses, a floating timber frame staircase, and barnwood accent walls. We were able to easily incorporate these custom pieces into the home by leveraging our local mill-direct relationships to achieve our clients' vision. The addition of these heavy timber accents gives this custom home its distinct Pacific Northwest appearance and makes it truly one-of-a-kind.
A UNIQUE FAMILY HOME
IN GRESHAM
This custom home project in Gresham, Oregon is located on a subdivision–otherwise known as a divided plot of land intended for residential use and with strict regulations as to what homeowners can build. As the general contractor for this project, we had the task of taking a standard home layout and adding a signature heavy timber design to make the home stand out from others in the neighborhood. Despite the challenges associated with building a custom home in a subdivision, our team was able to deliver a remarkable family home completely unique to our clients' taste and personality.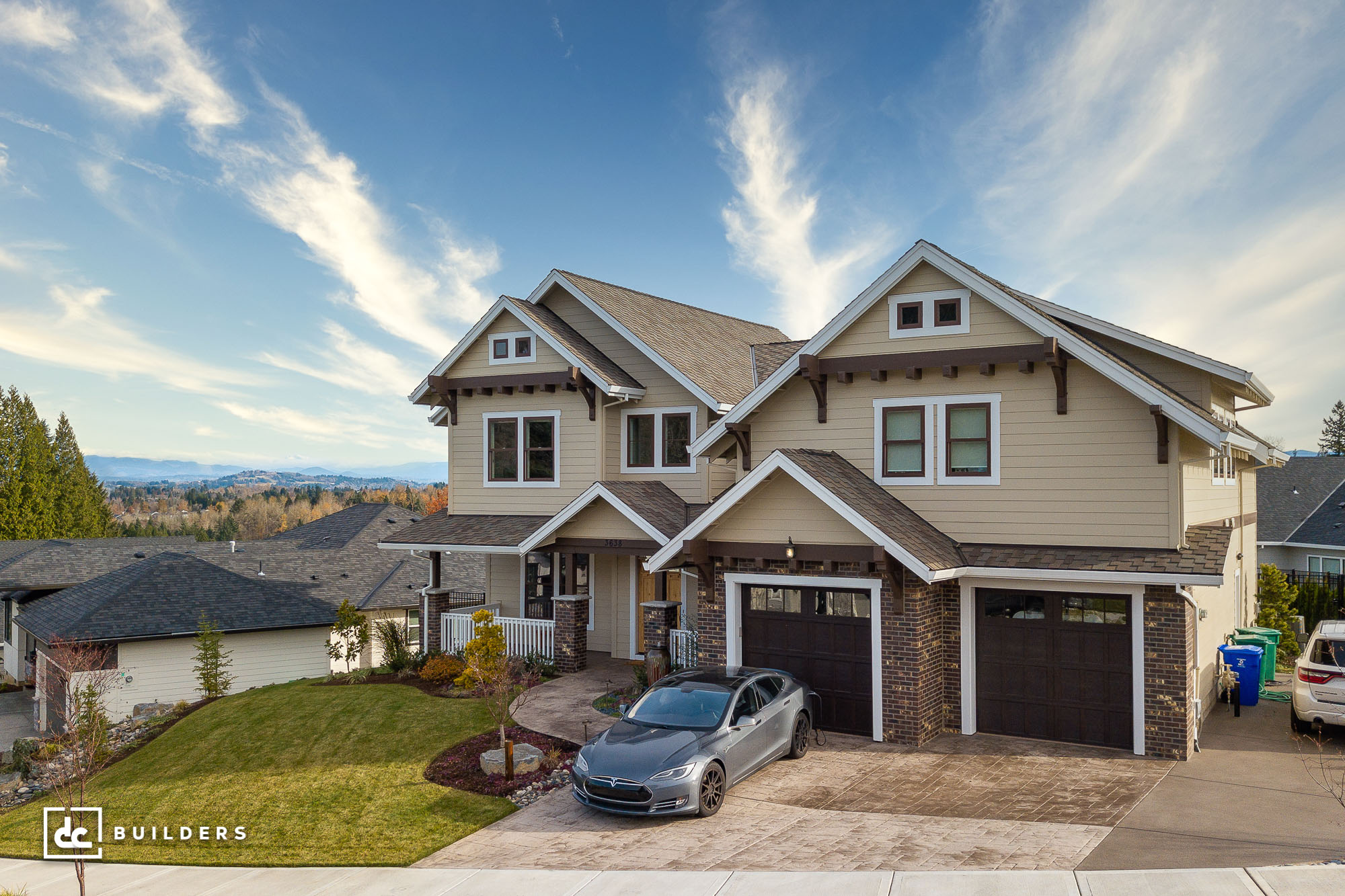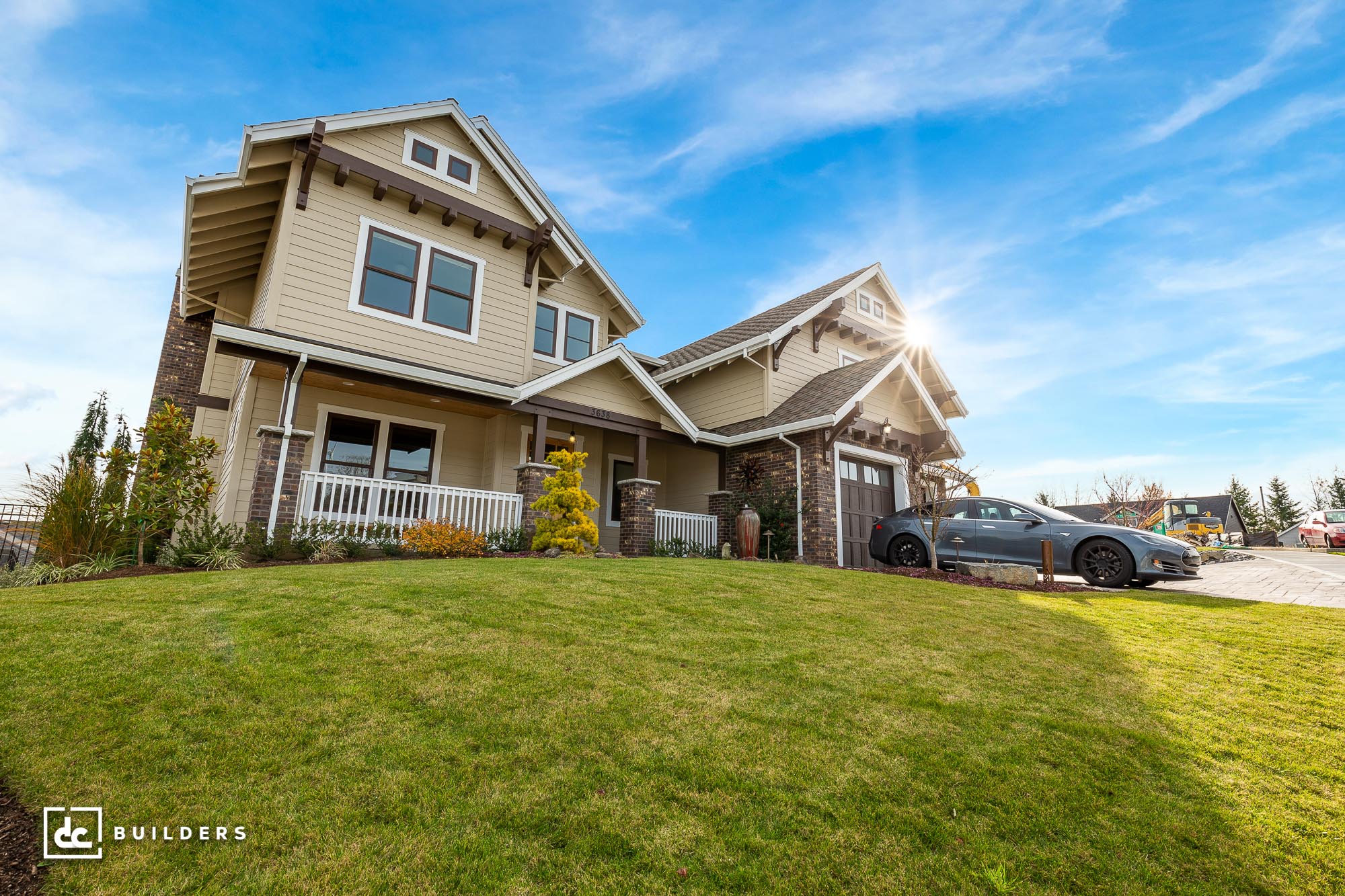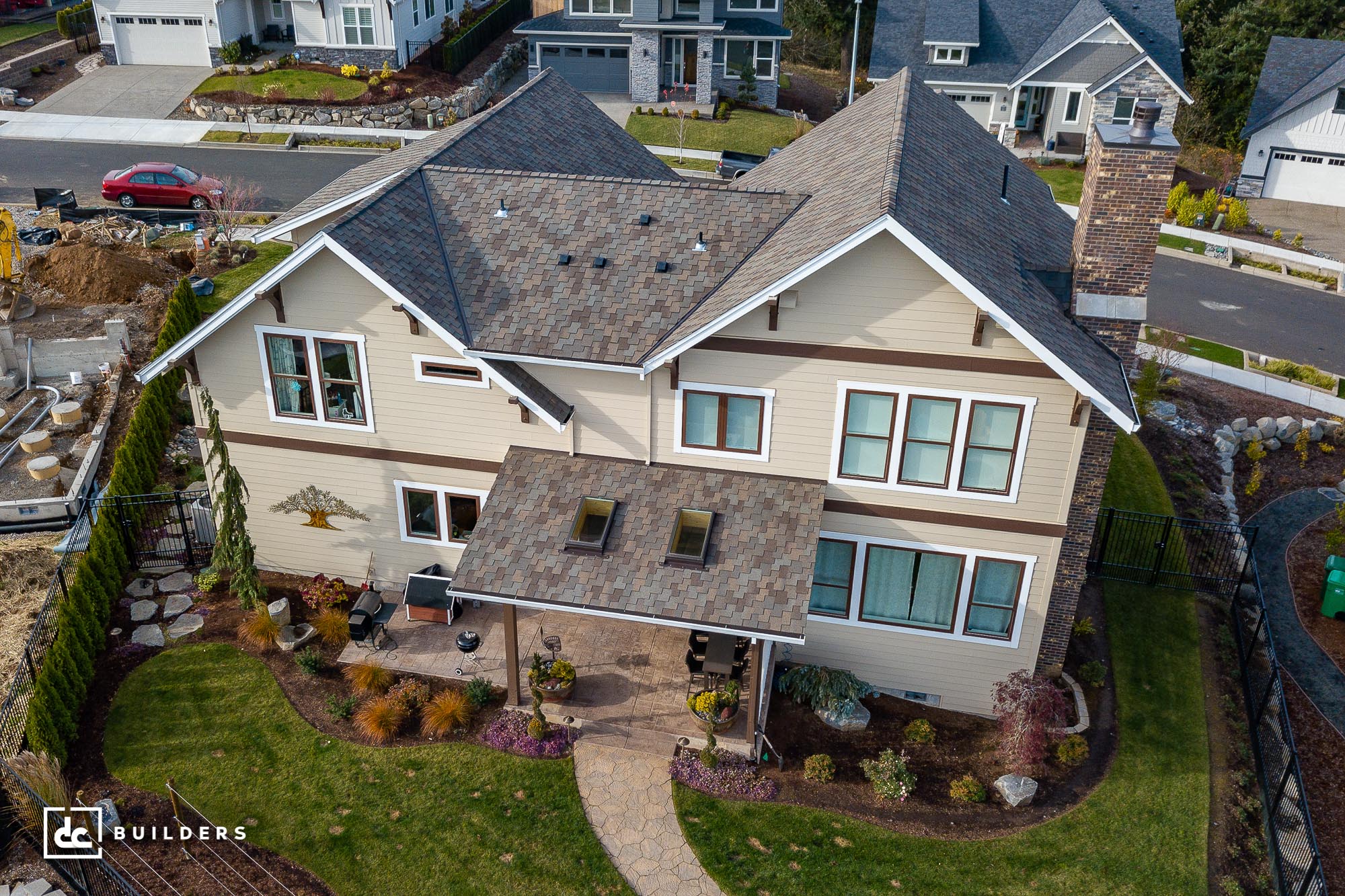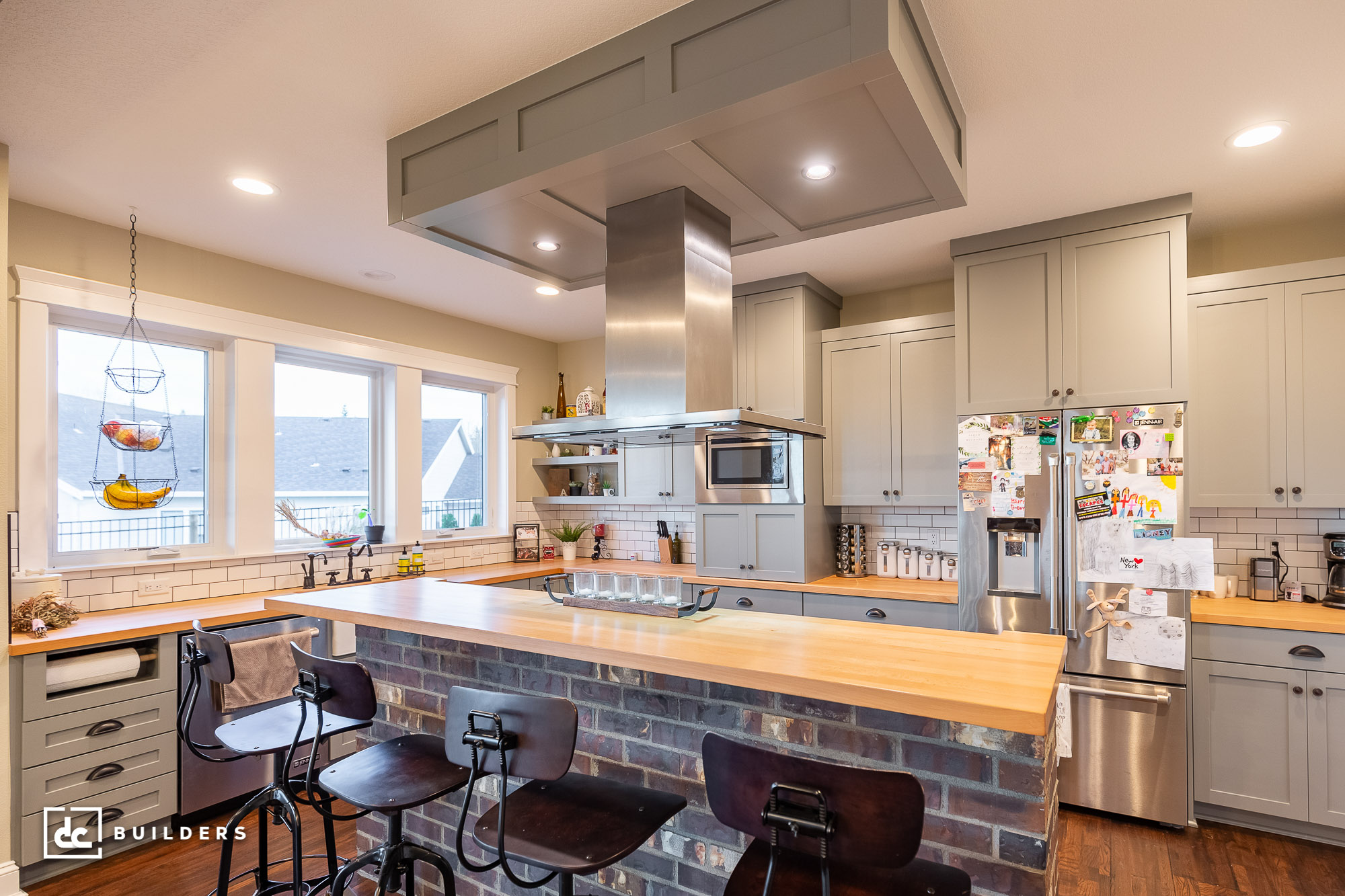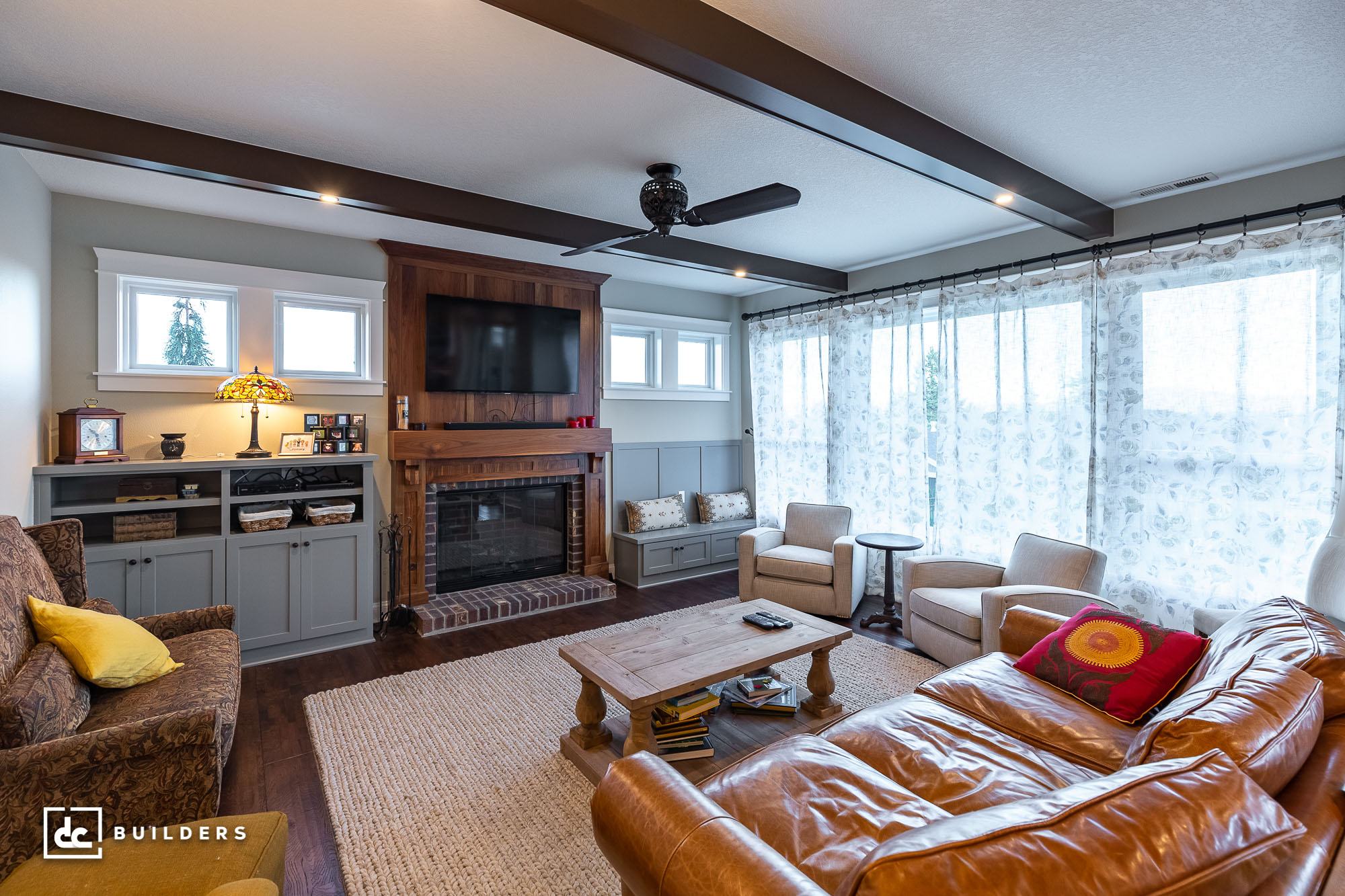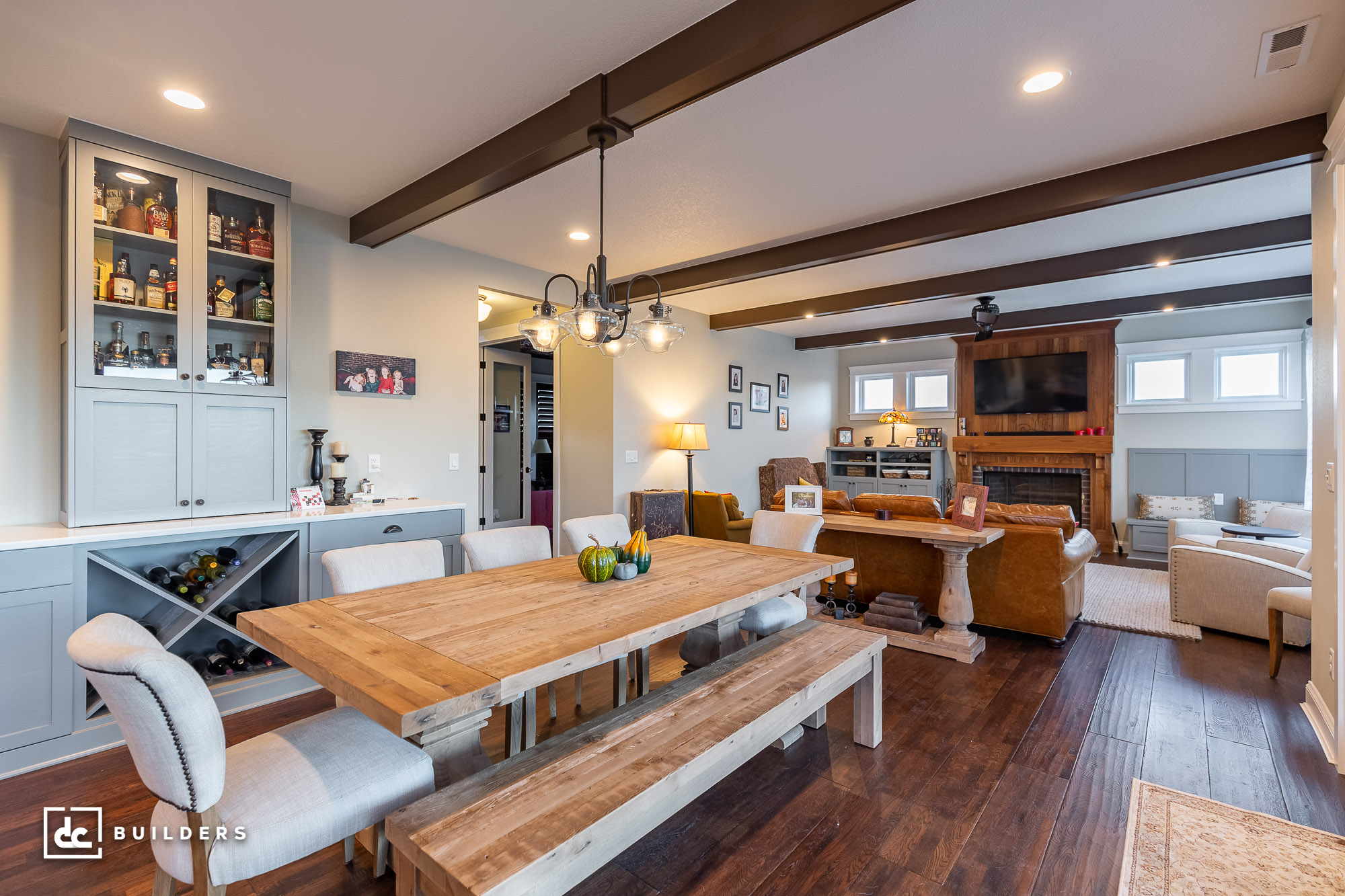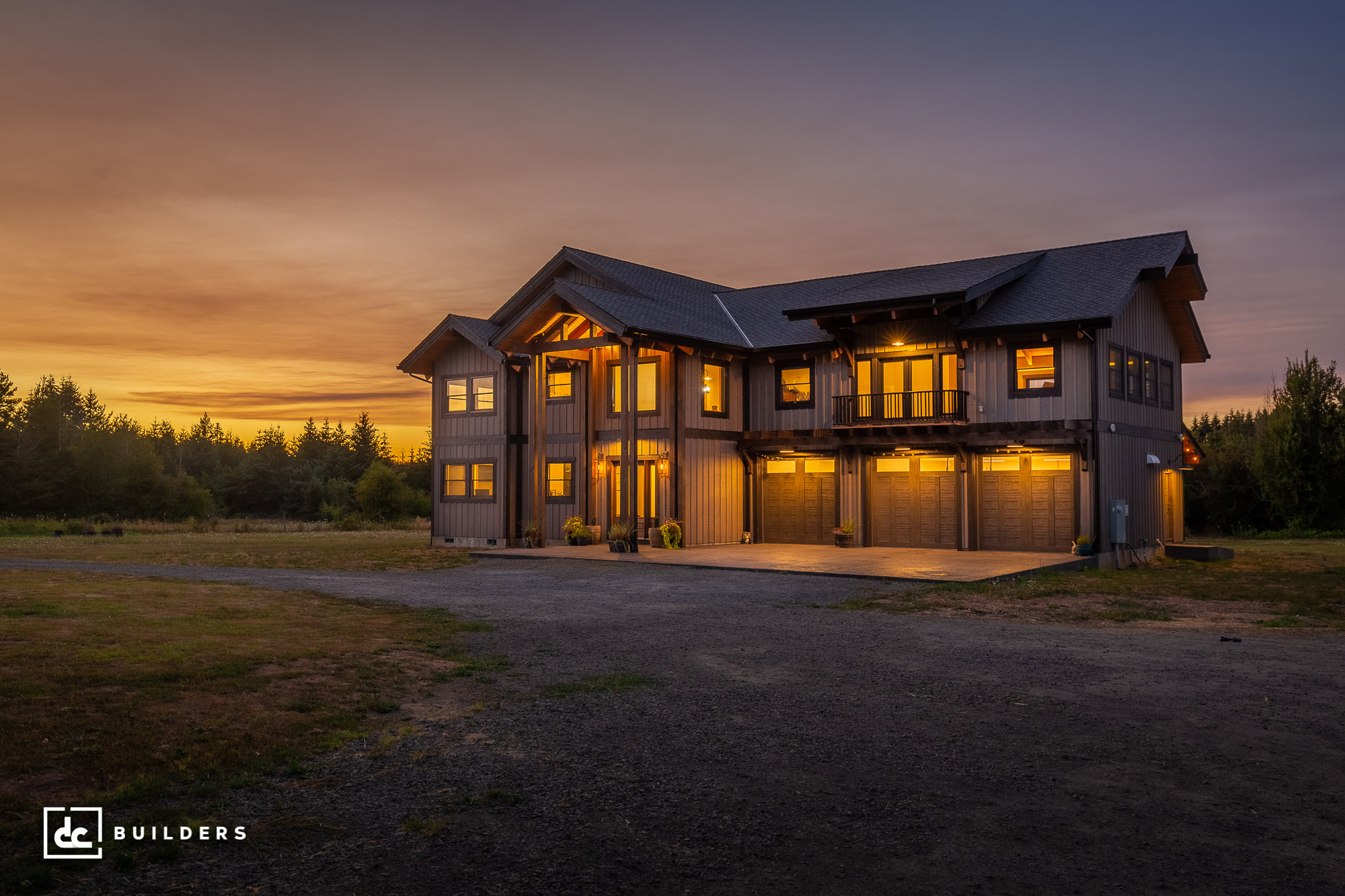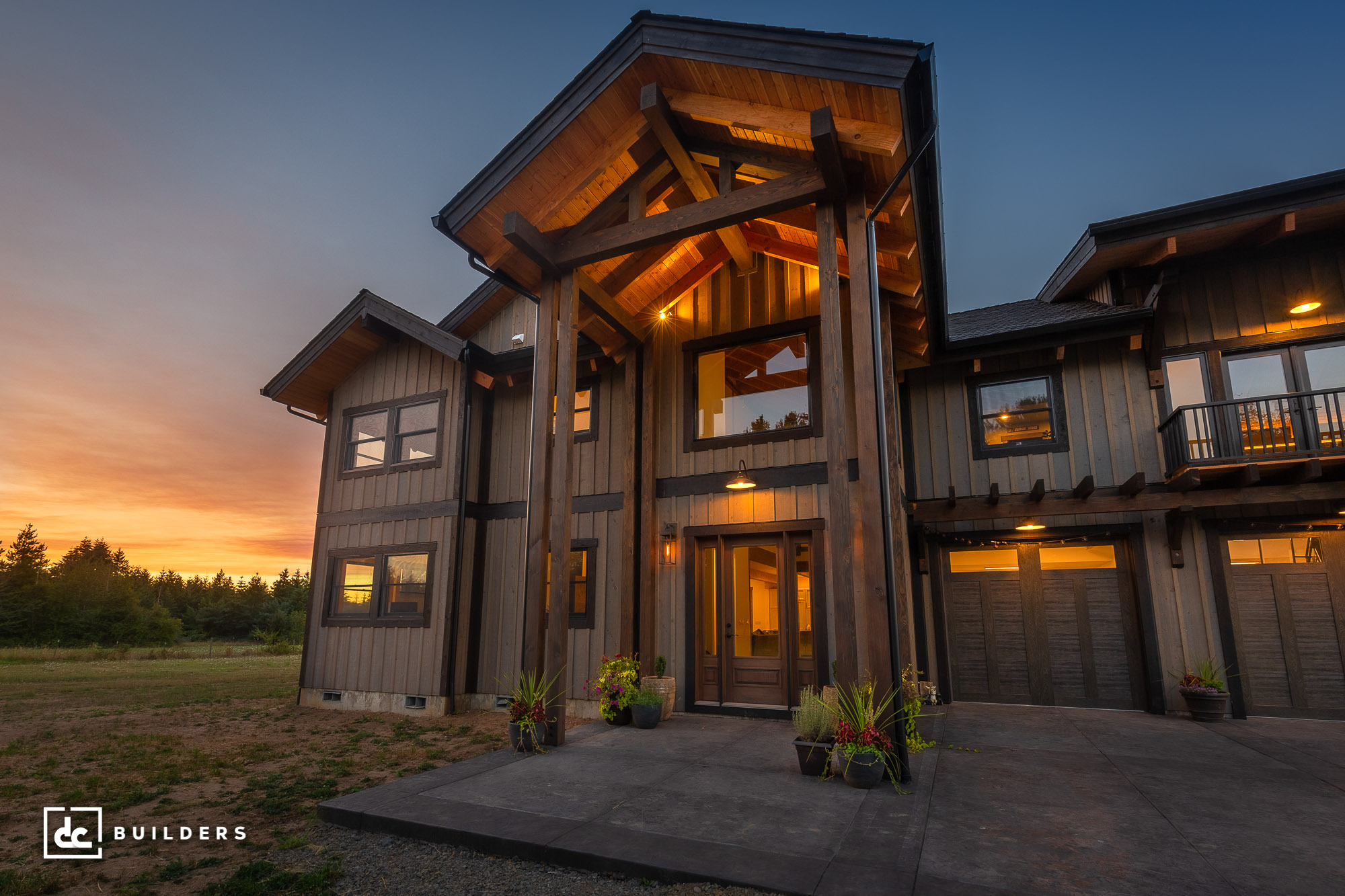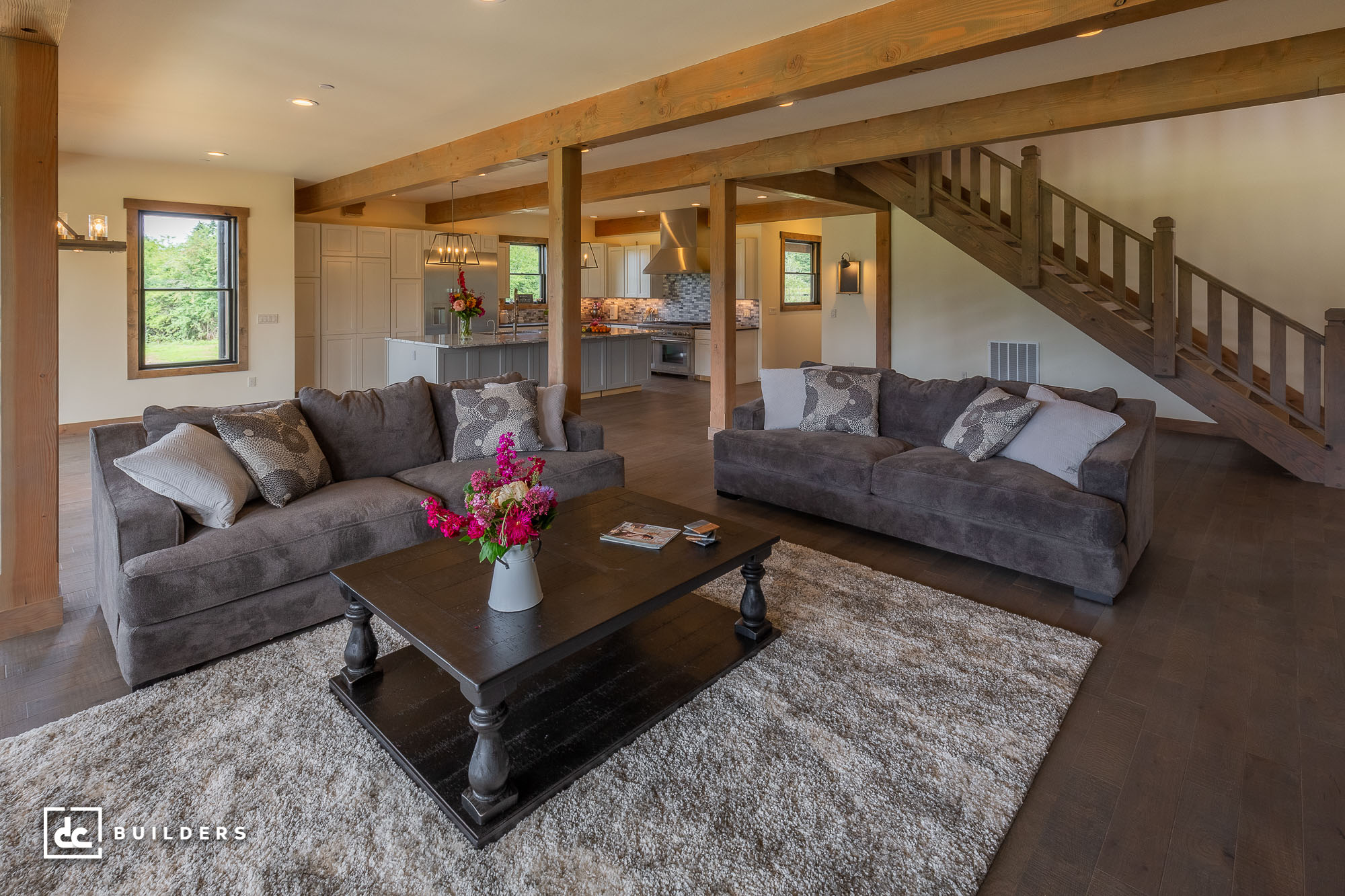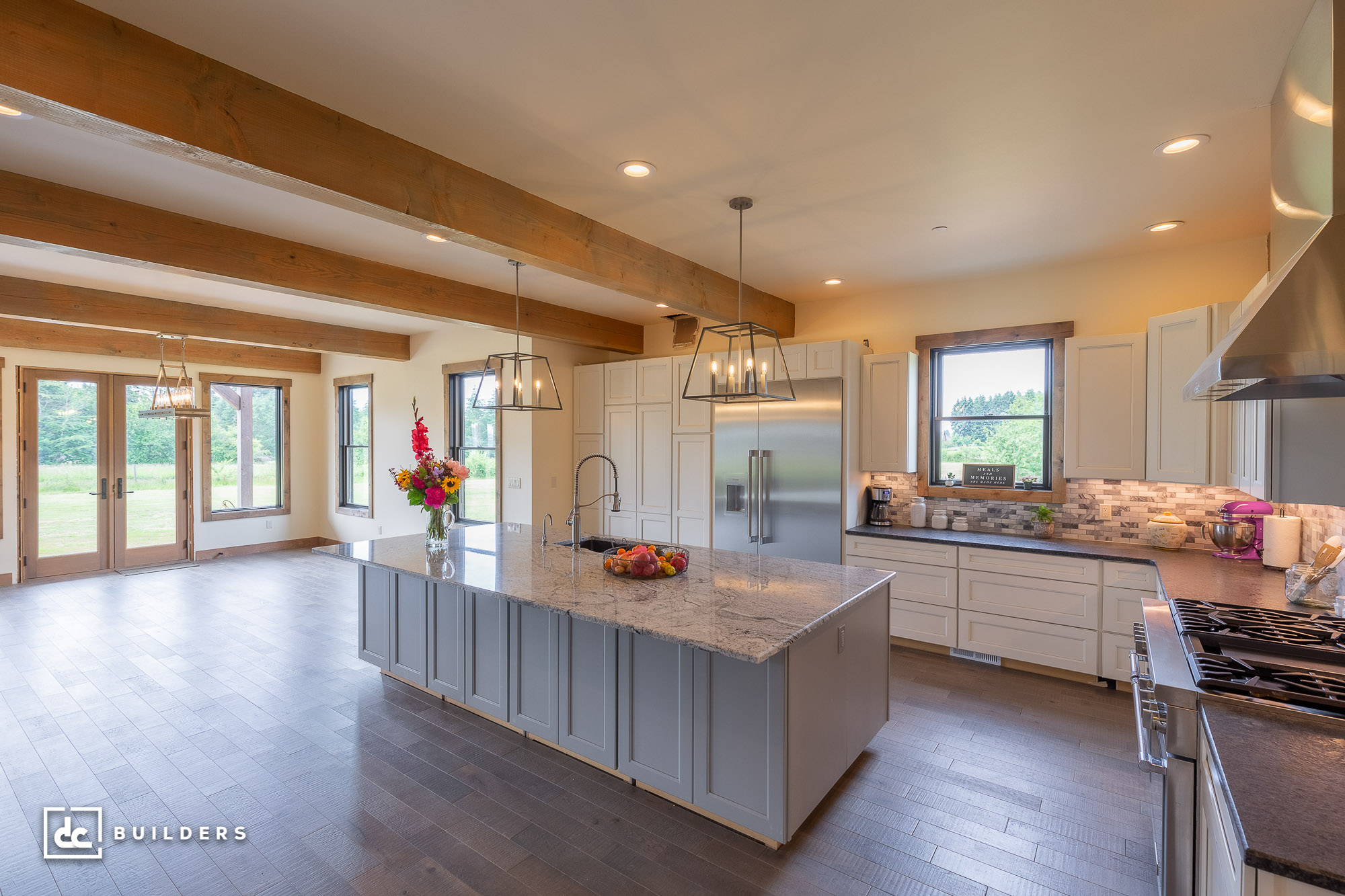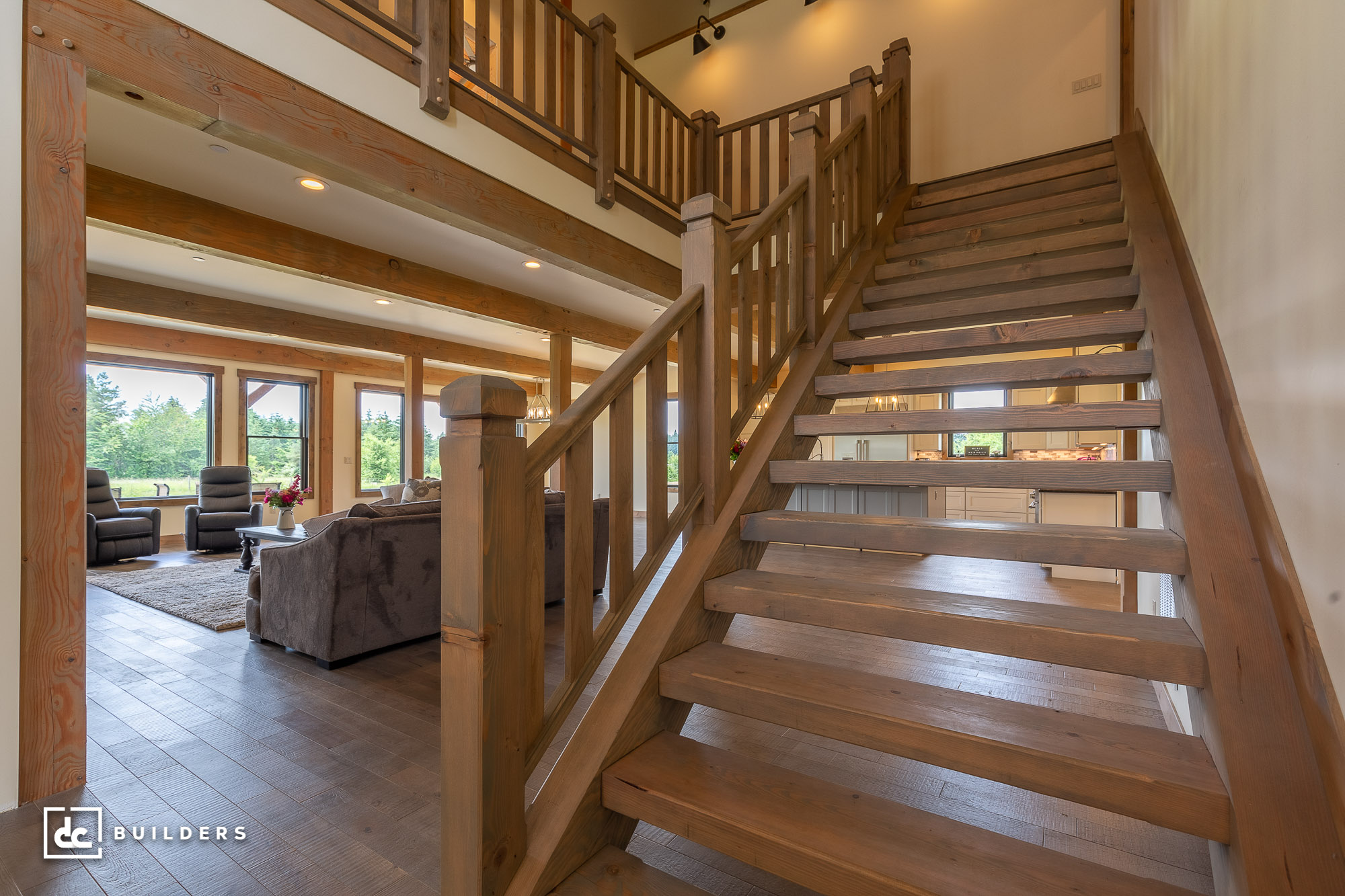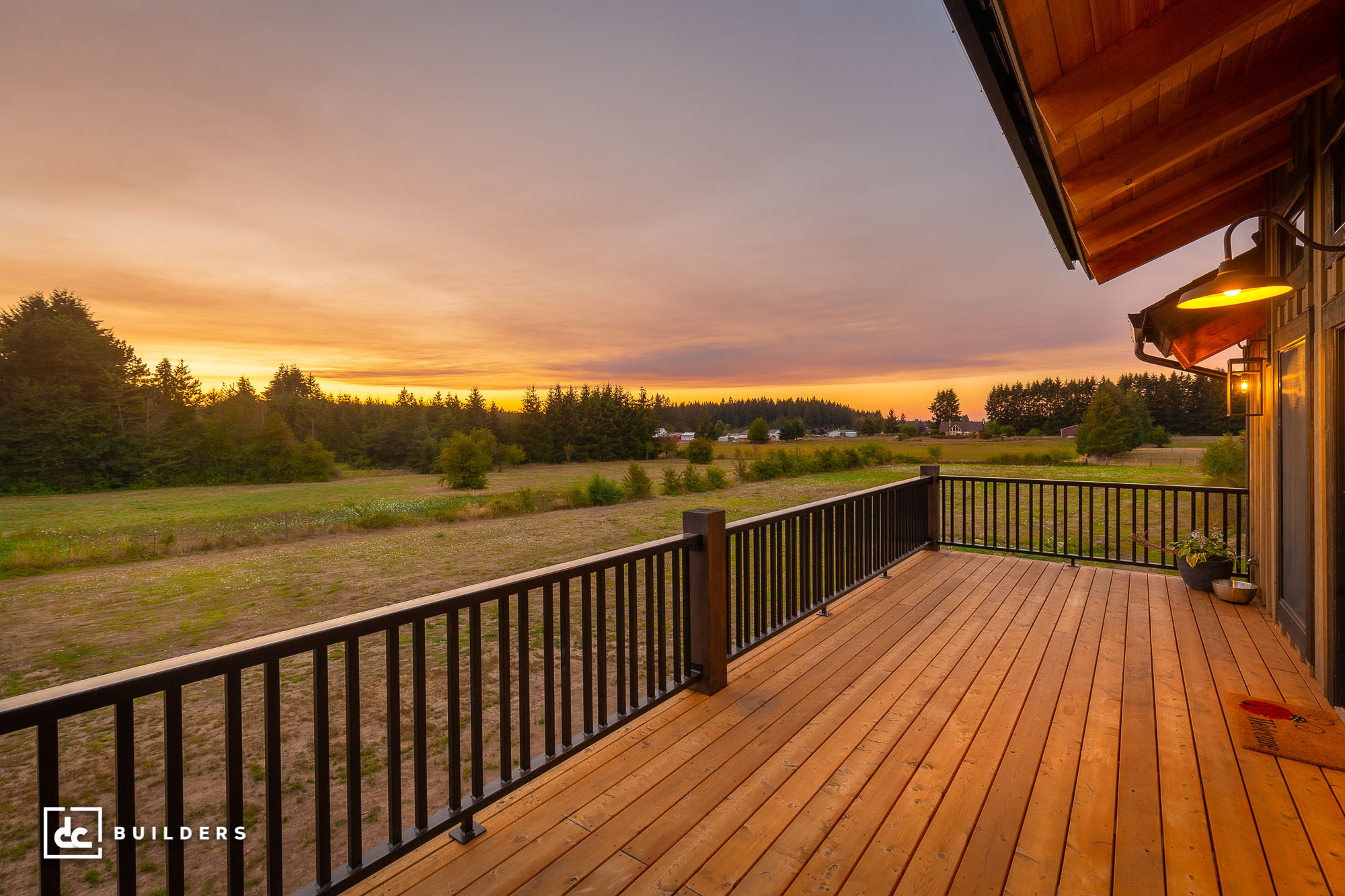 A STATELY TIMBER FRAME
RESIDENCE IN BORING
This timber frame home in Boring, Oregon is a great example of how DC Structures and DC Builders work together to create custom design and build solutions for clients. These clients wanted a custom timber frame home, so we walked them through DC Structures' line of timber frame building kits for inspiration, explaining the benefits of investing in a pre-engineered building package and the many ways they could customize their design. After selecting a DC Structures Rainier Kit, our companies then went to work to personalize their design and help them build their structure. The end result is a beautiful timber frame home with timeless style and plenty of character throughout.