Any horse owner would agree that caring for horses is more than a hobby–it's a lifestyle! That's why having a well-designed stable equipped with everything your horses need to stay healthy and protected while you're away is essential. At DC Builders, we're known for designing some of the safest equestrian facilities in the nation. With over fifteen years of experience in the design and construction of horse barns, we know a thing or two about crafting high-end equestrian facilities and can easily design a one-of-a-kind horse barn for you. From the location of your tack room to the stall fronts included in your horse barn, we take every detail of your design into consideration to ensure your completed build is exactly as you imagined. No matter the task at hand, we're committed to designing a beautiful horse barn that makes caring for your horses as easy and enjoyable as possible.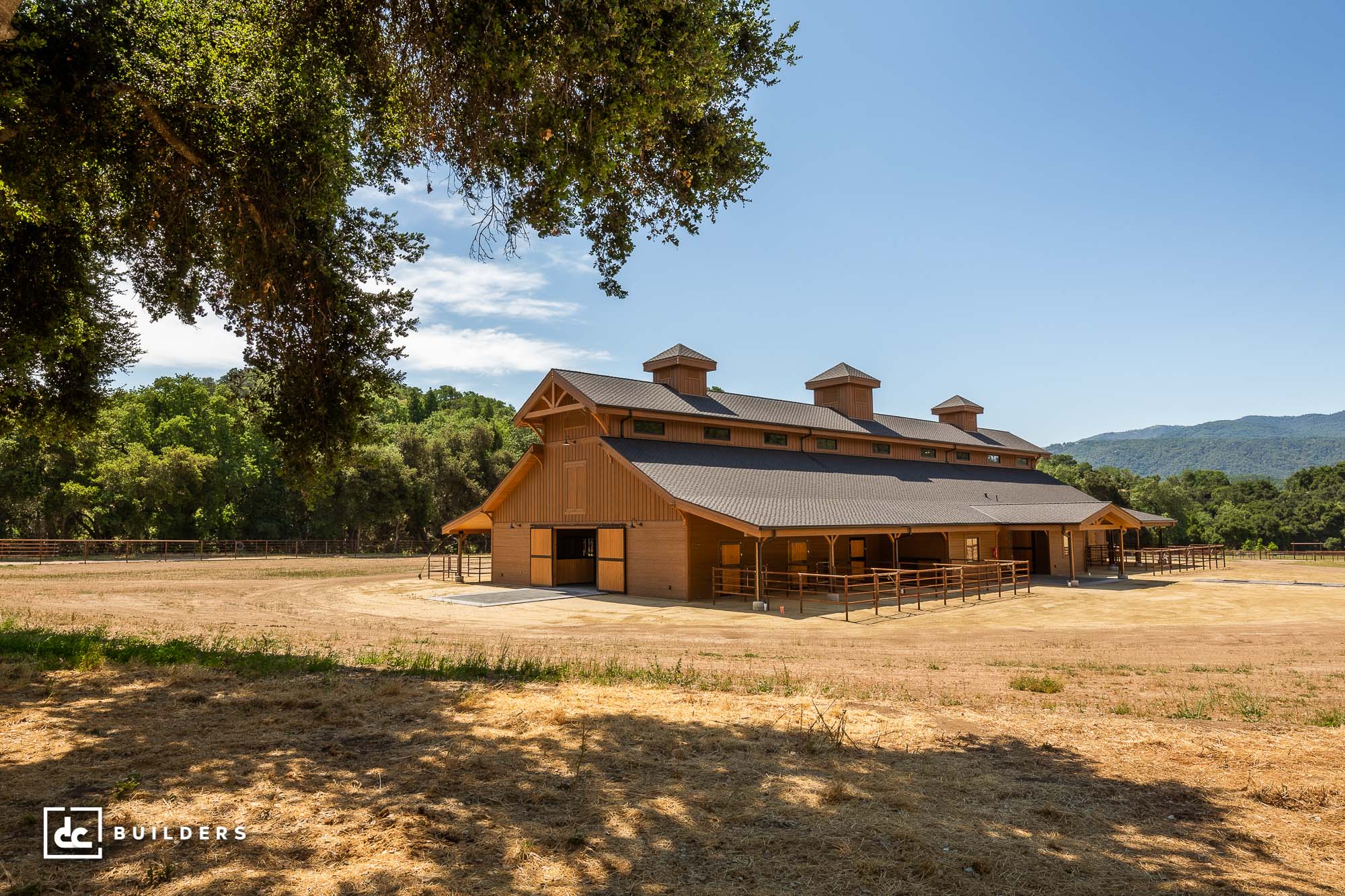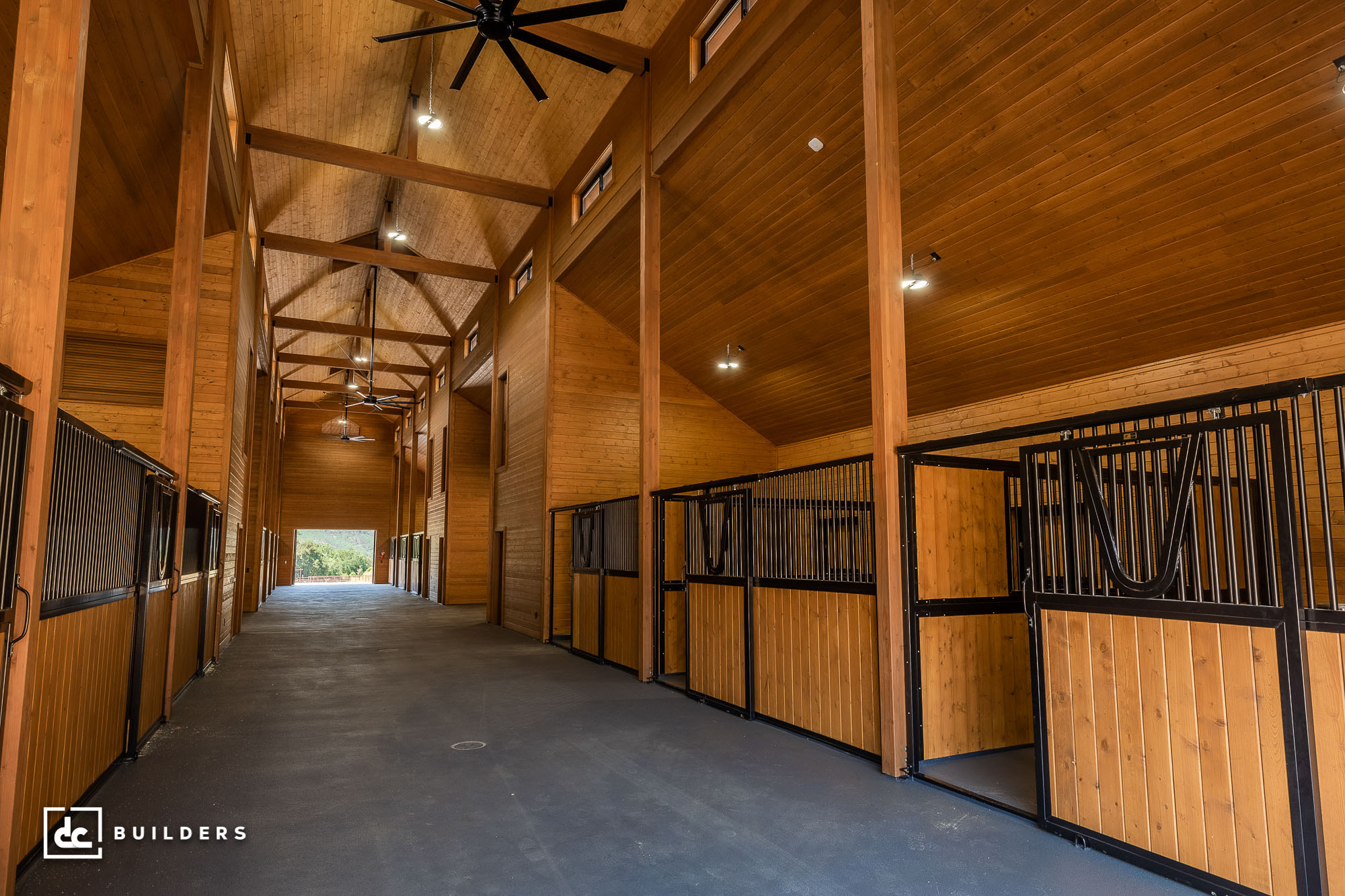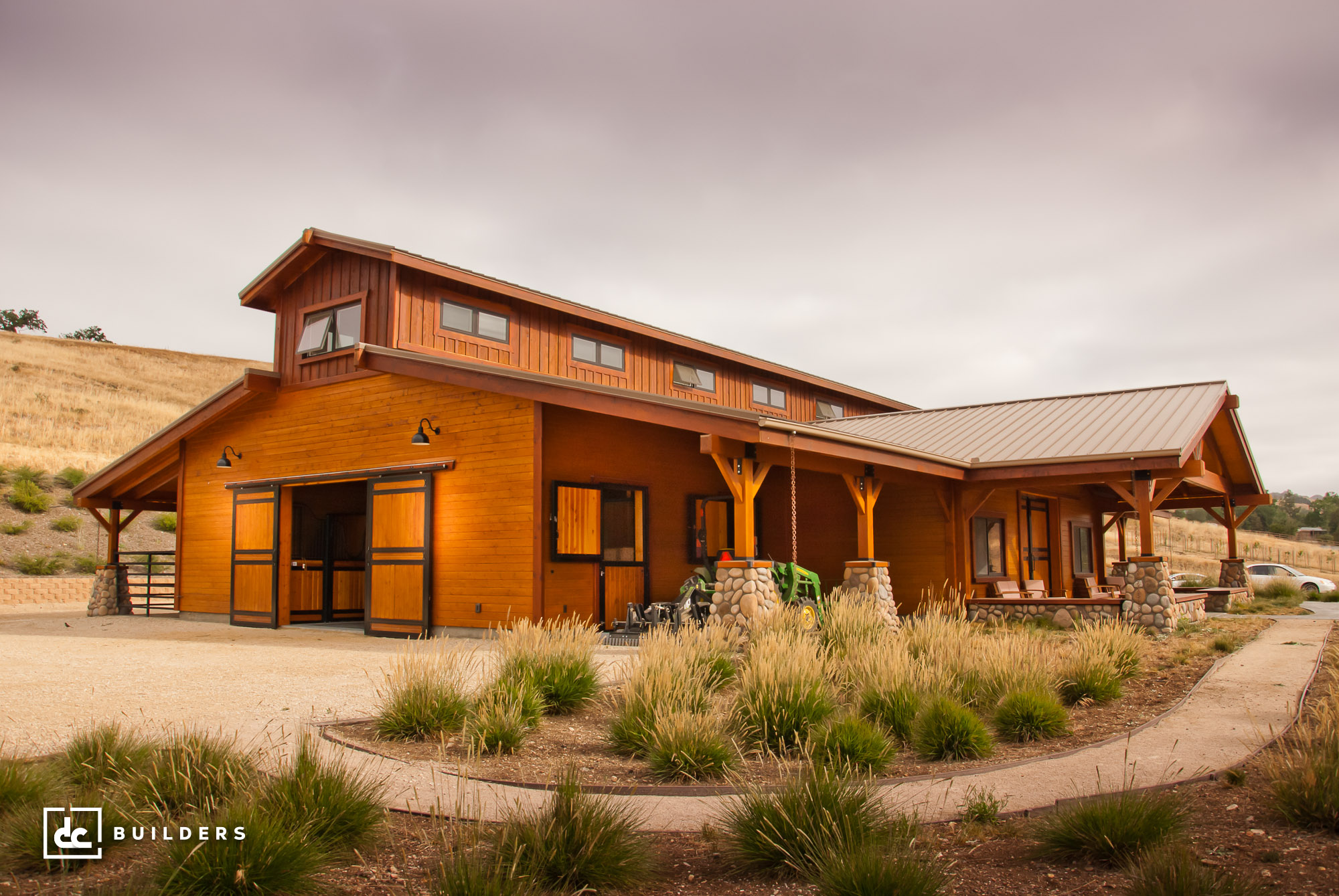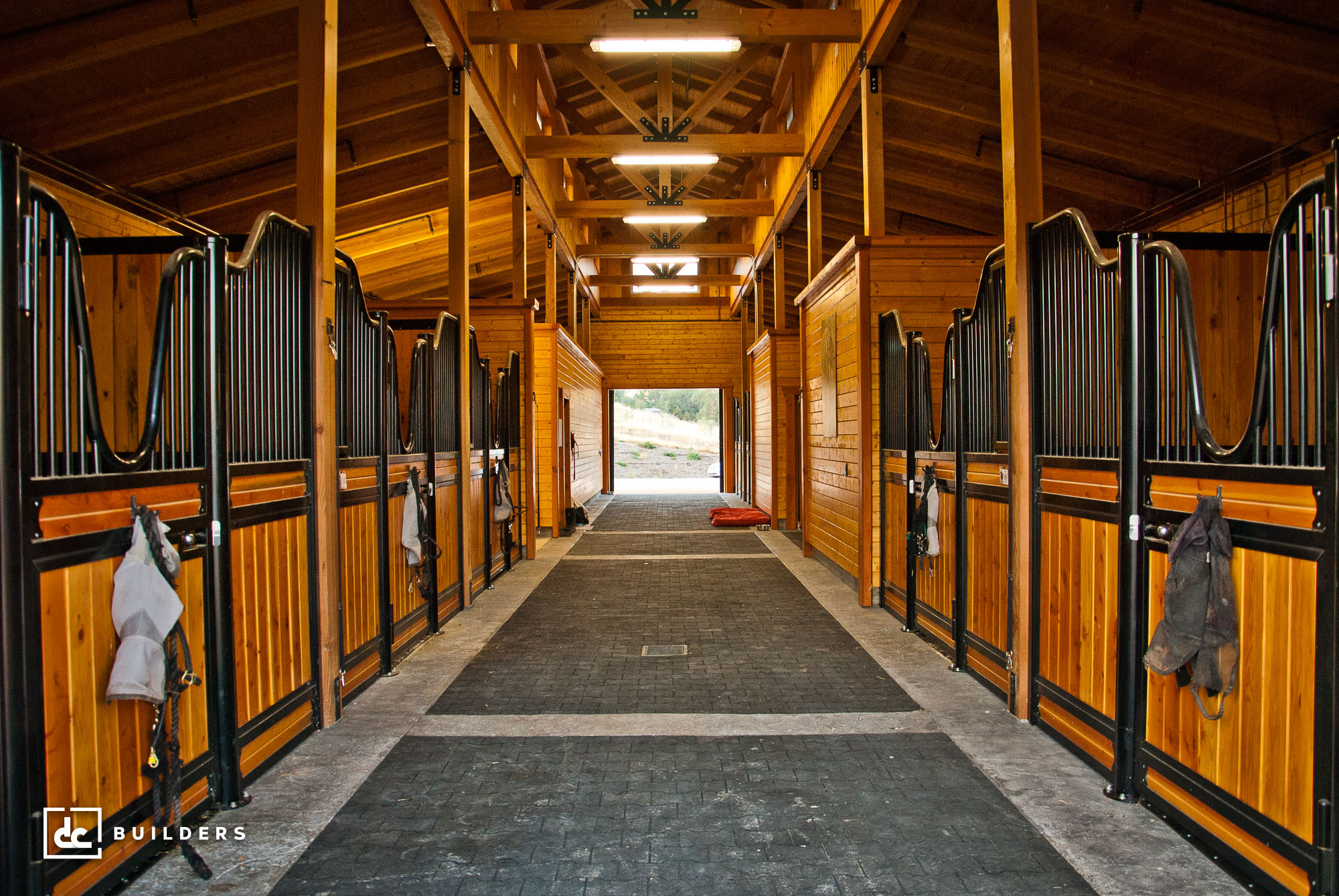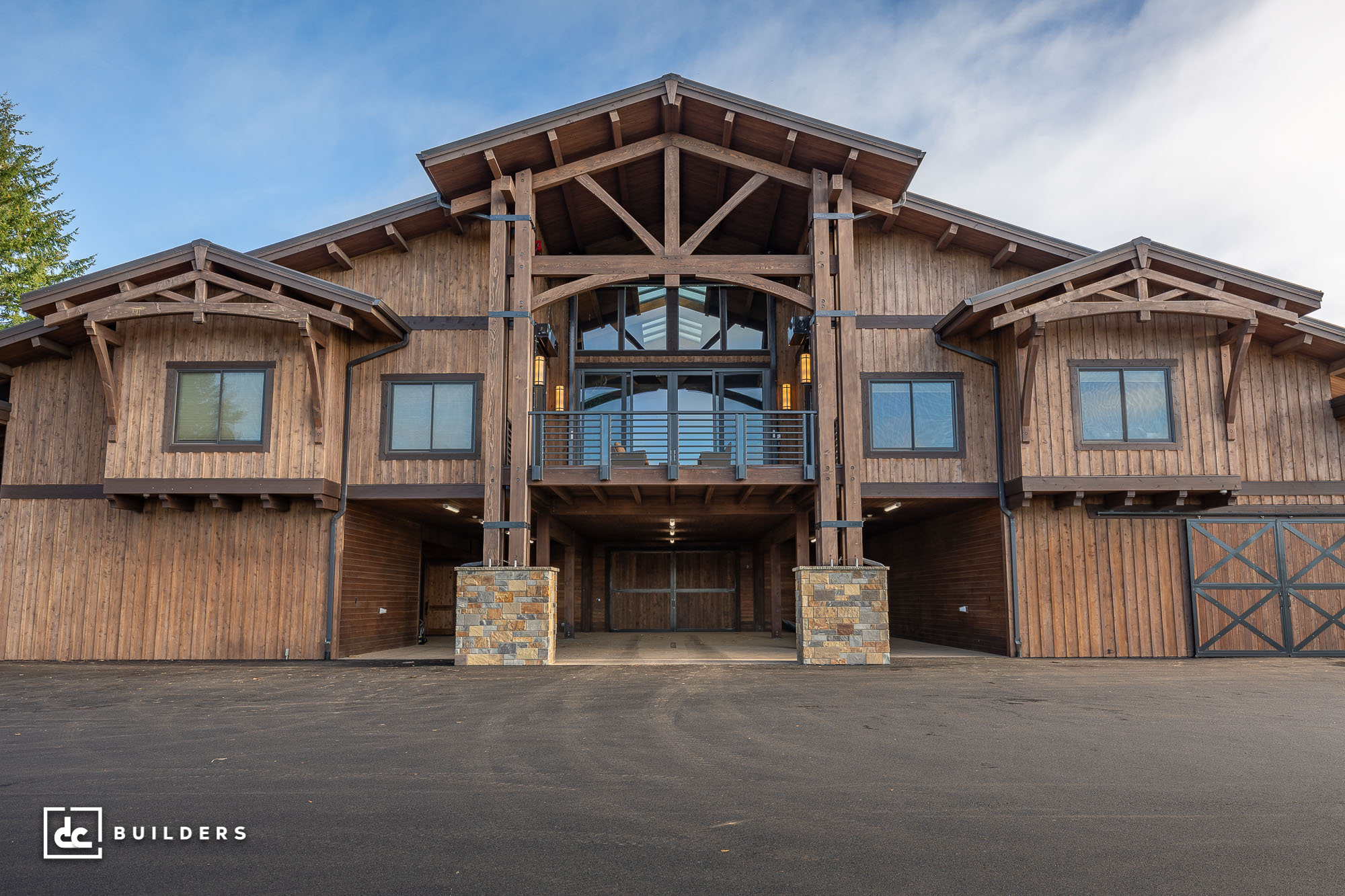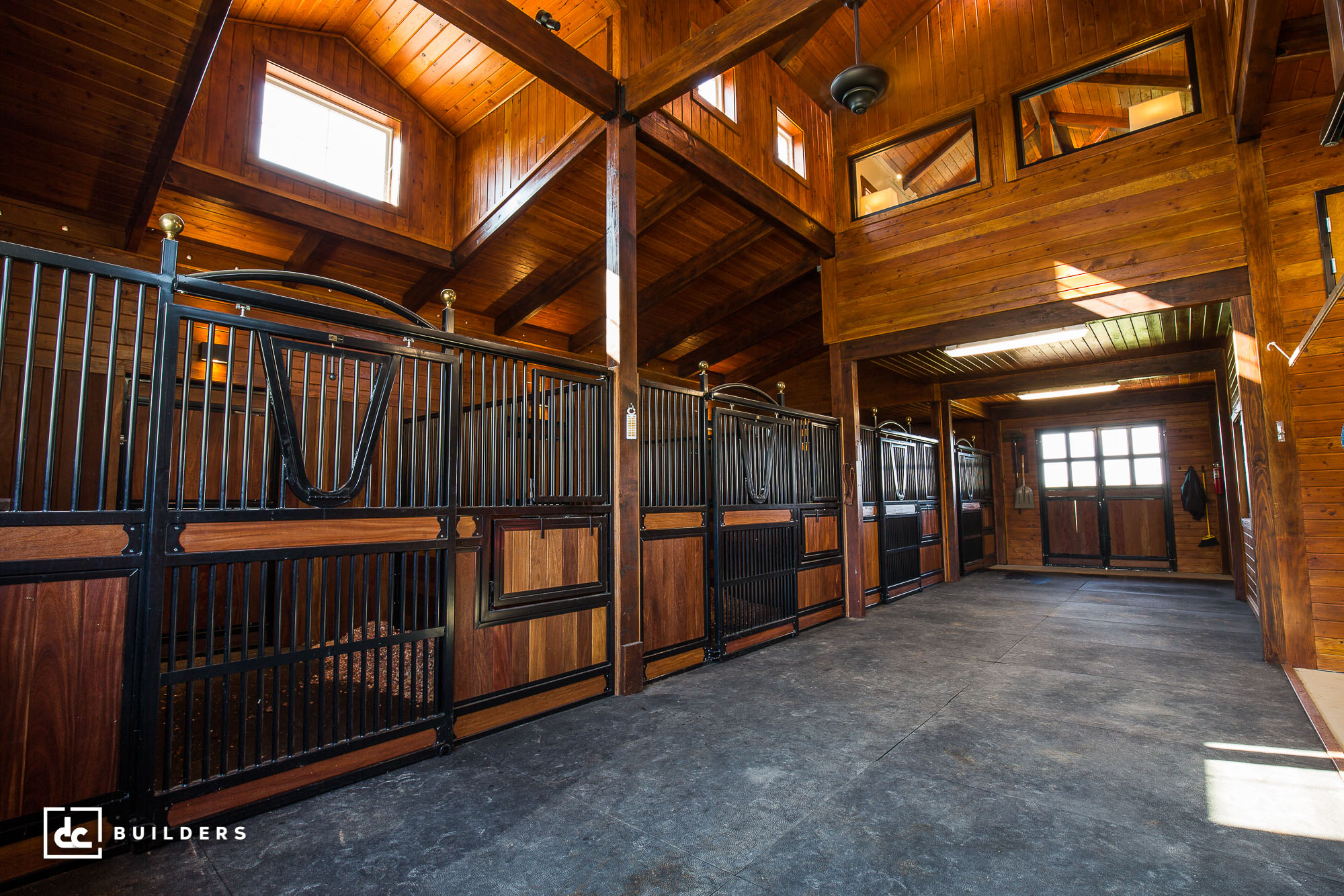 DESIGN YOUR
DREAM HORSE BARN
When it comes to crafting horse barns for clients, one size definitely does not fit all. Depending on your location, the number of horses you plan to stable, and the function of your horse barn, it's likely you'll need an equestrian facility designed specifically around your needs. This is where we come in! With the help of your project coordinator and our expert designers, you have the ability to transform your ideas into a unique horse barn that perfectly suits your lifestyle and embodies your vision. Additionally, we work with America's best suppliers of windows, doors, and equestrian hardware to provide you with the highest quality building materials available, so you can design an equestrian facility that is both horse-safe and tailored to your personality and style. If you're looking for design inspiration, take a look at some of the equestrian facilities we've created for our clients to get a better idea of what we can craft for you.
DESIGN & MANAGE YOUR

PROJECT FROM ANYWHERE
At DC Builders, we're leading the design and construction industry in innovative practices. Over the years, we've invested in new technologies that have allowed us to offer a number of services that no other builder in our field can compete with–chief among them being the ability to design and manage your custom build from the comfort of your home. Using live meeting technologies and industry-leading design software, our design team will collaborate with you to create a horse barn that's perfect for you and your horses. You can even enjoy 3D walkthroughs of your building model using our virtual reality software to get a glimpse of how it will look and feel once completed. We'll also set you up with an account on our cloud-based project management site so you can track the progress of your build from anywhere and on any device. When partnering with DC Builders, you can trust your project is in the very best hands, no matter where you are in the world.
CUSTOM DESIGN & BUILD SOLUTIONS
FOR EVERY CLIENT
Whether you're looking for designs only or an all-in-one solution for your project, we offer a number of comprehensive services designed to help you achieve your vision. Here are some of the ways we can help you bring your dream horse barn to life: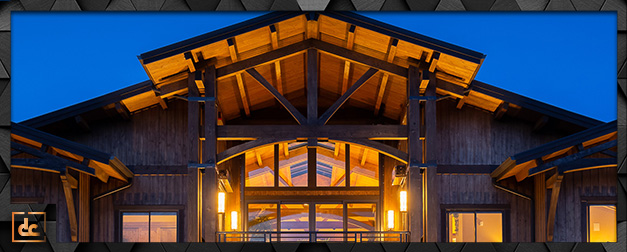 TIMBER FRAME AND
POST & BEAM
Whether you're planning to build a custom entryway for your structure or a complete heavy timber residence, DC Builders offers over fifteen years' experience in crafting timber frame and post and beam structures and can easily help you create the perfect heavy timber solution for your property.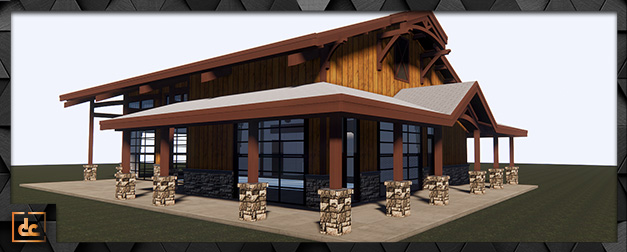 With our custom design option, our experienced designers will collaborate with you to create an equestrian facility tailored to your needs. Once you've approved your design, we'll review your personalized plans with our engineering partner to ensure your design complies with local building codes before stamping and mailing them to you.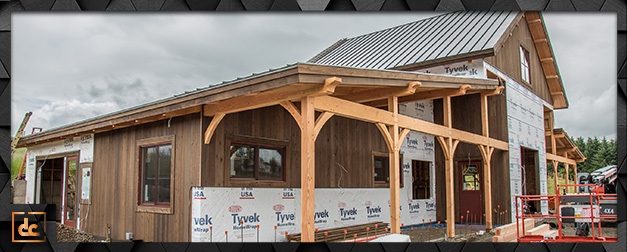 As your general contractor, DC Builders will manage the entirety of your project, coordinating job site scheduling, cost estimation, material procurement, subcontractor selection, permit acquisition, and much more. Our project managers will also be on-site to oversee your project, ensuring every detail is built to perfection. Our general contracting services are only available in California, Oregon, and Washington.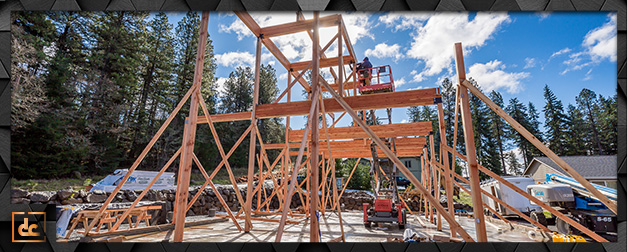 FRAMING & INSTALLATION
SERVICES
Our framing crew is the best and most experienced team to complete the heavy timber framing, conventional framing, all-wall sheathing, and more for your project. With our framing and installation services, our project managers and framing crews will mobilize to assemble your structure in no time so you can finish your project faster without sacrificing quality.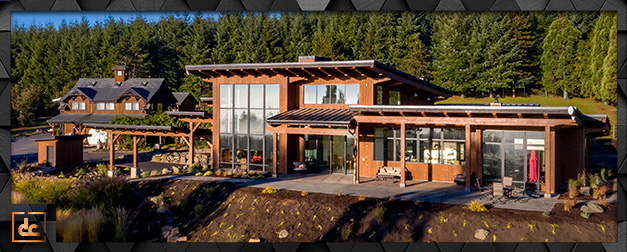 With nearly two decades' experience in crafting custom homes in the Pacific Northwest, DC Builders has established a reputation as one of Oregon's premier custom home builders. Take advantage of our mill-direct relationships, materials suppliers, in-house design team, skilled building crews, and off-site manufacturing facility to create your dream luxury home here in Oregon.

WHY PARTNER WITH
DC BUILDERS
DC Builders is a premier design and construction firm for custom heavy timber, hybrid, and conventionally framed structures. For more than fifteen years, DC Builders has designed countless equestrian facilities across the country, each boasting personalized designs that are unmistakable from the next. What sets us apart from our competitors is our unparalleled commitment to quality, whether that be the quality of our customer service or the select structural grade lumber used to frame our unique structures. We see our clients as partners and co-collaborators, and, as such, we're intent on providing them with an unforgettable experience that gives them complete control of their project without any of the associated headaches. When it comes to building your dream horse barn, there's no better team to partner with than DC Builders and no better time than now to start.

CREATING A COMFORTABLE
STABLE FOR YOUR HORSES
Many horses dislike being stabled, which makes the task of creating a pleasant stable design one of the most important parts of our process. When designing stables for our clients, we review every detail to ensure your horse is as comfortable as possible, including stall and alleyway dimensions and ceiling height. The size of your horse and number of horses you plan to stable helps us determine how large each stall should be to maximize comfort. Other aspects to consider are the flooring, equipment, and lighting in your space. By installing the right flooring and feeding and watering equipment in each stall, we can ensure your horses are cared for at all times and you never have to worry about their safety. Additionally, since ventilation and natural lighting are a major part of keeping your horses happy while inside, we make it a point to incorporate as many windows in your design as possible and in areas that aren't susceptible to accidental damage. 
OUR COMMITMENT
TO HORSE SAFETY
Any horse enthusiast knows horses can be clumsy. Sometimes they can misjudge a step or a surface change, causing them to stumble before catching themselves. However, harmless stumbles from time to time can be dangerous if your horse barn isn't equipped with the proper safety equipment to handle infrequent falls. To ensure your horses are as safe as possible, our equestrian facilities are equipped with a number of safety features designed to keep them from harming themselves, including horse-safe, concealed knife plates on heavy timber connections and chew protection on exposed surfaces. This ensures that any falls or acts of boredom don't result in a trip to the vet and gives you the peace of mind to know your horses are protected in any event.