At DC Builders, we're more than a little passionate about working with wood — it's practically in our DNA! Considering most of us grew up here in the Pacific Northwest, there's something inherently special about using the timbers grown right in our backyard to create beautiful custom structures that our clients love. While many of our buildings stand as a testament to our deep appreciation and love for wood, one project goes beyond all others in the diversity of timbers and craftsmanship displayed. This project is the soon-to-be headquarters for our dear friends at Patrick Lumber, and we couldn't be more thrilled to share some of their progress photos with you today.
About Patrick Lumber
Established in 1915, Patrick Lumber has been manufacturing and trading niche, high-end timber products for over 100 years. From kiln-dried Douglas fir lumber to Western red cedar, hemlock, and pine, they supply various high-end wood products to top manufacturers and distributors around the globe. Their integrity and commitment to quality go hand in hand with our company, as both of our organizations greatly value the expertise and dedication required to create an exceptional product. With our help, Patrick Lumber plans to open a one-of-a-kind corporate space that speaks to the quality of its lumber and inspires visitors to appreciate the diversity of Oregon's timber exports.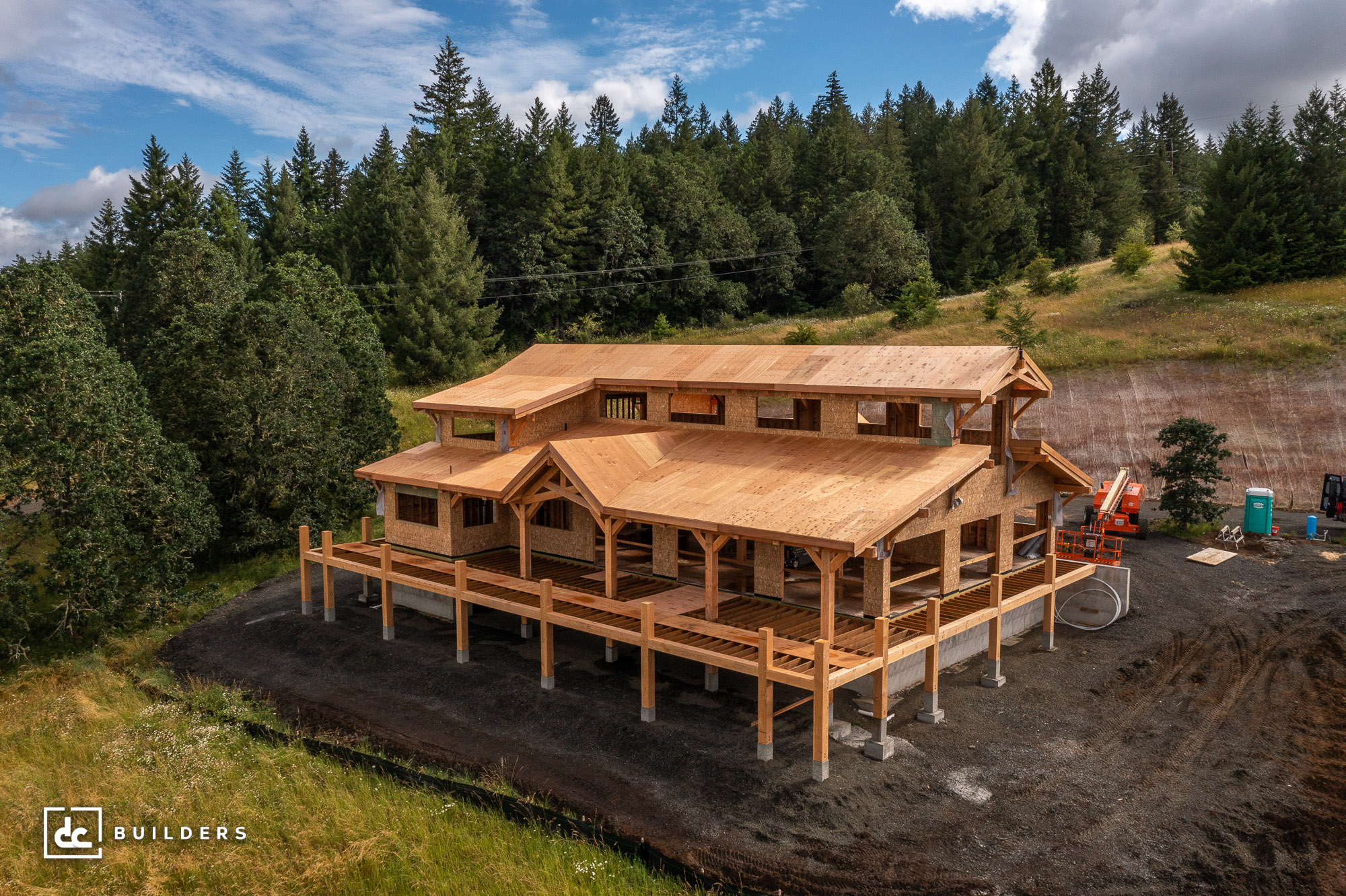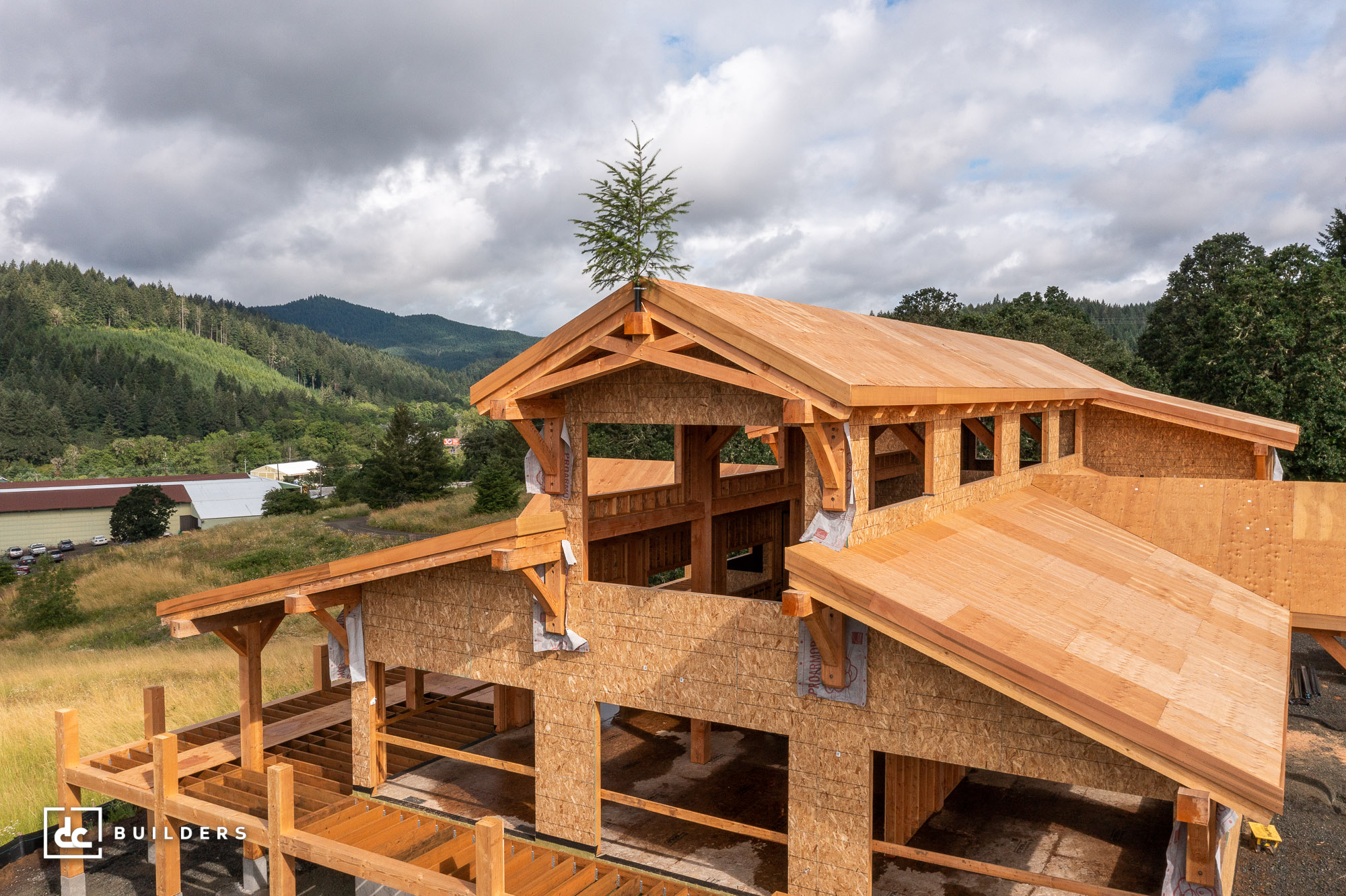 The Plan for Their Upcoming Headquarters
Located in Philomath, Oregon, the all-new Patrick Lumber headquarters will sit on a stunning hillside property overlooking their storage yard and kilns, as well as the surrounding forest. While property views were certainly a consideration in the design of this building, the team at Patrick Lumber emphasized wanting a structure that would display every level of forestry inside the space and serve a variety of needs as a flexible office space and event venue. To create this, we sat down with their team to review rough sketches of what they envisioned for the building and come up with a design that both captured their ideas and showcased their timbers in the best way possible. The result is a 4,315 sq. ft. timber frame building that not only embodies their vision and the diversity of their products but also highlights the different building methods we can use to enhance the beauty of their timbers.
Custom Features 
Oversized Douglas Fir Timbers
One of the most remarkable features of this structure are the kiln-dried 12" x 12" Douglas fir timbers used to frame the building. Typically, we use 6" x 6" Douglas fir timbers as the standard in our timber frame structures. However, to really convey the versatility of Patrick Lumber's products, we ended up using #1 grade 12" x 12" Doug fir S4S FOHC timbers supplied to us by Patrick Lumber as the primary framing elements in this building, as well as some 12" x 12" x 30" beams that run across the clerestory.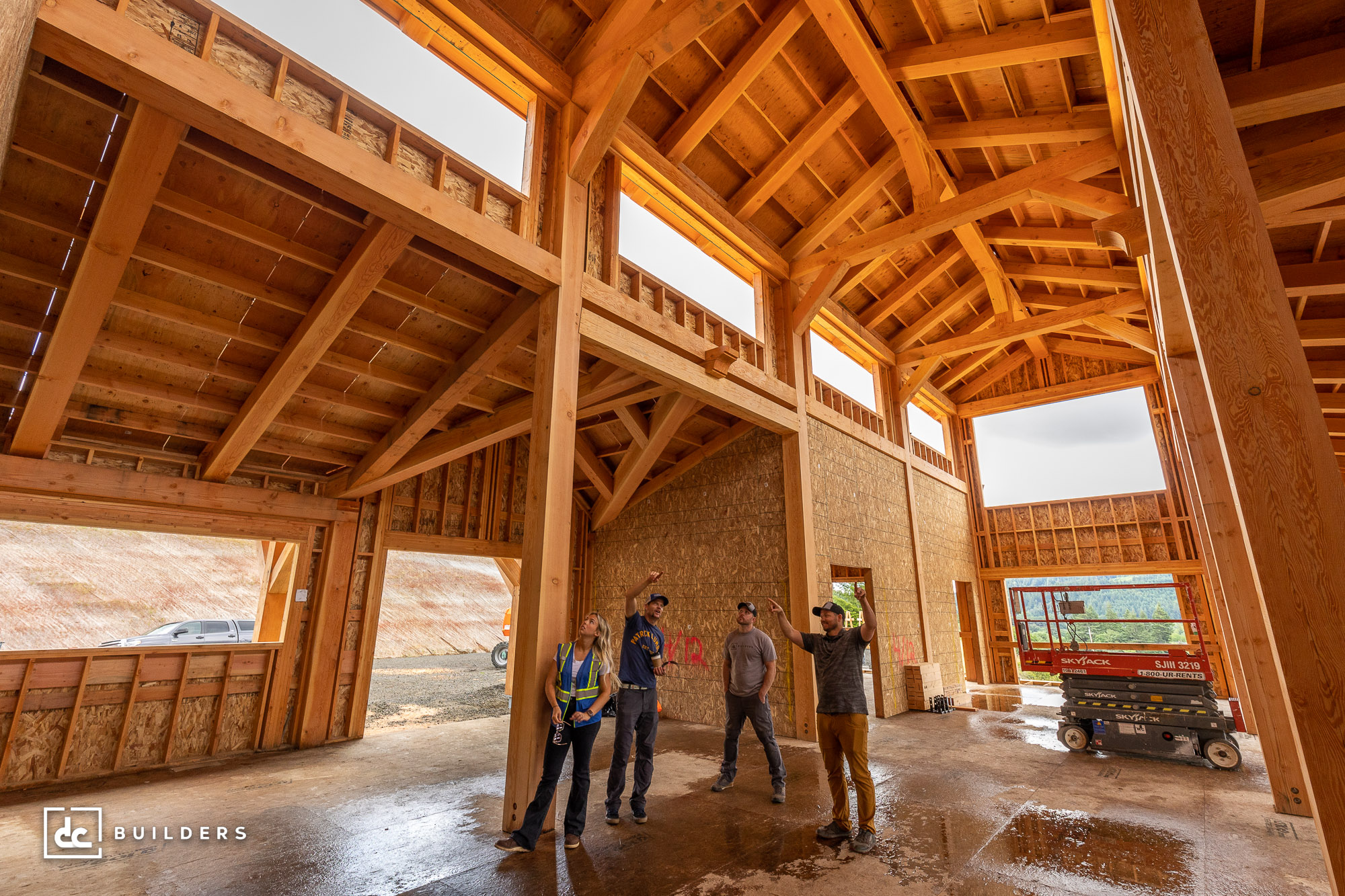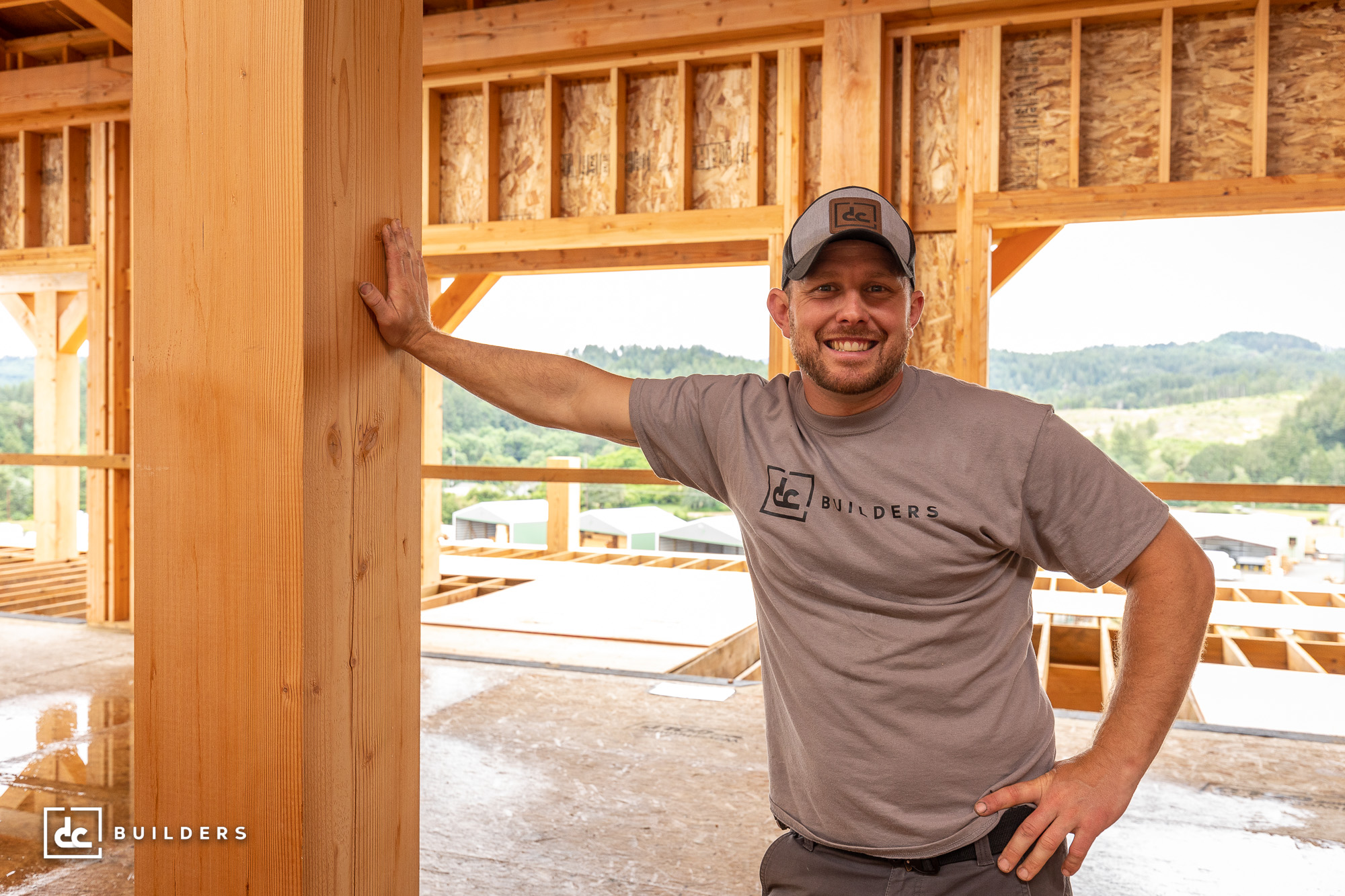 To protect the support timbers on the exterior deck, our team used a pressure-treating product called Klear Gard | 25™, which is non-corrosive to fasteners and does not contain metals. Because Douglas fir can be difficult to permeate with other wood preservatives, we decided to use a preservative system like Klear Gard | 25™ that absorbs better than standard pressure treating and ensures the lumber is fully preserved and protected all the way through. By utilizing this product, we could also maintain a natural wood appearance for these timbers without them looking pressure treated. Additionally, our team sand-blasted these timbers before siding and installation to create a clean, textured surface that gives the wood a more polished finish.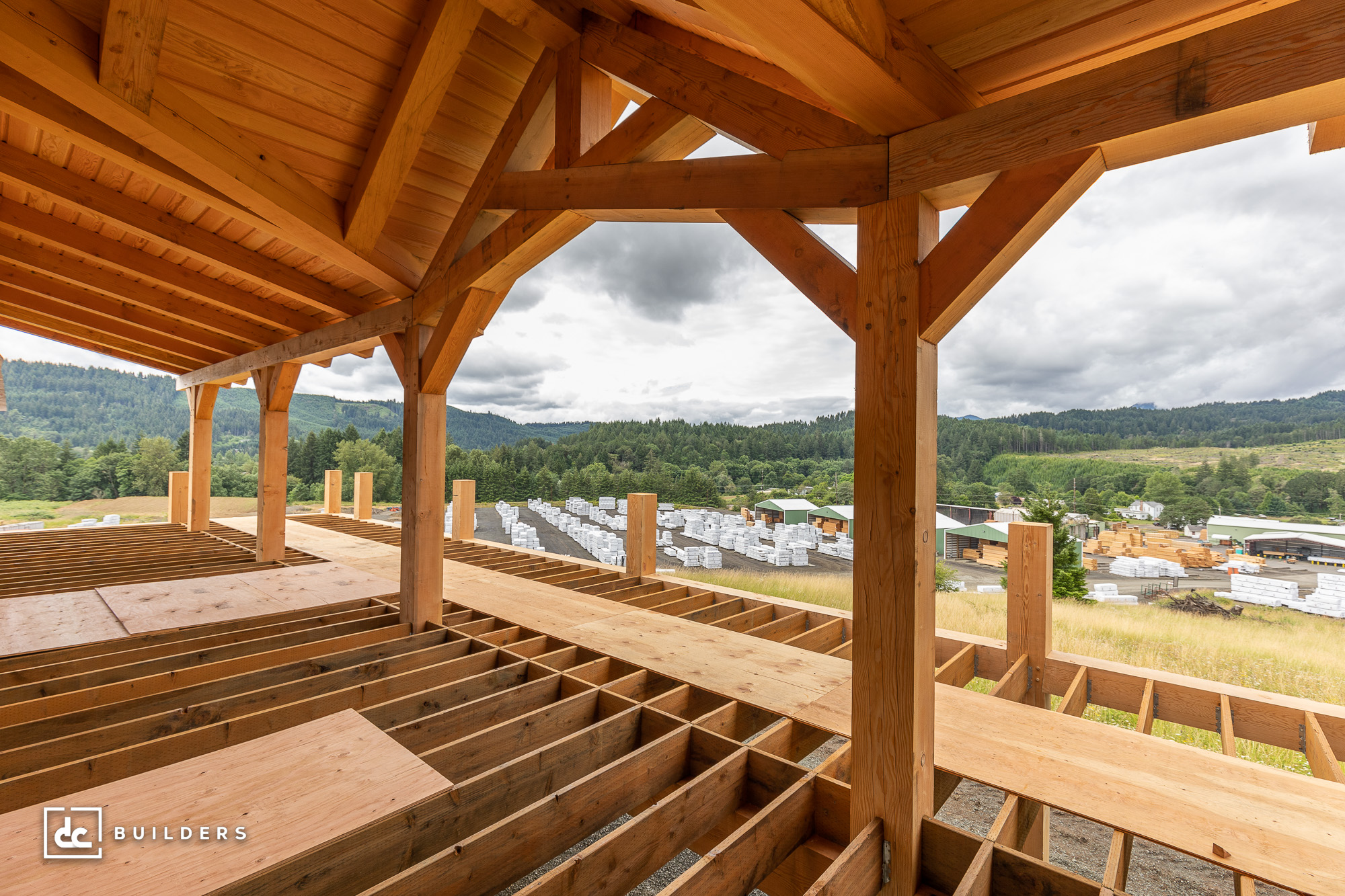 Traditional & Decorative Timber Frame Joinery
Knowing the structure would be a showcase of Patrick Lumber's products and those they supply, it was very important that we figured out early on how to display their timbers in a way that highlights their impressive size and quality. To us, the solution was to not only utilize a combination of traditional and decorative timber frame joinery in the framing process but also incorporate a builder-friendly approach to the ceiling portion of the build. A few common timber frame connections we used throughout the structure included scarf joints, which were used to overlap beams under the shed roof, and mortise and tenon joinery on knee braces. We also added a large scissor truss with protruding timber framed corbels to the entryway for dramatic effect.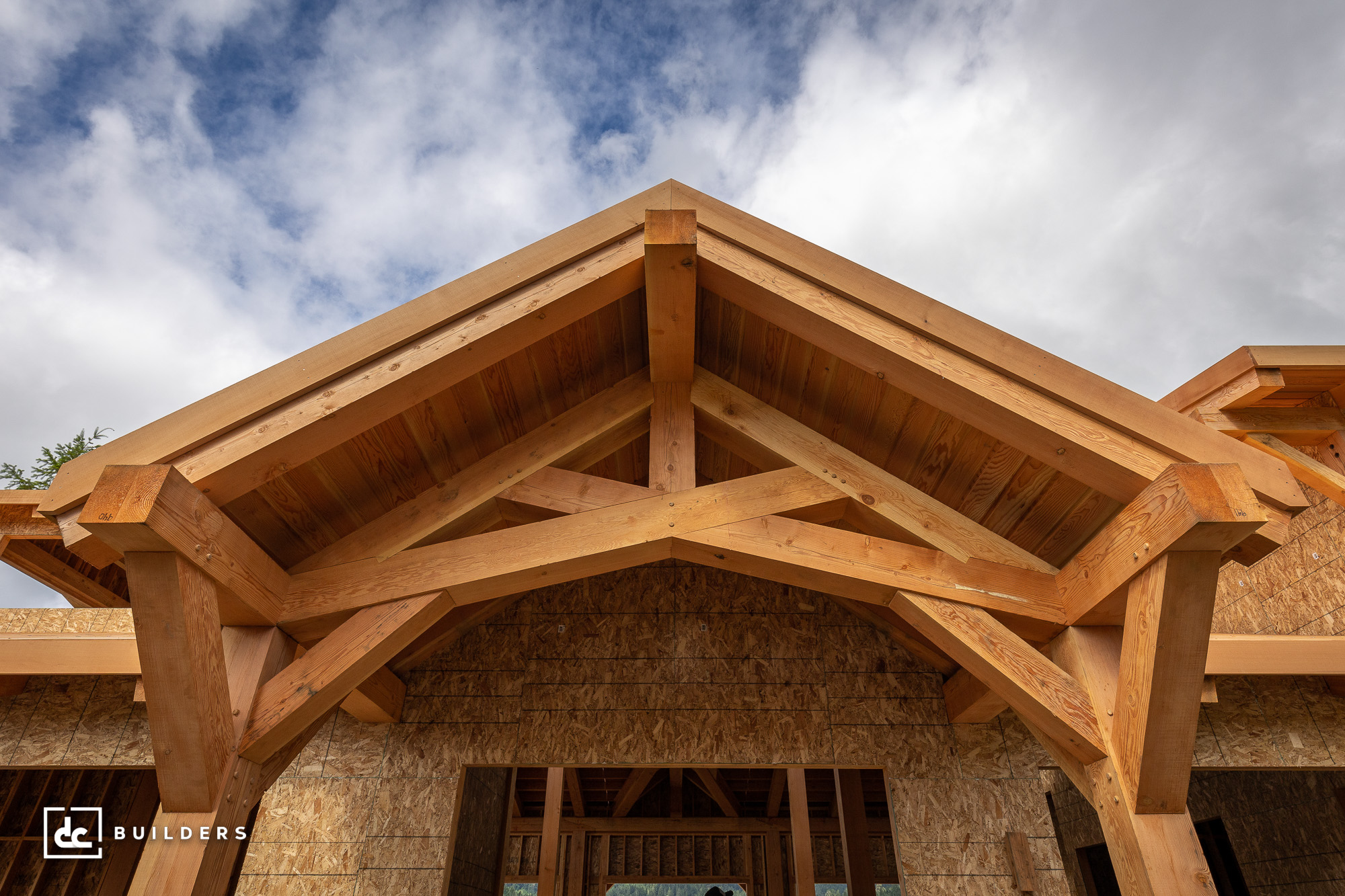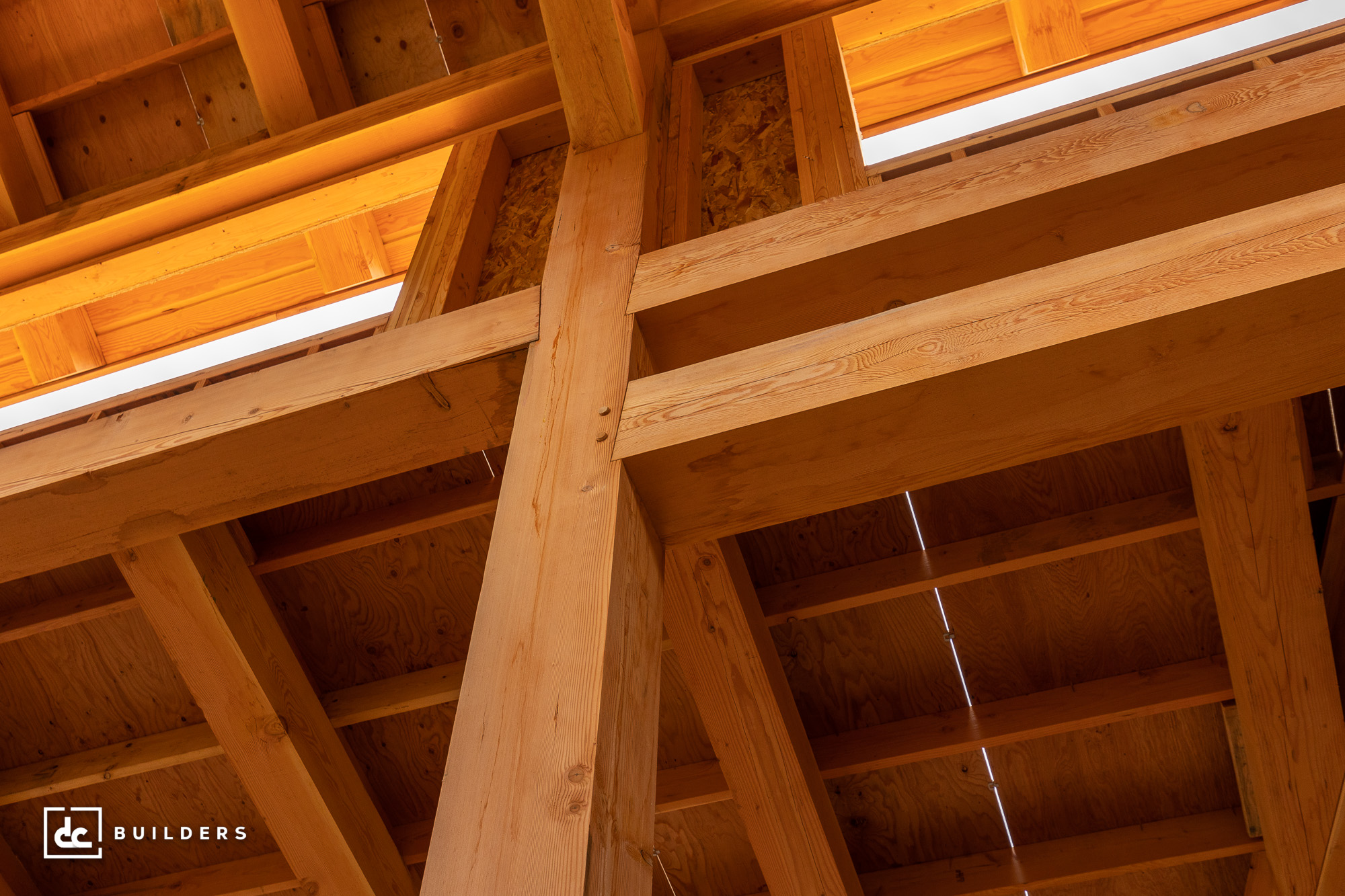 While most of this structure is timber framed, we decided to incorporate a purlin roof system where the ceiling itself is drywalled in but features exposed beams, purlins, and rafters over the surface. The reason why we ultimately used this method is that there's more coordination and planning that goes into wiring everything into a traditional timber frame ceiling, whereas this approach makes the rough-in stage easy and a lot more intuitive. Though it's technically not a timber framed ceiling, you still get that traditional timber frame look without the added cost and tedious troubleshooting during installation. With everything tucked in tight to the ceiling, the Patrick Lumber team can experience the beauty of their wood products from top to bottom and enjoy a one-of-a-kind interior that wows throughout.
Horse-Friendly Knife Plates
As part of our best practices, we try to utilize horse-friendly knife plates as often as we can and whenever the job site warrants their use. These types of knife plates are best described in a blog post by our sister company DC Structures as "steel connection hardware pieces that are hot-dipped galvanized and powder-coated for maximum protection." During installation, they are "bolted directly into the structural footing and feature an I-shaped design that raises the bottom of our posts to a pre-determined elevation."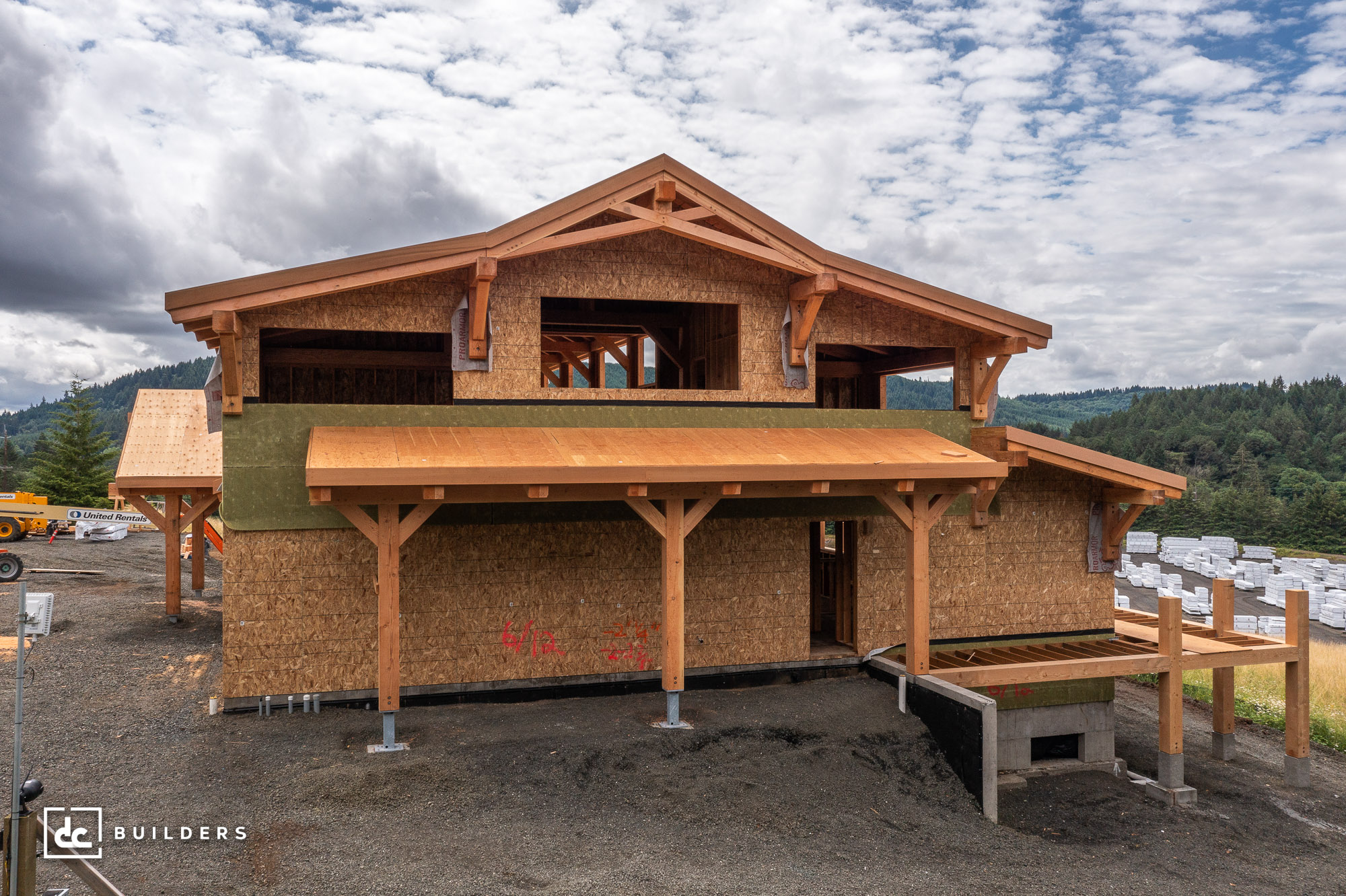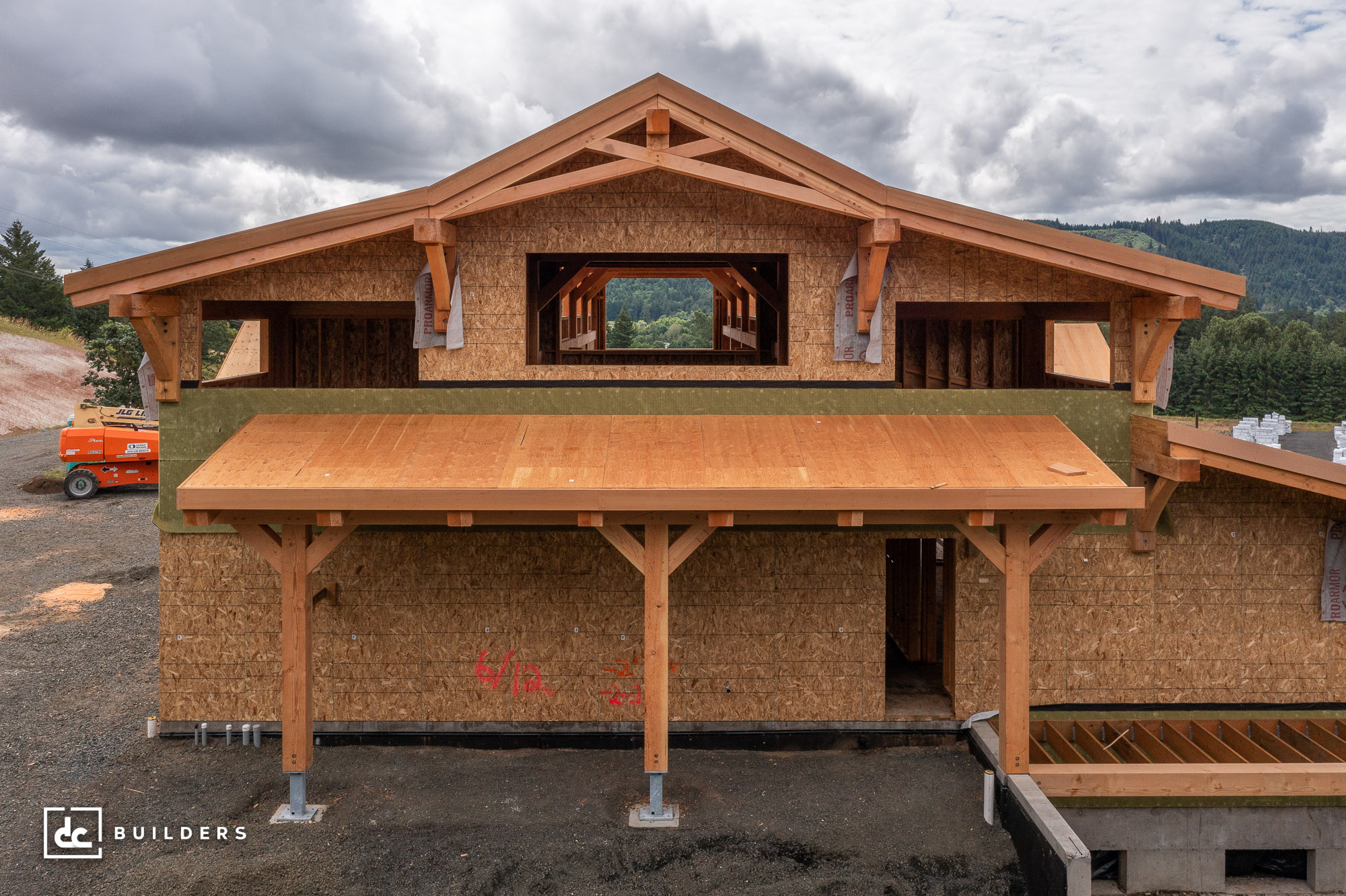 A major reason why we used horse-friendly knife plates for this project is that this method creates the illusion that our posts are sitting right above their finished surfaces. This gives the exterior a more seamless appearance, in addition to making installation easier and producing a better result than our standard knife plates.
Key Takeaways
With every project, our team makes the extra effort to evaluate and develop a design that best fits the client's needs and the characteristics of their job site. In this case, we had the pleasure of working in tandem with Patrick Lumber to not only create a building that fits their needs and property but also exhibits the quality of their high-end wood products and our extraordinary craftsmanship. We designed, engineered, and prefabricated this building in-house to ensure a seamless, efficient, and highly accurate installation process. As a one-stop shop for Patrick Lumber, we couldn't be more grateful to be a significant part of this custom build and watch it come to life with their team.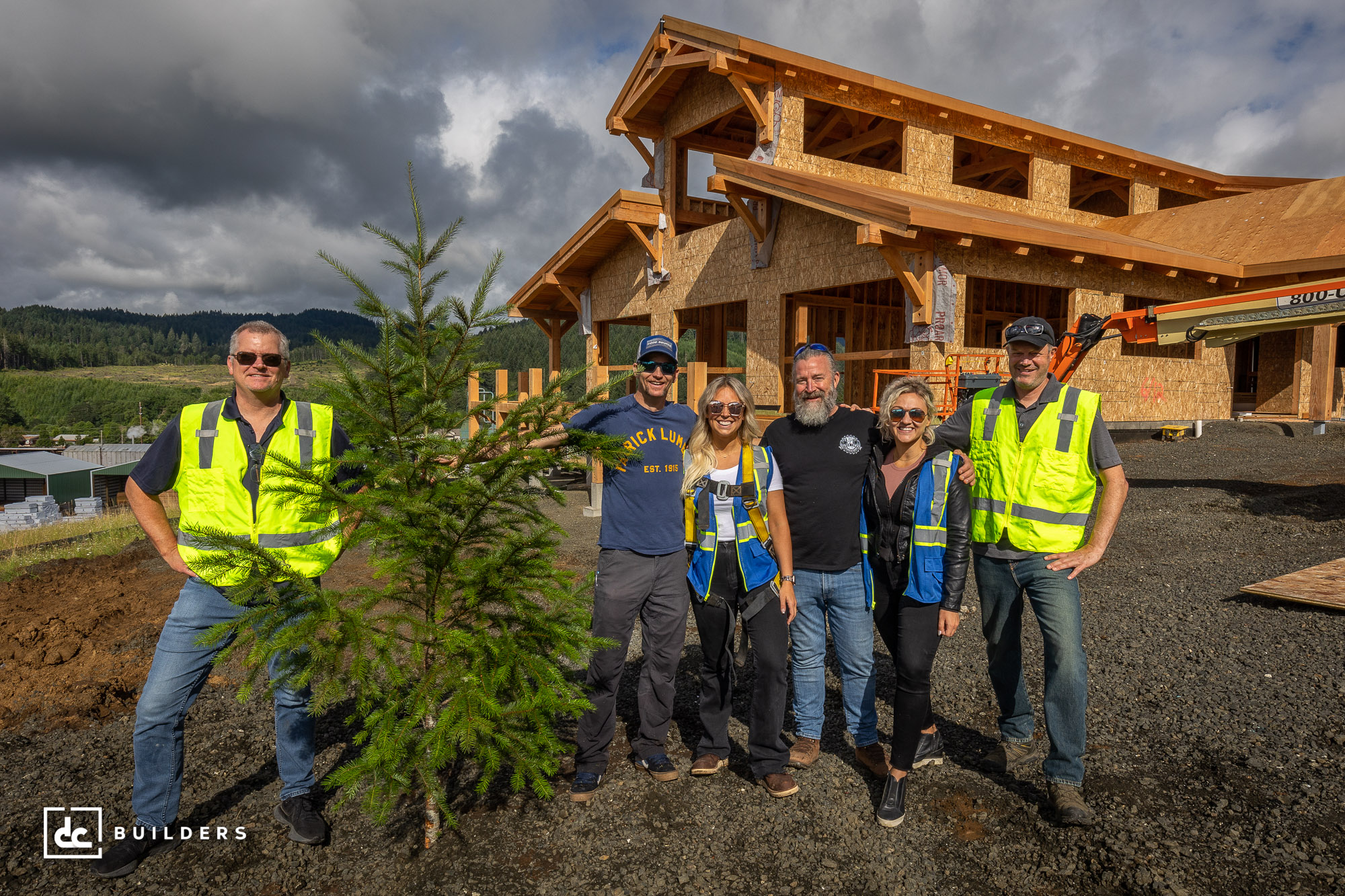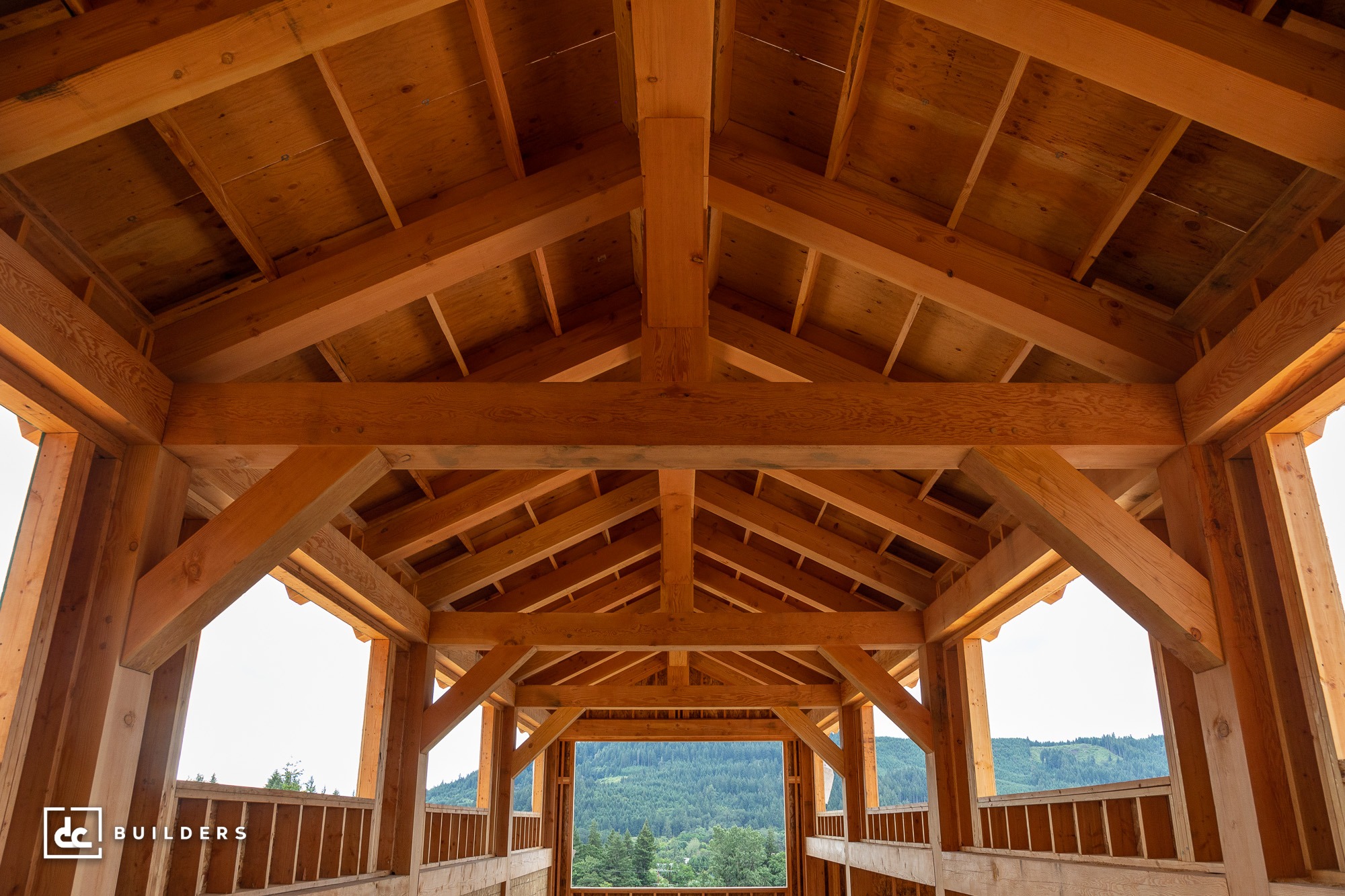 Stay tuned for more updates on this project and others in the pipeline! If you're ready to get started on your custom structure, give us a call at (888) 975-2057 to speak with one of our representatives.