TIMBER FRAME /
POST & BEAM
DC Builders offers nearly two decades' experience in designing and producing custom timber frame and post and beam structures for clients across the country. From timber frame pavilions intended for outdoor entertaining to barn-inspired post and beam homes, our in-house design team has crafted hundreds of heavy timber structures that showcase our superior craftsmanship and versatile design capabilities. Whether you're looking for an elegant entryway for your home or a custom wood building for your business, our designers will collaborate with you to create a heavy timber structure that perfectly suits your needs.
Learn more about the different types of timber frame and post and beam possibilities we offer for residential and commercial construction projects:
EXPERIENCED TIMBER
FRAME DESIGNERS
With over fifteen years of experience in designing custom heavy timber structures, our in-house design team offers the expertise needed to execute your vision with ease. Using industry-leading design software, our designers will work closely with you to create an interactive 3D building model based on your ideas. With our virtual reality software, our clients can also take powerful 3D walkthroughs of their rendered design and experience live updates to their windows, doors, walls and more. Once you've approved your plans, we'll coordinate with our engineering partner – licensed in all 50 states – to ensure your design meets your jurisdiction's structural requirements before stamping and mailing your plans back to you. With the help of our team, you can create the heavy timber structure you always envisioned and watch your building come to life faster than you thought possible.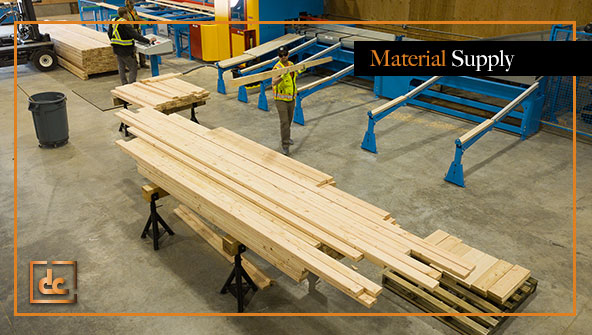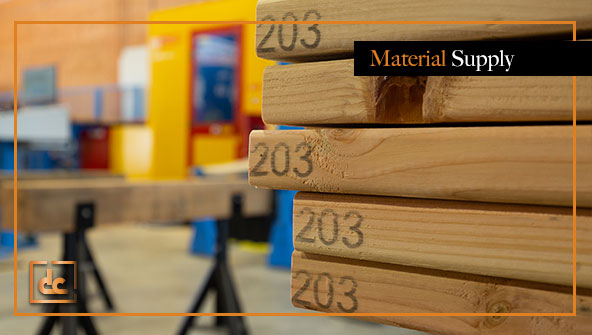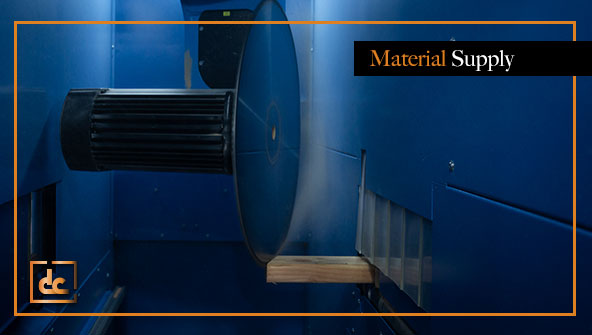 Our mill-direct relationships in the Pacific Northwest allow us to source the finest lumber for each project, giving you access to a wide selection of high-end heavy timbers you can enjoy inside and out. Our buildings are designed with the highest grade of lumber available – select structural grade – for superior structural integrity and beauty. This ensures our custom structures are built to last and will look beautiful for decades with proper maintenance. Additionally, we partner with America's best suppliers of specialty siding, hardware, and more to provide you with plenty of customization options for your project. That way, you can personalize your design according to your style and needs.
From builder-favorite Douglas fir to Western red cedar, DC Builders offers clients a variety of wood options to choose from for their custom build. Find out more about the different types of wood options we offer as finish and framing materials for your project:
Known for its superior strength and durability, Douglas fir is considered to be one of the best wood types for building. Compared to other North American softwoods, Douglas fir is the highest rated in both strength and stiffness. This makes Douglas fir a favorite amongst builders and carpenters, and the perfect building material for residential and commercial structures in any location.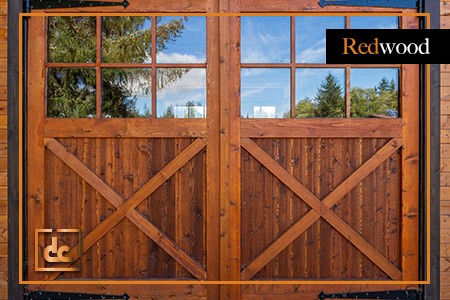 Redwood is a popular wood species that is both structurally sound and strikingly beautiful. Commonly used as decking material, redwood also makes a perfect interior and exterior design element. With its rich, deep red color, this lumber will give your entryway or backyard space an extra bit of flair and stay beautiful for ages.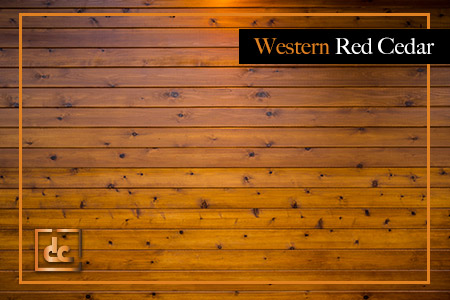 Western red cedar is a naturally durable building material beloved for its warmth, versatility, and affordability. Perfect for outdoor uses, Western red cedar is often used for a number of exterior applications such as siding, decking, trim, soffits, and more. While it's not as highly rated in load-bearing capabilities as Douglas fir, Western red cedar is considered to be a premium building material and can be used as a finish or structural element.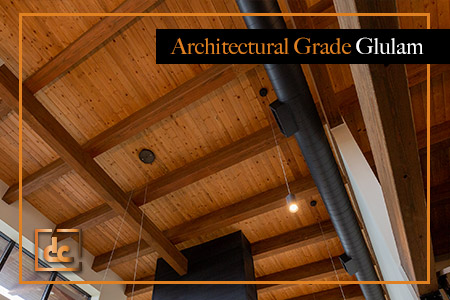 ARCHITECTURAL GRADE
GLULAM
Glulam beams come in a variety of appearance "grades," including framing, industrial, architectural, and premium appearance. Architectural grade glulam beams, however, are applied where glulams are exposed in the finished structure. This classification features a smooth and attractive finish to achieve its compelling appearance, making it a great option for clients seeking beautiful, exposed heavy timbers to complement their interior space.
Red and white oak are incredibly strong and versatile hardwood species that are used for both furniture and housing applications. Aside from their appearance, red and white oak differ in measures of resistance to wear and tear, as white oak is considered stronger and able to withstand more pressure than red oak. While bearing similar wood grains, white oak is also slightly denser as a hardwood species.
Timber framing is one of the oldest building methods still practiced today. Instead of using dimensional lumber, timber framing utilizes large heavy timbers joined by mortise and tenon joinery and other types of traditional and decorative joints to form the frame of a structure. This results in a meticulously crafted and beautiful heavy timber structure defined by its seamless connections, as all the framing materials are designed to fit perfectly together. Because timber framing is incredibly labor intensive due to the precision and skill required to execute this style, timber frame structures are generally more expensive than post and beam and conventionally framed buildings. That said, timber frame homes today are commonly designed with a combination of timber framing and conventional building methods to achieve the same look and feel as a traditional timber frame home, making one's dream of owning an affordable timber frame home completely within reach.

Similar to timber framing, post and beam construction is a centuries-old building method that utilizes large heavy timbers instead of dimensional lumber for framing. While it's easy to confuse the two, the difference between timber framing and post and beam lies in the method used to secure the frame's joinery, as post and beam construction employs metal fasteners and connectors to join its heavy timbers. Despite this, post and beam structures offer a number of similar benefits to timber framing, including superior durability, beauty, and versatility. Both building methods enjoy wide-open spaces due to their lack of load-bearing walls, as well as stunning interiors with exposed heavy timbers and vaulted ceilings.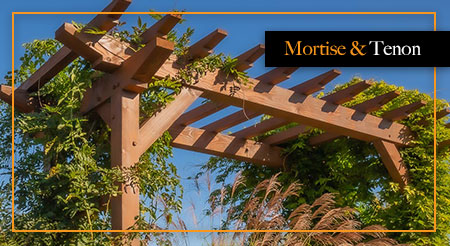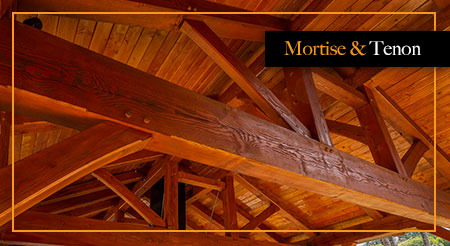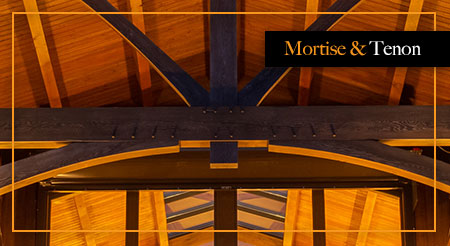 WHAT IS
MORTISE & TENON JOINERY?
When we refer to mortise and tenon joinery in timber framing, we're referencing a type of joint that is formed when a peg cut into one piece of wood fits perfectly into a slot carved out in another. In a way, a mortise and tenon joint can be thought of two connecting Legos, with one end designed to connect with the Lego directly below it. Known for its superior strength and simplicity, mortise and tenon joinery creates seamless heavy timber connections that stun from floor to ceiling and are able to withstand extreme structural loads. This makes mortise and tenon joints the most widely used joinery method in traditional timber frame buildings, and one of the most important joints used in our timber frame structures.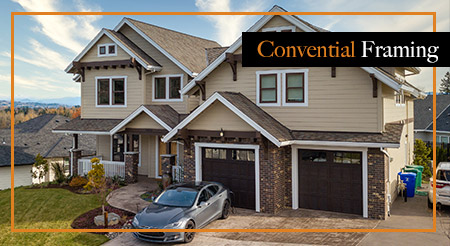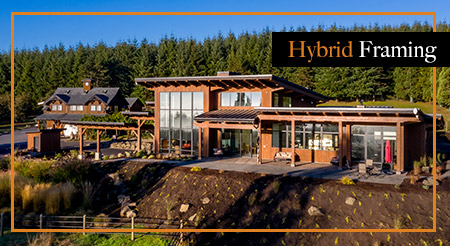 CONVENTIONAL FRAMING VS.
HYBRID FRAMING
DC Builders is widely known for its expertise in heavy timber construction, but something you may not have known is that we also specialize in crafting hybrid heavy timber structures and conventionally framed structures for clients. Our hybrid heavy timber structures are designed with a combination of conventional framing and timber framing or post and beam construction. This allows our clients to showcase their heavy timber design in important areas of their home, such as their great room or master suite, while saving money in less frequented spaces like a storage room or garage.
The reason why conventional framing is often more affordable than timber frame or post and beam building methods is because this method relies on dimensional lumber to create light wood structures. Unlike timber frame and post and beam structures, conventionally framed buildings require load bearing walls to support the upper floors and roof, making this type of construction somewhat limiting in terms of what you can do with your design. However, when implemented in hybrid heavy timber structures or used as the primary building method, this building method achieves an attractive design that complements real and faux heavy timber accents in your space.
Determining the best type of wall framing for your project is an important step in the building process. Learn more about the different types of wall framing we offer and their associated benefits:

Conventional framing is the most commonly used building method for residential buildings in the U.S. – namely because light-frame construction is easy to build, affordable, and durable. Conventional wall framing utilizes dimensional lumber or engineered wood that is regularly spaced and nailed together to create the structure's enclosure. This results in a solid wall frame that is both cost-effective and structurally sound.

STRUCTURAL INSULATED
PANELS
Structural insulated panels, commonly known as SIPs, are high performance building solutions engineered to create an airtight weather barrier around your structure. Designed with an insulating foam core between two structural board layers, structural insulated panels allow us to better air seal our buildings and meet high performance building codes.

Cross laminated timbers are multi-layer mass timber panels that provide superior insulation and protection. These panels consist of three to four layers of cross laminated board lumber to create an airtight building solution. Comparable to steel and concrete in terms of durability, cross laminated timbers offer the strength of the former with the bonus of being a lighter material that is much easier and faster to install.
Whether you're looking for a stunning timber frame pavilion for your backyard space or a decorative element to add to your structure, our timber trusses make excellent additions to any interior or exterior. Below are some of the types of timber trusses we offer for clients:

A hammerbeam timber truss is a decorative and ornate truss style reminiscent of English Gothic architecture. This timber truss is characterized by short beams – the hammerbeams – that protrude out of the rafters and are supported by curved braces.

A king post timber truss is a straightforward, yet attractive design that consists of a bottom chord, two top chords, a center "king" post, and two webs that support the rafters.

A queen post timber truss is a simple truss style that features a bottom chord, two top chords, and two "queen" posts instead of a center "king" post.

A double ridge timber truss is a complex truss style defined by shorter beams that form an "H" shape in the center, two webs supporting the rafters, and four protruding beams used for decorative and structural effect.
Our timber frame structures are unique in that we use a combination of mortise and tenon joinery and other types of traditional and decorative joinery to form the frame of the structure. Here are the different types of joinery we incorporate in our timber frame structures to create their signature appearance:
Having a well-insulated structure is a must for anyone seeking a comfortable place to enjoy year-round. Learn more about the different insulation options we offer and what you should consider for your individual project: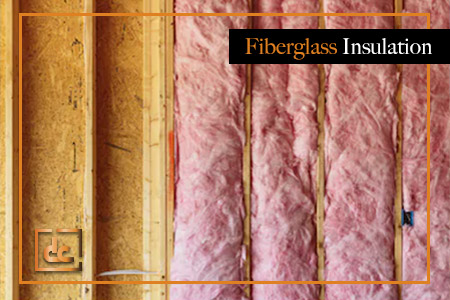 Fiberglass is a lightweight material commonly used as a thermal insulation solution for residential and commercial buildings. Known for its puffy texture, fiberglass is created when glass is heated until molten and then pushed through tiny holes, resulting in thin strands of thread that are bundled together to form the fibrous material. Its malleable qualities make fiberglass an excellent insulator that can be molded into various shapes, and one that offers superior strength and soundproofing qualities. It is most often used in batts, rolls, and loose-fill insulation.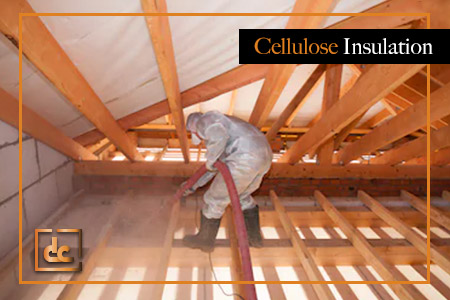 Cellulose is an insulation material made from recycled paper products that has a consistency similar to down feathers. Its shape and size allow it to fit in hard-to-reach and oddly shaped areas, including attics and areas with obstructions like ducts or wire. DC Builders offers two types of cellulose insulation for clients to choose from: loose-fill and blown-in. With loose-fill cellulose insulation, dry cellulose is blown into the walls or attic to fill cavities or cover existing insulation. With blown-in cellulose insulation, cellulose is blown onto open walls like spray foam to coat the exterior.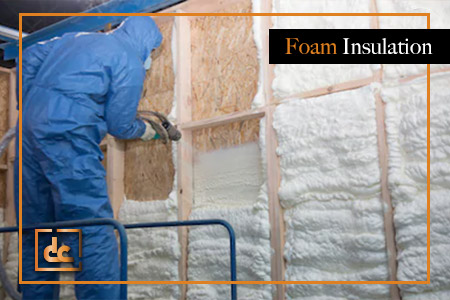 Foam insulation consists of polystyrene, polyisocyanurate or polyurethane, which are types of plastic. This type of insulation is known to be ideal for attics, roofs, walls, and flooring, as its airtight qualities help prevent heat loss and keep energy costs at a minimum. We offer two types of foam insulation, including rigid foam and spray foam. With rigid foam insulation, rigid foam panels are typically applied to the interior and exterior walls, roof, and foundation. For roof insulation, we install Hunter polyiso insulation panels to provide superior protection for our custom structures. With spray foam insulation, any cracks, holes, or gaps in your structure can be coated with a simple spray foam to ensure maximum insulation.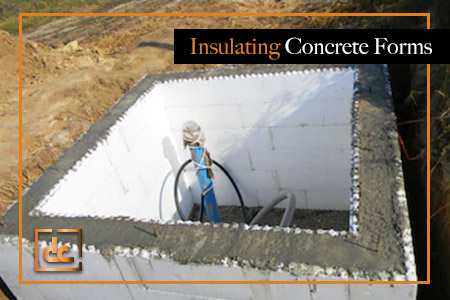 INSULATING
CONCRETE FORMS
Insulating concrete forms are concrete walls sandwiched between two layers of polystyrene foam. This insulation material is known for its ease of installation, durability, and ability to prevent air leakage, making it a great insulation material for residential and commercial projects. The multi-layer design of IFCs and concrete fill provides an airtight barrier around the walls of a structure, offering exceptional insulation and comfort.