If a custom heavy timber barn or barn home is what you are looking for,

look no further than DC Builders. DC Builders is a design and construction firm that specializes in designing custom wood barns, homes, and much more in Colorado and nationwide.
We have years of experience in the design and construction of custom timber frame and post and beam barns and barn homes, with over one hundred structures nationwide under our belt. With our excellent customer service and ability to meet each clients custom needs, DC Builders can guarantee an extremely positive building experience. Explore DC Structures' Line of Barn and Barn Home Kits
To get started on your barn project, visit our sister company DC Structures to browse their line of pre-engineered barn and barn home kits. DC Structures ships complete design and materials packages all over the nation for construction by an approved general contractor, making it easy for you to jumpstart your project in no time. If you're looking for something more personalized to your taste, DC Builders will work closely with you to create custom design plans for your unique project. Our experienced project managers and framing crews can also mobilize to complete your heavy timber framing, conventional framing, siding installation, and more for your project, no matter where you live in the U.S.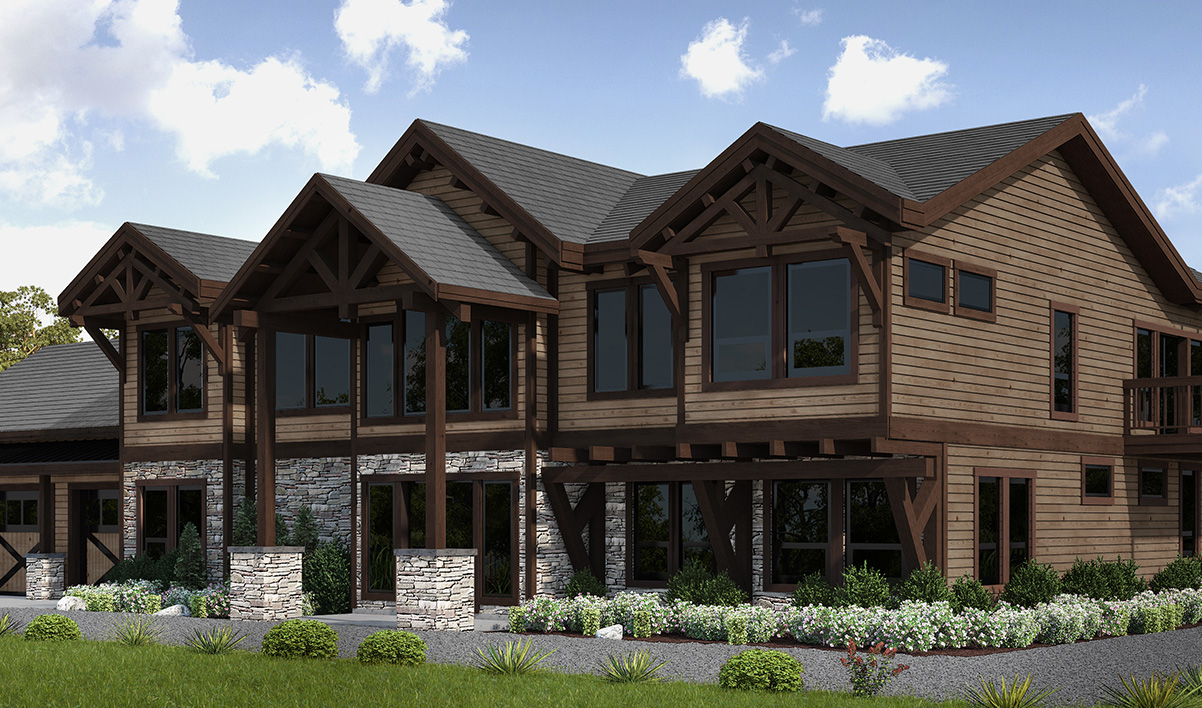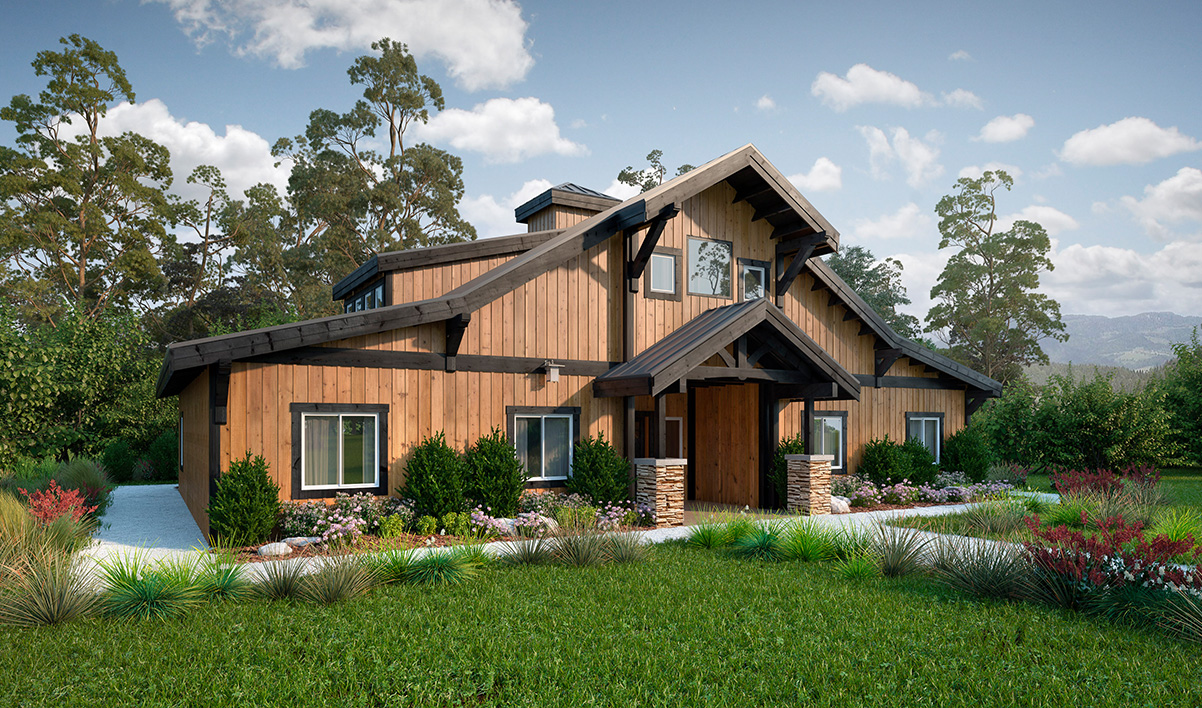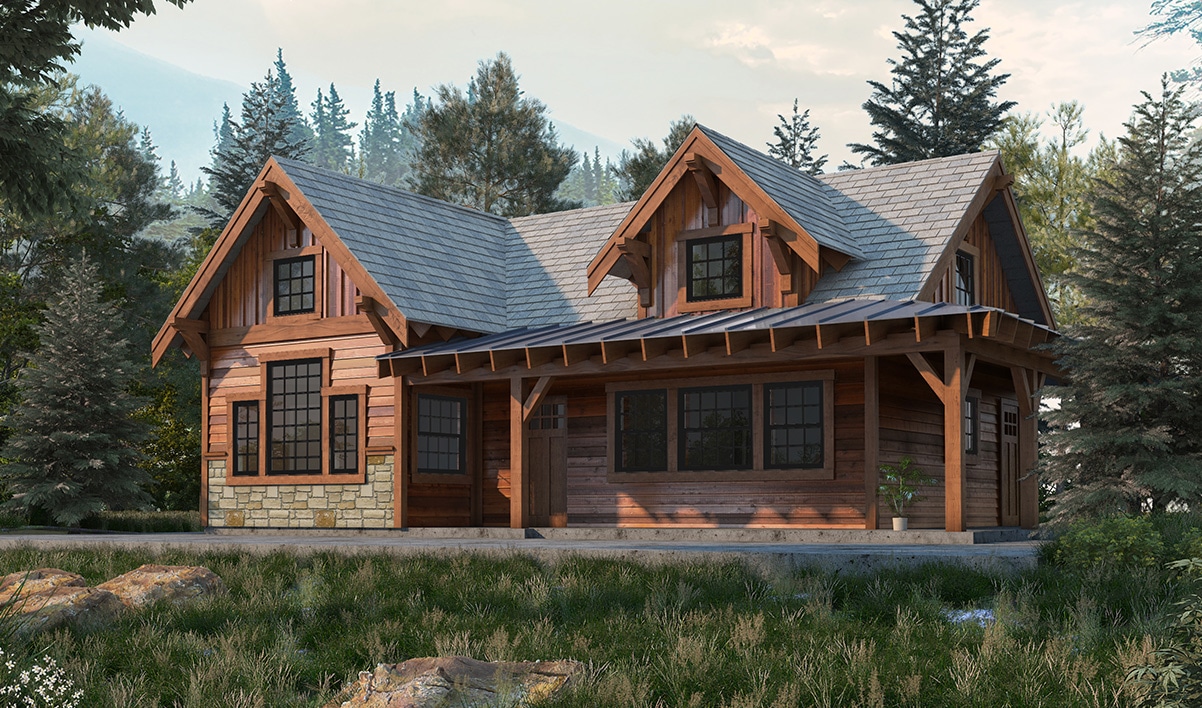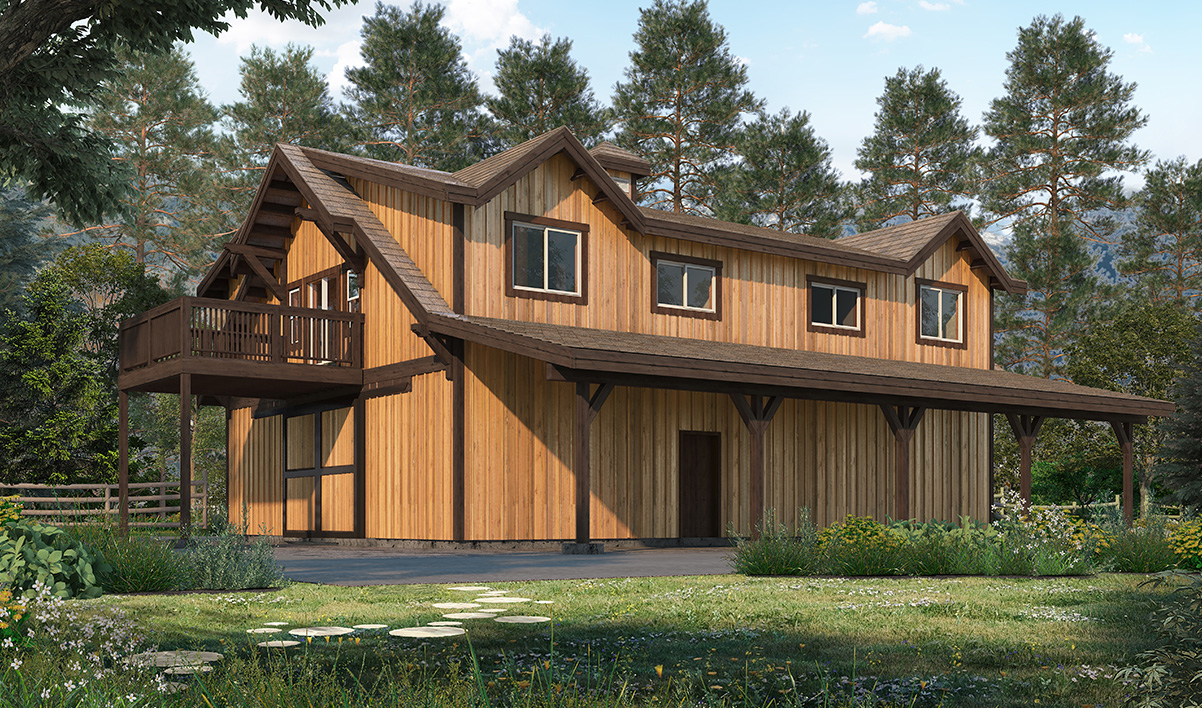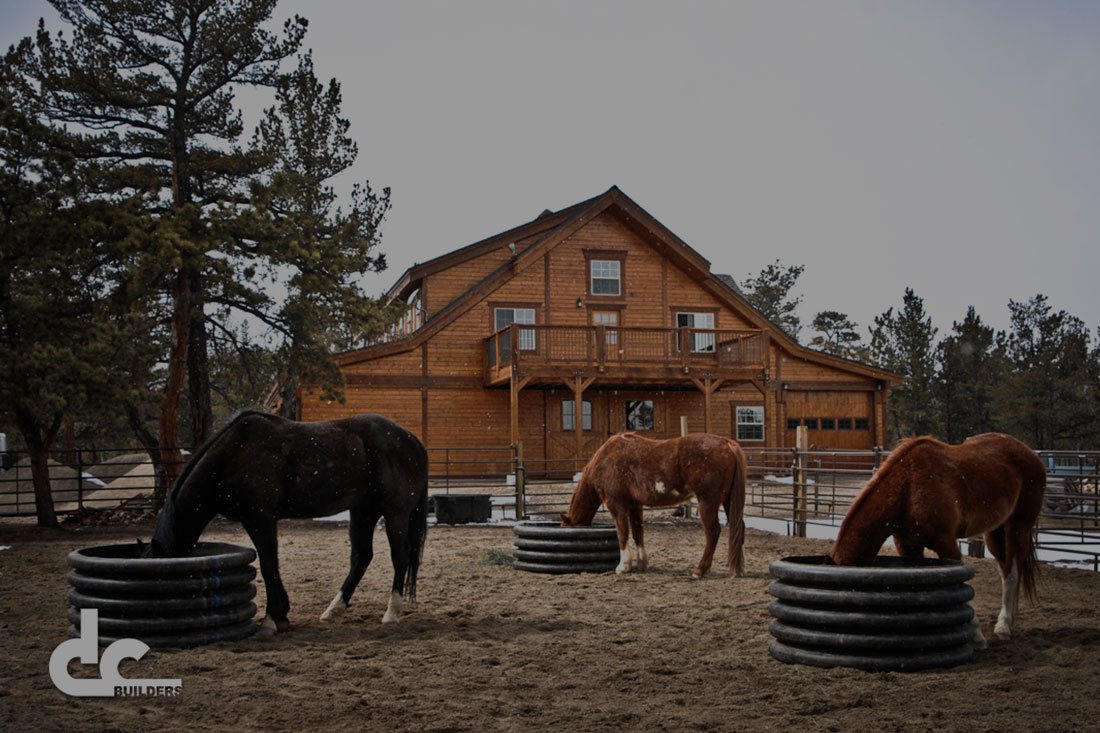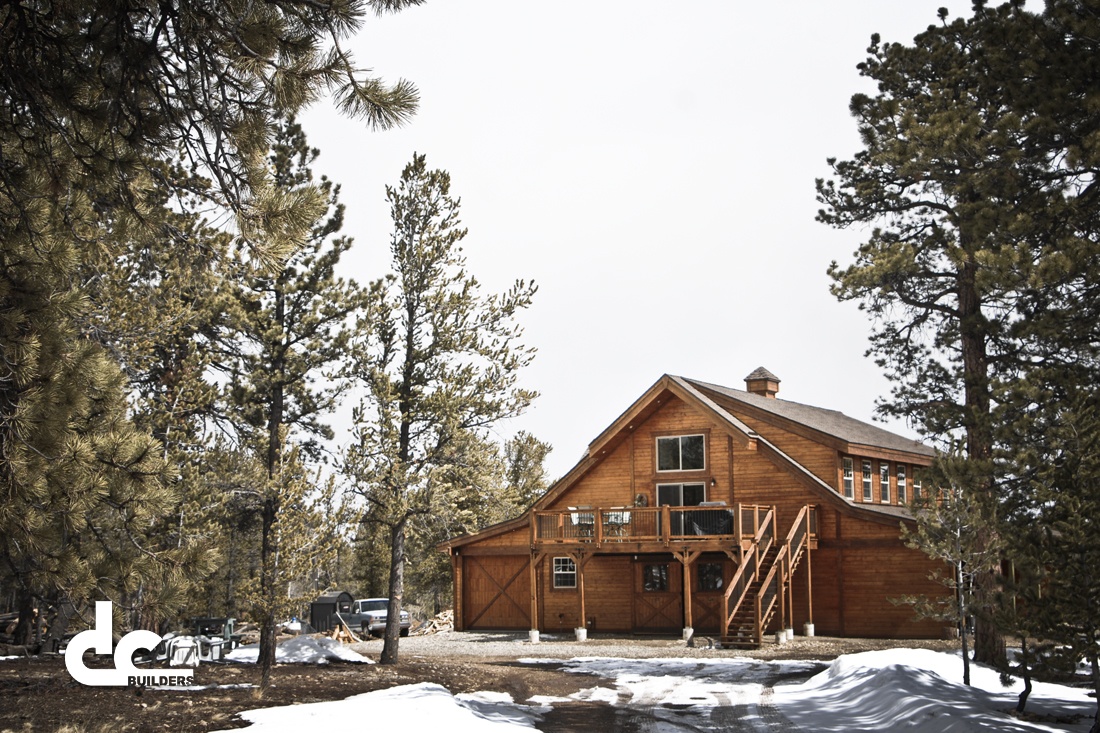 This gorgeous apartment barn consists of four stalls, a tack room, garage, and workshop. Helping get through the cold winters of Colorado, this beautiful barn also has a covered paddock area, and second floor living quarters. We customized this residence with reclaimed wood floors and cabinets, granite counter tops, pine covered ceilings, and all-wood interior doors.
MORE INFORMATION 
THINGS TO CONSIDER
Colorado Barn Builders
Information
With experience in customizing homes in Colorado, let DC Builders assist you in making your dream home a reality. We can design a high-end barn or barn home that perfectly suits your needs, location, and budget.
Custom Barn Builders
Information
DC Builders can help you design your perfect barn. We offer an array of services to get your project off the ground, including nationwide custom design, framing and installation, and timber frame and post and beam solutions. We frequently partner with DC Structures to provide our clients with the most comprehensive options in the industry for their build, along with complete design and materials packages centered around your vision.
Post & Beam Home Builders
Information
Post and beam construction techniques are the perfect choice for your Colorado custom home. Post and beam construction is a specialty of DC Builders, and we look forward to working with you in developing your dream home. Please visit our project gallery to view all of our post and beam homes.
Timber Frame Home Builders
Information
DC Builders is one of the nation's leading timber frame home designers. Let us help you develop your dream timber frame home.
Barn Builders
Information
Our all-wood barn homes are breathtaking. As a nationwide design and construction firm, we offer years of experience in crafting custom barn homes and can help you design the perfect structure for yourself and your family.
All Wood Barns
Information
DC Builders specializes in all-wood barn construction. The value and the aesthetics of wood construction cannot be overemphasized. Contact us now to see how we assist in creating your all-wood barn.
Equine Architects
Information
One of the most important tasks in developing your custom barn is the design. We have indispensable relationships with equine architects, designers, and consultants that can collaborate with us in designing your perfect barn.
Indoor Covered Riding Arenas
Information
With the high altitudes and rough winters Colorado is known for, a covered riding arena is key to year-round riding. Our covered riding arenas can span up to 90′ wide and are used in many different ways.
Colorado Counties
DC Builders Serves The Following CO Counties
Adams, Alamosa, Arapahoe, Archuleta, Baca, Bent, Boulder, Broomfield, Chaffee, Cheyenne, Clear Creek, Conejos, Costilla, Crowley, Custer, Delta, Denver, Dolores, Douglas, Eagle, El Paso, Elbert, Fremont, Garfield, Gilpin, Grand, Gunnison, Hinsdale, Huerfano, Jackson, Jefferson, Kiowa, Kit Carson, La Plata, Lake, Larimer, Las Animas, Lincoln, Logan, Mesa, Mineral, Moffat, Montezuma, Montrose, Morgan, Otero, Ouray, Park, Phillips, Pitkin, Prowers, Pueblo, Rio Blanco, Rio Grande, Routt, Saguache, San Juan, San Miguel, Sedgwick, Summit, Teller, Washington, Weld, Yuma