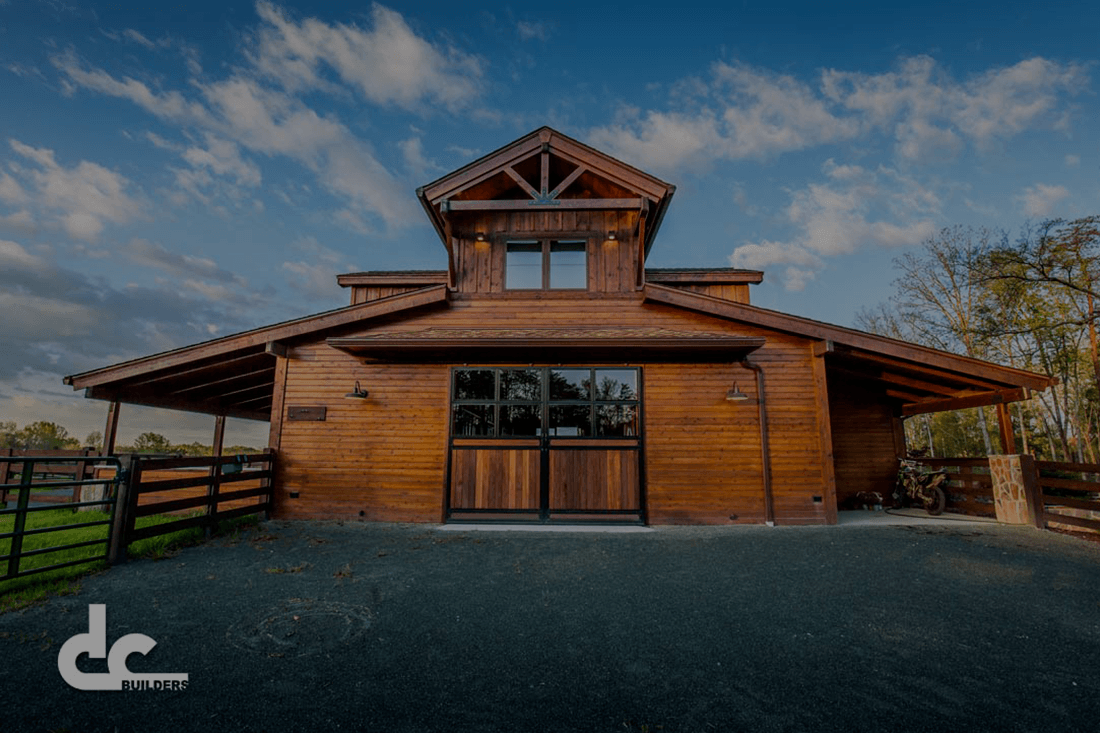 North Carolina Barn Builders

As a design and construction firm that's experienced in working with clients in North Carolina,

DC Builders is the best choice you can make when choosing a design and construction partner for your custom barn project. We have an in-depth knowledge of the process it takes to bring your project from renderings to a real-life structure. With DC Builders, you're not only signing on to your dream project but partnering with a leading design and construction firm known for providing superior customer service, materials, and construction methods.

For clients in North Carolina and nationwide, DC Builders offers custom design, framing and installation, and timber frame and post and beam services. If you're seeking custom design plans, our in-house design team will work closely with you to create personalized design plans based on your ideas, budget, and location. If you're looking for something pre-designed, or a classic barn-style structure, our sister company DC Structures offers dozens of pre-engineered barn and barn home kits to choose from. While DC Builders does not offer general contracting services outside the West Coast, we work with trusted builders nationwide and can pair you with the right general contractor for your job. Explore DC Structures' Line of Barn and Barn Home Kits
If you're seeking design inspiration for your barn or barn home project, be sure to check out our sister company DC Structures' line of pre-engineered building packages! DC Structures ships complete design and materials packages all over the nation for construction by an approved general contractor, making it easy for you to jumpstart your project in no time. If you're looking for something more personalized to your taste, DC Builders will work closely with you to create custom design plans for your unique project. Our experienced project managers and framing crews can also mobilize to complete your heavy timber framing, conventional framing, siding installation, and more for your project, no matter where you live in the U.S.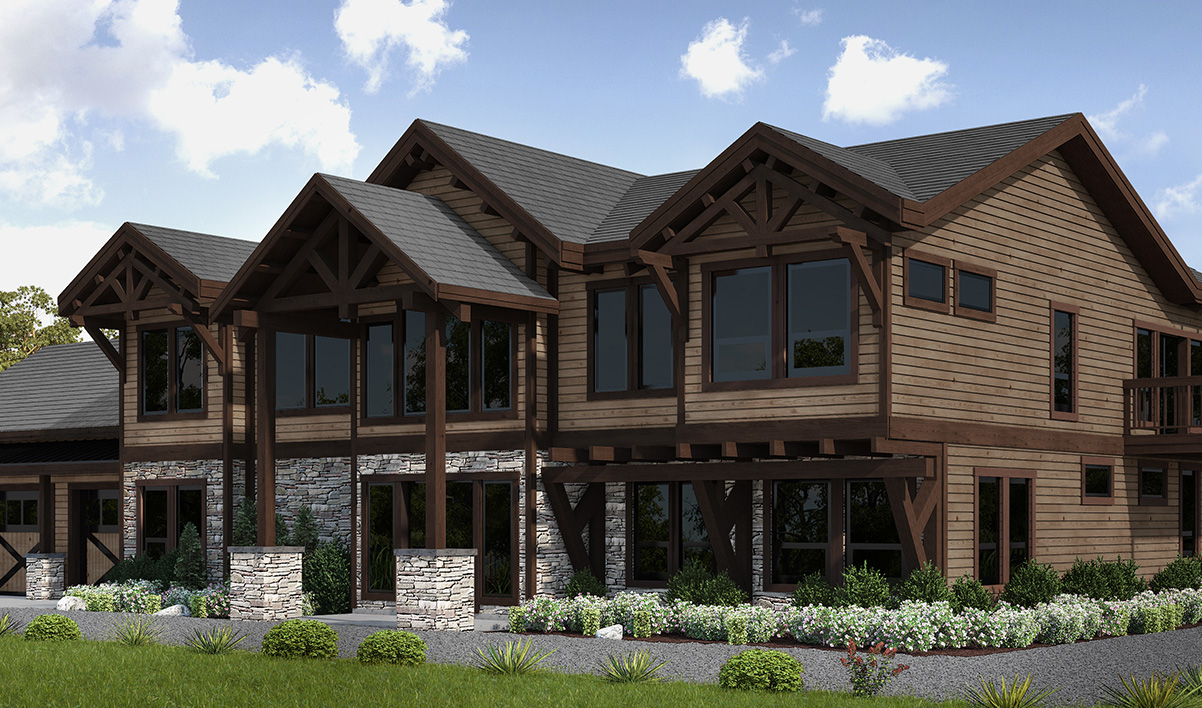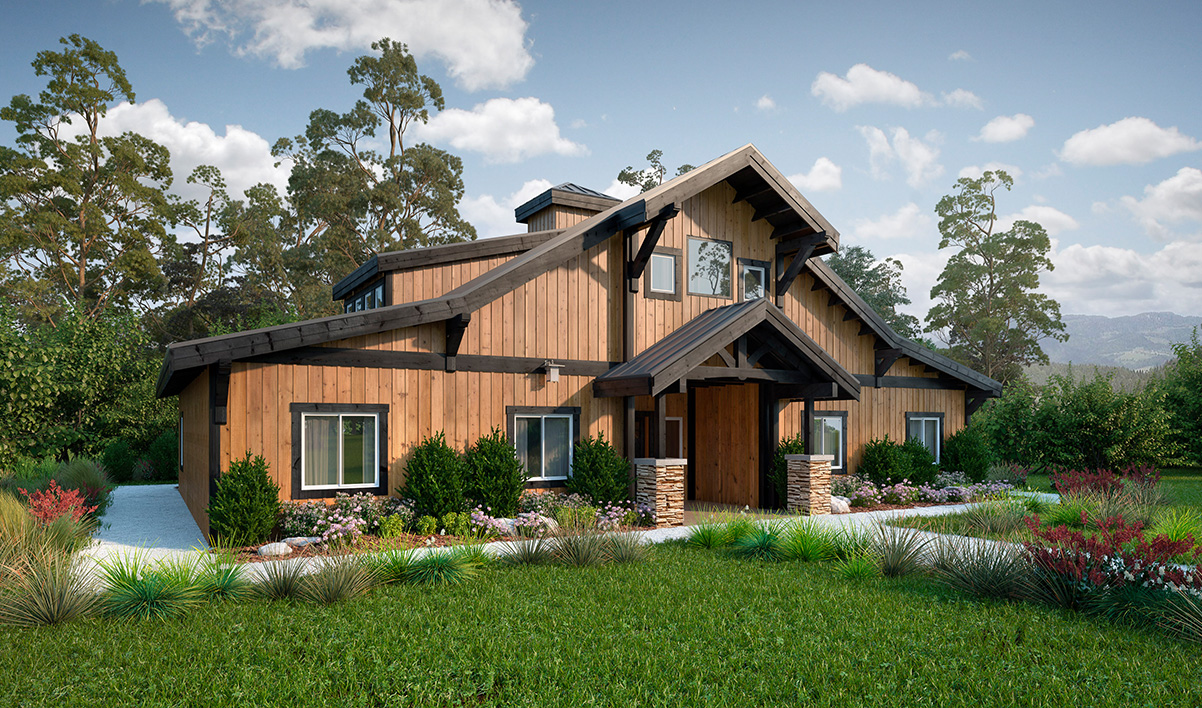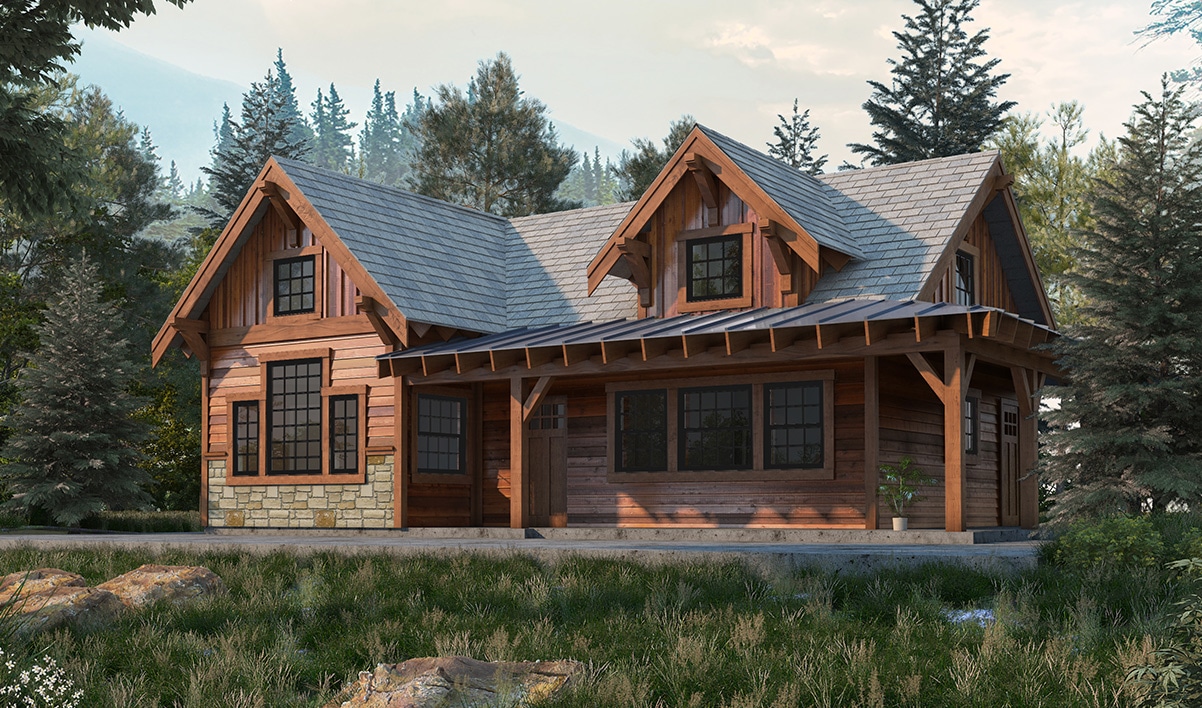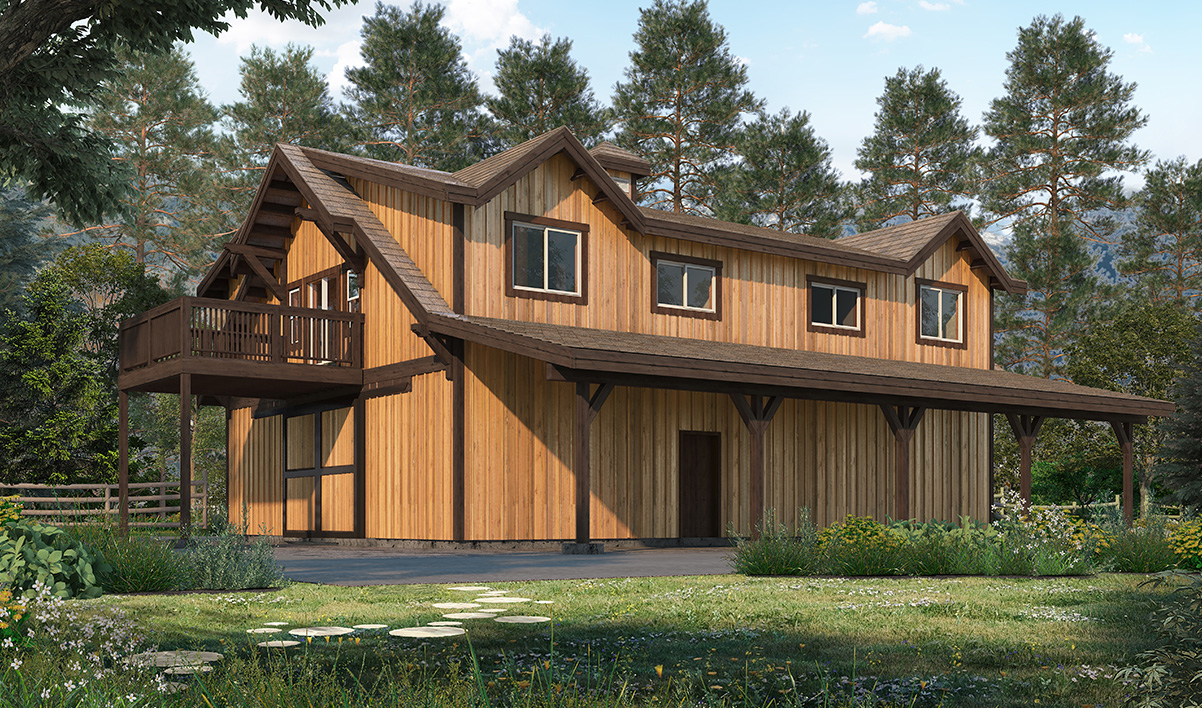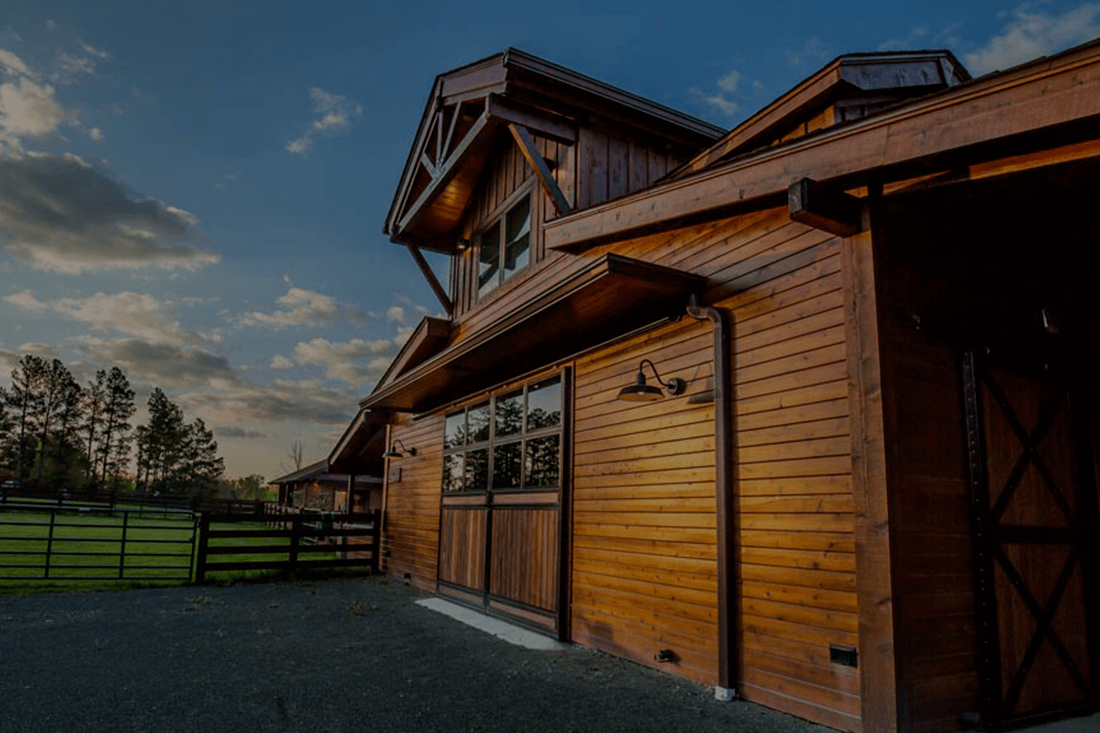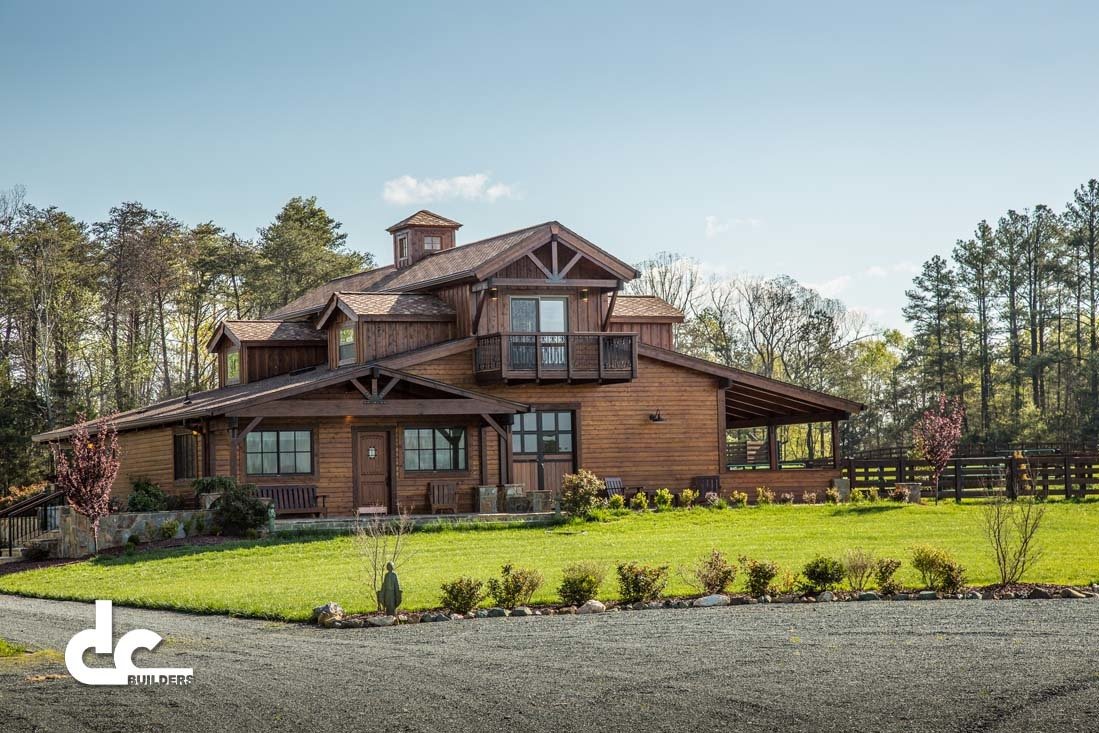 Burlington, North Carolina
This gorgeous monitor style barn was designed by the in-house design team here at DC Builders. Located in beautiful Burlington, North Carolina, this barn with living quarters holds four horse stalls, a feed room, and a tack room. Unlike most apartment barns, the living space stays on the ground level, with a bedroom, living room, and kitchen directly across from the horse stalls. The owners of this barn can even watch their horses through a window in the kitchen.
Upstairs via spiral staircase, the raised center aisle of this monitor barn has been transformed into an office space with access to a cantilevered deck, magnificent views of the property, and a dormer tastefully converted to a desk nook. This high-end structure is defined by its timber frame connections, powder coated hardware, dark wood stain, and top-of-the-line equestrian hardware.
MORE INFORMATION 
THINGS TO CONSIDER
North Carolina Barn Builders
Information
As one of the original 13 British colonies, North Carolina was the first state to vote from independence from Britain during the Continental Congress, and entered the Union, 12th, in 1789. Known as the Tar Heel State, North Carolina is made up of 48,711 square miles. Raleigh is the capital while Charlotte is the largest city. can you get ivermectin over the counter uk
The weather and location of North Carolina in the Southeastern United States allows for a variety of activities. With year-round golfing, skiing in the Appalachian Mountains, both fresh and saltwater fishing, and hunting, along with multiple major agricultural products, North Carolina is the perfect place to settle down and build your custom timber frame or post and beam barn or home!