The weather and climate of any location

can drastically change the building style and materials used to complete any project. Knowing about the climate and geographical characteristics of any location is key to a great building that fits the needs of that state. DC Builders is a fantastic company that understands what customers need when it comes to custom projects. DC Builders is an experienced general contractor, that offers a seamless, simple, turnkey process from the basic design to the completed structure. As a New Mexico barn builder, DC Builders is the best choice you can make when choosing your builder.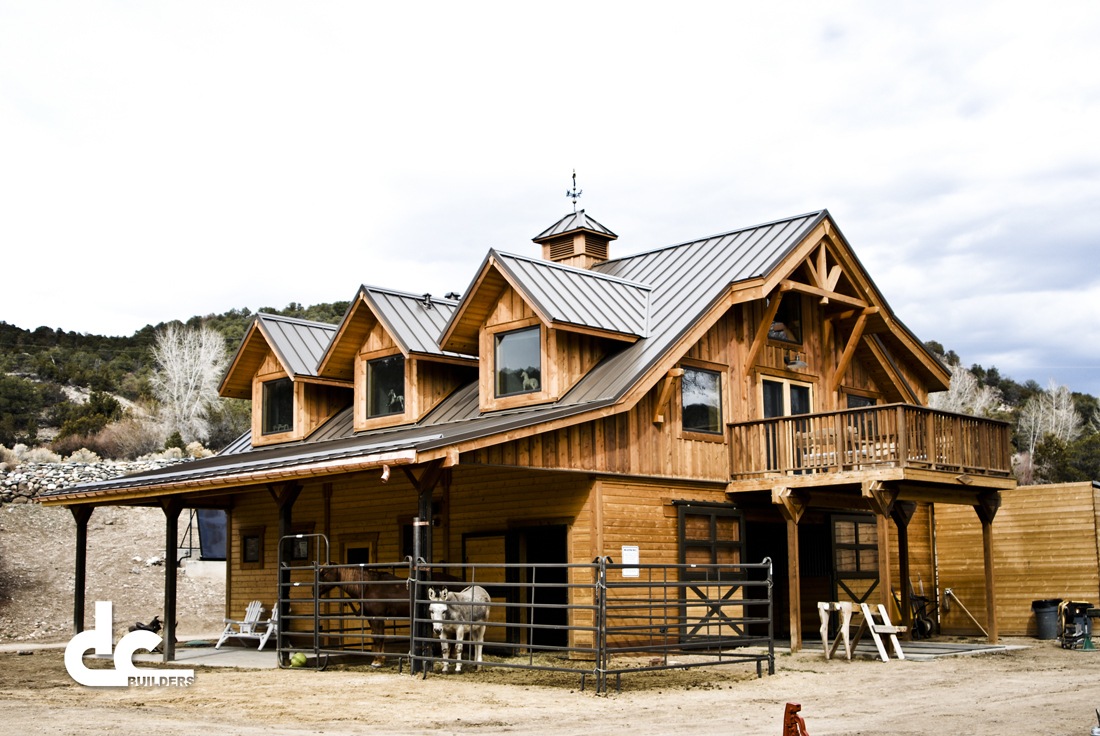 After a 24 hour drive (straight), to say we were welcomed with open arms is a huge understatement! This 36′ apartment barn developed into one of our all-time favorite structures upon completion in 2011. This barn with upstairs living quarters has four horse stalls with Classic Equine stall fronts and dutch doors with a 12′ x 24′ tack room, including a 1/2 bath and solar powered radiant heat in the slab.
We have customized the decks with ipe decking and the exterior siding with 2″ x 6″ cedar tongue and groove on the gable ends tying into the cedar batten and board above.
The luxurious two-bedroom living quarters speak for themselves. Check out the video above to get the full tour from owner Ed Healy.

Start Planning Your New Barn Home
Sift through our digital catalog to get inspiration from some of our past projects. See the variety of pricing, options and upgrades.
MORE INFORMATION 
THINGS TO CONSIDER
New Mexico Barn Builders
About New Mexico:
New Mexico is an arid state in the far west of the Continental United States. This state is very dry, hot, and windy and as such builders need to be aware of the hazards and potential setbacks that come with building in these conditions like heat stroke, erosion from sand and wind, and cracking of foundations due to heat. Keeping these things in mind can help make any building last longer. Also, it is important to keep methods of building that keep areas cool in mind to help combat the dry and hot weather.
New Mexico is a state that is rife with Native American Heritage. The state was originally inhabited by Native American tribes that took domesticated horses from the Spanish army to help increase their hunting productivity. These Native Americans made the most of the hot climates building homes that were airy and cool and that helped to protect themselves and their families from the harsh desert winds.
New Mexico Attractions
Information
New Mexico was recently home to the filming of the Disney original film "The Lone Ranger" featuring Johnny Depp and Armie Hammer. Also, the state is full of abandoned ghost towns where families can come together to learn about the rich history of gold miners and carpetbaggers that moved west in hopes of starting a new life. One of the most famous ghost towns is Cerrillos, this town was a monument to prospecting that quickly dried up when the gold stopped flowing. Other towns include those like Elizabethtown and more that also were the center of the gold mining industry out west before the gold veins ran dry and prospectors were forced to find other means of employment.

Get A Free Quote Today
Request a free quote from one of our seasoned design specialists to start turning your plans into a reality.