It may surprise you to learn that timber framing is one of the oldest building methods still practiced today. In fact, timber frame construction is said to date back to the Neolithic times, with timber frame buildings appearing across continents nearly 12,000 years ago. While modern-day timber frame homes have changed drastically from those built thousands of years in the past, many of the qualities that made these buildings desirable throughout history remain as reasons to build a timber frame structure today–chief among them being their structural integrity, efficiency, and enduring beauty. If you're debating whether or not to invest in a timber frame home for your property, here are a few characteristics of timber frame structures to consider as benefits for your build.
Structural Integrity
Aside from its attractive heavy timber aesthetic, perhaps the single biggest reason why timber framing has persisted to this day is because of its unparalleled durability. Timber frame construction relies on large heavy timber posts and beams connected by mortise and tenon joinery and other traditional and decorative joints to secure the frame of a structure. Due to the combined strength of the heavy timbers and joinery, a timber frame building is able to withstand extreme amounts of pressure and, in many instances, even natural disasters such as earthquakes, hurricanes, and tsunamis. According to Timber Framers Guild, the frames of a timber frame building are so strong that they can remain standing after 300 years.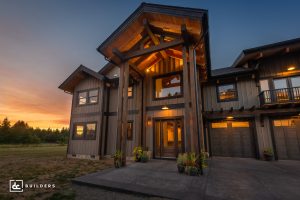 As an added bonus, timber frame homes do not require load-bearing walls to support the upper floors and roof, as the heavy timbers and joints used create a durable building system that doesn't need extra supports. As a result, homeowners can arrange their layout however they please and enjoy wide-open interiors throughout their home.
Ease of Construction
Similar to post and beam construction, all of the heavy timbers used to frame a timber frame structure are pre-cut, labeled, and drilled to precision prior to arriving on a job site. This method of prefabrication ensures that every piece of framing lumber is ready to be assembled and no additional on-site work is required. Since timber framing traditionally uses wooden pegs to join heavy timbers, any skilled framing crew is able to construct the frame of these structures with ease and often in record time compared to conventional builds.
Energy Efficiency
Timber frame homes are energy efficient by design, as wood is considered to be one of the best renewable building materials on the planet. As a naturally insulating material, wood creates a thermal envelope that protects against temperature transfer between the interior and exterior of a building. Wood also improves air quality by absorbing and releasing moisture in the air to maintain equilibrium. This means you're not only able to enjoy a cozy indoor environment in all seasons, but also see significantly reduced power bills for heating and cooling.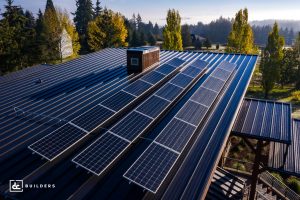 Additionally, the development of new insulation techniques has allowed timber frame homes to reach new heights in terms of energy efficiency, namely through the use of structural insulated panels. Otherwise known as "SIPs," these high-performance building solutions are engineered to create an impermeable barrier that prevents air leakage for superior insulation and comfort. When added to the design of our timber frame buildings, SIPs succeed in creating an air-tight envelope around the structure and help us meet high-performance building codes.
Flexible Design
As mentioned earlier, timber frame homes boast wide-open interiors due to the fact that these structures don't require load-bearing walls to support the frame of the structure. This allows homeowners to create a floor plan that perfectly suits their needs and vision. Since the walls of the structure are typically positioned on the outside of the frame, homeowners can also enjoy exposed heavy timbers in their living space and even design entire rooms around their timber centerpieces. With our vast heavy timber supply, clients can choose from a variety of select-structural grade lumber for their timber frame design, including builder-favorite Douglas fir, Western red cedar, and redwood. We source the finest heavy timbers from our mill-direct connections in the Pacific Northwest to provide clients with the best and highest quality options for their distinct build.
Timeless Appearance
Last but certainly not least, timber frame homes are widely beloved for their meticulous craftsmanship and rustic charm. Considered to be one of the most beautiful architectural styles in existence, timber frame residences are designed with an abundance of stunning details that make them endlessly fascinating for occupants and visitors. From their structural and decorative trusses to their seamless timber connections, timber frame homes showcase the best attributes of your building in every aspect and make excellent family homes that homeowners can be proud to pass down to subsequent generations.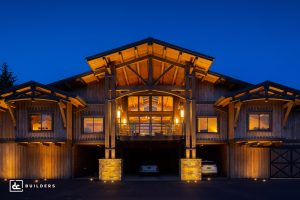 If you're interested in learning more about our timber frame capabilities, be sure to get in touch with our team today by calling 888-975-2057 or sending us a note!
For clients seeking an existing timber frame design, be sure to check out our sister company DC Structures' line of pre-engineered timber frame home kits.